Chilly drinks are always a must for the hot summer months.  After having some kidlet company over this last week. Two out of three triplets in addition to my own son. I instantly realized that it's not only my son that is constantly bored, but in fact most kids get bored with too much time on their hands and no homework.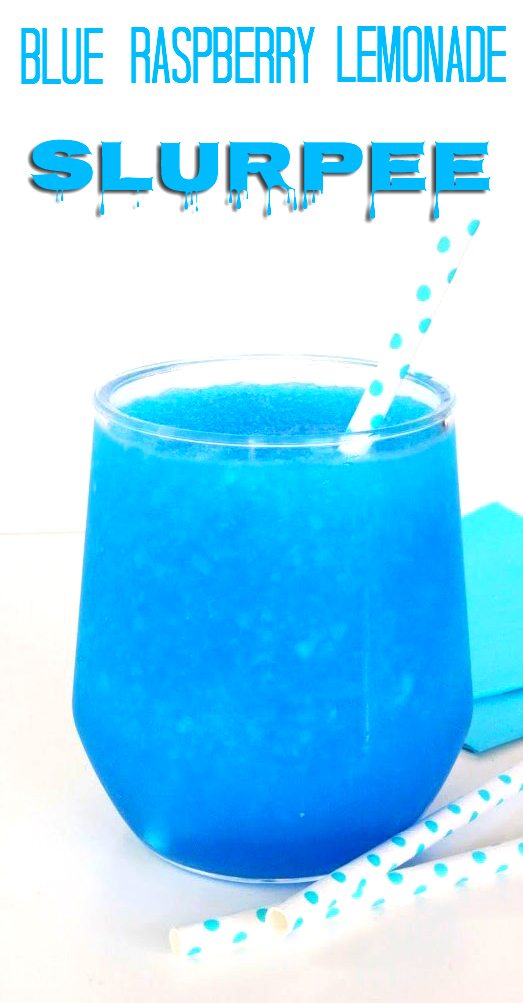 They need constant direction, engagement and activities to keep their precious little minds busy.  To break up the monotony, it doesn't hurt to serve them up something a little special every now and then such as this Blue Raspberry Lemonade Slurpee.  I can almost guarantee that they'll snap out of their summer stupor when you hand them this fun and colorful drink. But be warned, after possible brain freeze, they will be bored within minutes of their last sip. That's pretty much guaranteed.
Blue Raspberry Lemonade Slurpee
Ingredients
2 cup cold Club Soda
1/2 cup Sugar
1/2 tsp Blue Raspberry Lemonade Kool-Aid Drink Mix
3 cups Crushed Ice
8 drops Neon Blue Food Coloring
Instructions
Ideally chill club soda in freezer for 15 minutes. Blend together club soda, sugar,food coloring and Kool-Aid powder in a blender. Add the crushed ice and pulse until smooth. Pour into glasses.
7.8.1.2
110
https://cutefetti.com/make-em-smile-this-summer-with-a-blue-raspberry-lemonade-slurpee/
Now that I'm older, I really don't remember being bored much as a kid. Although, my mother assures me that I often was.  It's hard to relate to what it feels like to be bored as an adult. I always have a list of at least thirty things to do at one time. I WISH I could feel bored again! I'll have to work on that!
Have kids? What are you doing to fight boredom this summer?