Tis the season to bake... or not to bake. I do love baking, but I've been having a great time exploring different no bake dessert recipes lately. I've always been naturally interested in the wonders of recipes that taste as good as baked but aren't. Ever since I started making this type of bar back in September, I knew I wanted to try some fun flavors for the holidays like butterscotch and ginger snaps. Doesn't it just sound like a holiday treat in the making? Well, it's November already so here we go!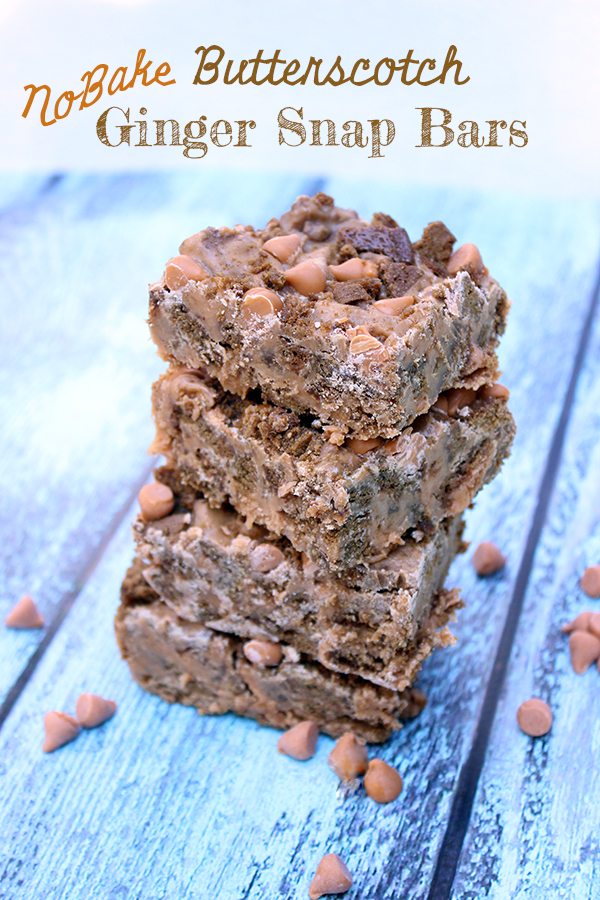 The best part about this recipe is that its just so easy and there are only a small handful of ingredients. Um, only THREE Ingredients to be exact! I mean how much easier can it get aside from buying pre-made goodies? Somehow these few ingredients come together to make a festive dessert bar that is as gooey as it is crunchy? Oh so sweet, you will definitely be on a sugar high after eating one! That is a guarantee! These would be delicious alongside a nice hot cup of fresh brewed coffee. Yum.
No Bake Butterscotch Ginger Snap Bars Recipe
Ingredients
12 ounces Ginger Snap Cookies finely crushed (I used Target Store brand)
2 Cups of Butterscotch Chips
1 Can of Sweetened Condensed Milk (14 oz)
Non Stick Spray
Instructions
Spray an 8 x 8 pan with non-stick spray. Set aside ¼ cup of butterscotch chips and 4 Ginger Snap cookies. Melt the remaining butterscotch chips on stove top or in microwave. Remove from heat and mix in sweetened condensed milk until fully combined. Add remaining finely crushed cookies and make sure they are fully covered in butterscotch mixture. Spoon mixture into pan. Press the batter down evenly with a spoon or spatula. Add remaining butterscotch chips and 4 crushed cookies evenly onto the top of the batter. Press into the top and then flatten the bars again if needed. Let cool for 2 hours or more. Faster if refrigerated. Enjoy!
7.8.1.2
62
https://cutefetti.com/no-bake-butterscotch-ginger-snap-bars-recipe/
Do you have a favorite "bar" recipe? What is your go-to dessert for Thanksgiving?