It's totally slow cooker season. I certainly use mine year round, but when fall approaches, it's time to kick it up another notch. When it becomes cooler and your schedule seems like it's going to burst at the seams, it's time. This week, I'm sharing the best of two recipes that I shared earlier this year for the ultimate in comfort food.

If you've been hanging out around here, you probably remember my Creamy Potatoes & Chicken Slow Cooker recipe or maybe this Portobella Chicken recipe? So simplistic, but totally easy to make any day of the week. Those were such a big hit, I decided to basically combine the two recipes into one dish. I mean come on... filling and satisfying potatoes with hearty Portobellas in one dish? Yes please!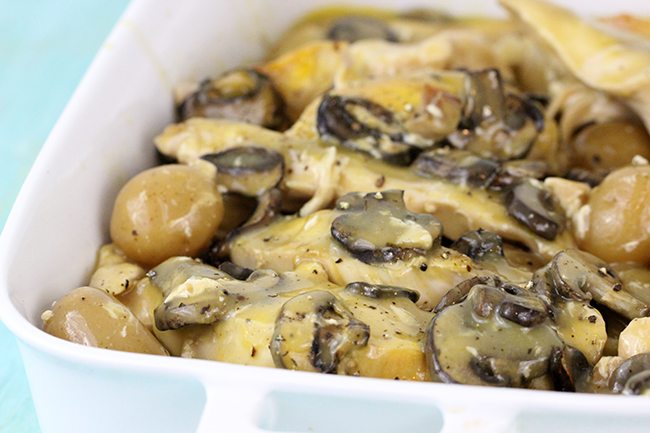 With a total of just 4 ingredients, there's no excuse not to toss them into a slow cooker today!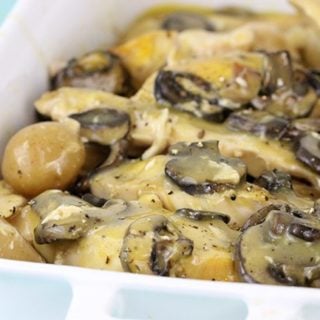 Portobella Mushroom & Potato Slow Cooker Chicken
Ingredients
1.5 - 2lbs Boneless Chicken Tenderloins or Sliced Chicken Breast
16-20 Baby Dutch Yellow Potatoes (or other thick small/baby potatoes)
22.6 oz Cream of Chicken Soup Family Sized Can
1 Pint of Baby Bellas (or equivalent in sliced portabella mushrooms)
Instructions
Place potatoes in the bottom of slow cooker, evenly place the chicken on top and then the mushrooms. Then cover evenly with the cream of chicken soup. Sprinkle desired about of salt and pepper on top. Cook on high for 4 hours or low for 6.5 hours.
Nutrition Information
Serving Size

1
Amount Per Serving
Calories

851
Total Fat

20g
Saturated Fat

5g
Cholesterol

344mg
Sodium

1461mg
Carbohydrates

44g
Sugar

13g
Protein

121g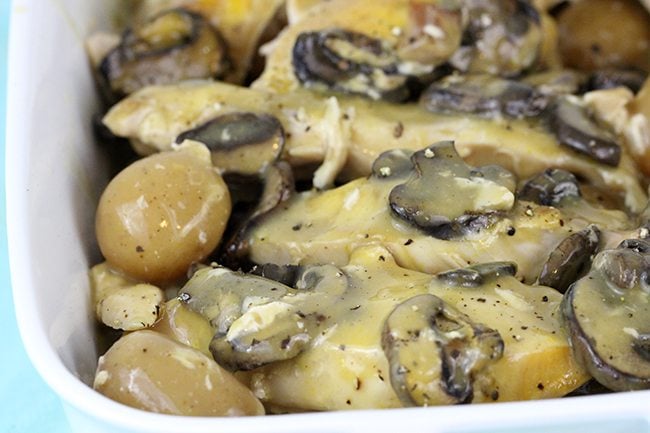 Do you use your slow cooker more during this time of the year too?