Update! Guess what? This Swiss Roll Cookies and Cream Cake Recipe won honorable mention in the Family Dollar More for Less Challenge! I got to meet & bake my cake with Pat Neely in Memphis! Snag this recipe and learn about my epic adventure.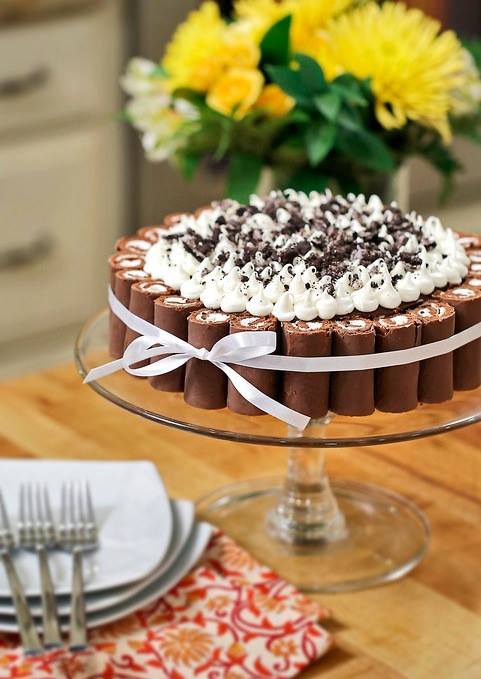 It's that time, finally! I was invited to take the $15 Family Dollar recipe challenge and now I get to share my creation! This is a sponsored post and a Family Dollar Gift Card has been provided for me to take the challenge. The goal was to create a $15 or less recipe using ingredients at Family Dollar. After a long thinking process, I came up with this Swiss Roll Cookies and Cream Cake. It just so happens it was around my beloved Hubby's birthday, so he got this chocolate lovers treat on his big day. Let's say he was a happy camper!
This happened! Now, here is the best part for me and for YOU! If my recipe wins, I totally get to fly out to meet, shop and cook with Celebrity Chef Pat Neely. What? AWESOME!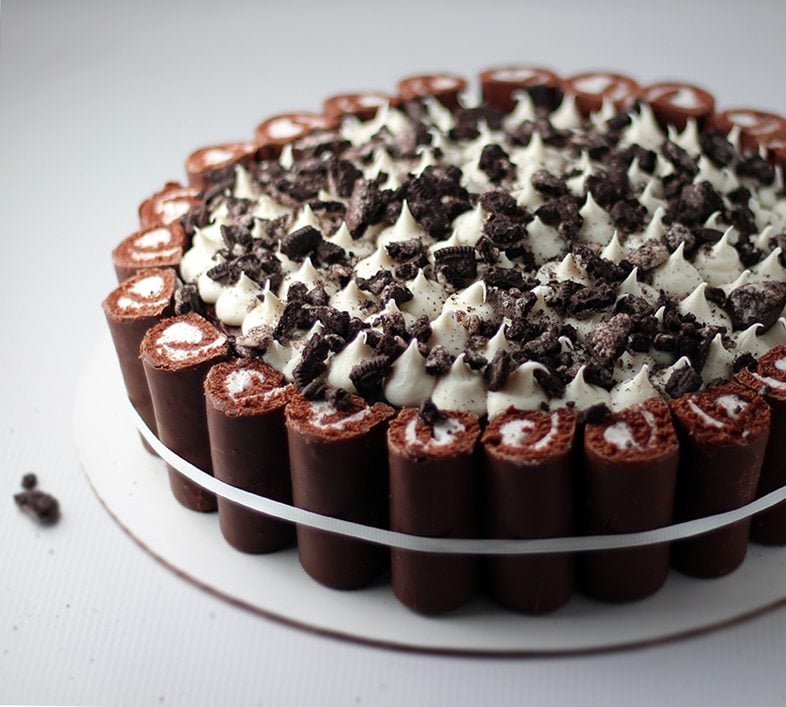 Now, I won't be hurt if you don't vote for me, because my bloggy amigos really stepped up their game. Competition is as thick as a Swiss Roll. 🙂 You'll find scrumptious savory recipes and mouthwatering sweets too. The awesome perk is that each of our recipes costs under $15 when you shop for ingredients at Family Dollar. That is something to smile about!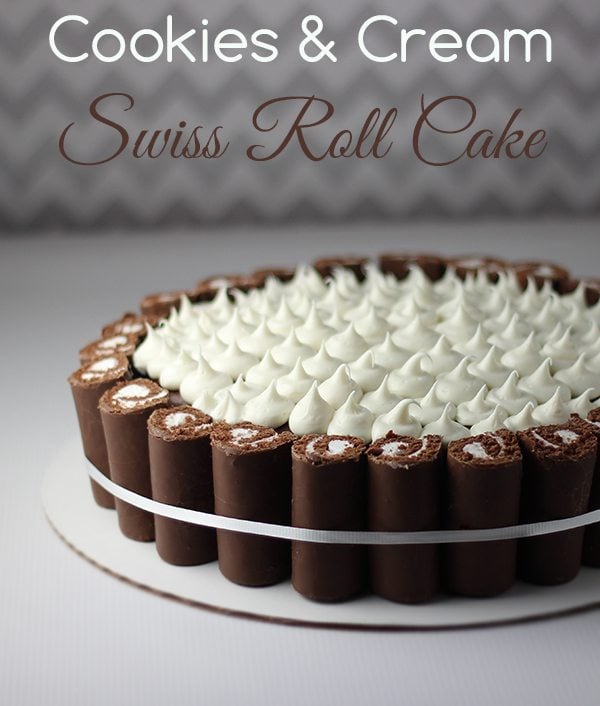 For years I've been creating cakes like these for friends and family. Lining a cake with fun things like Swiss Rolls, Cookies, Lady Fingers and things like Pirouettes are such a great way to make a fancy cake at a fraction of the cost. Such a money saver and is sure to always impress! Take my word for it! Toss your choice of crumbled cookies or candy on top for a final pro touch!
Swiss Roll Cookies and Cream Cake Recipe
Ingredients
16.5 Devil's Food Cake Boxed Mix Prepared
16 oz Can of Creamy Chocolate Frosting
16 oz Can of Creamy Vanilla Frosting
3 Packages of 8 Count Swiss Rolls
Family Gourmet Chocolate Crème Sandwich Cookies (7 Cookies Crushed)
Instructions
Prepare the Devil's Food Cake Mix according to package directions using (2) 9" cake pans. Once completely cooled, trim your cakes so that they are both flat using a straight knife. Then, spread a layer of chocolate frosting on top of one cake, then place the second cake on top. Use the remaining chocolate frosting to cover the sides of both cakes. Use the vanilla frosting to cover the top cake. Use a round frosting tip to make a pretty design with the frosting or trim the corner out of a plastic baggy to pipe the frosting. You can also simply spread the frosting over the top if you like. Next, remove Swiss Rolls from packaging and trim the top off each cake, about 1/2 inch so that they line up just above your cake layers. Line the Swiss Rolls around the entirety of the cake by pressing the flat side onto the frosting. Tie a small piece of ribbon around the cake to secure it. Lastly, sprinkle the crushed Chocolate Crème Sandwich Cookies over the top of the cake. Voila! Now you have a professional cake at a fraction of the cost! Enjoy!
7.8.1.2
58
https://cutefetti.com/swiss-roll-cookies-and-cream-cake-recipe-familydollarmore4less-recipe-challenge-sweepstakes/
Click here now for 25 more chocolate recipes.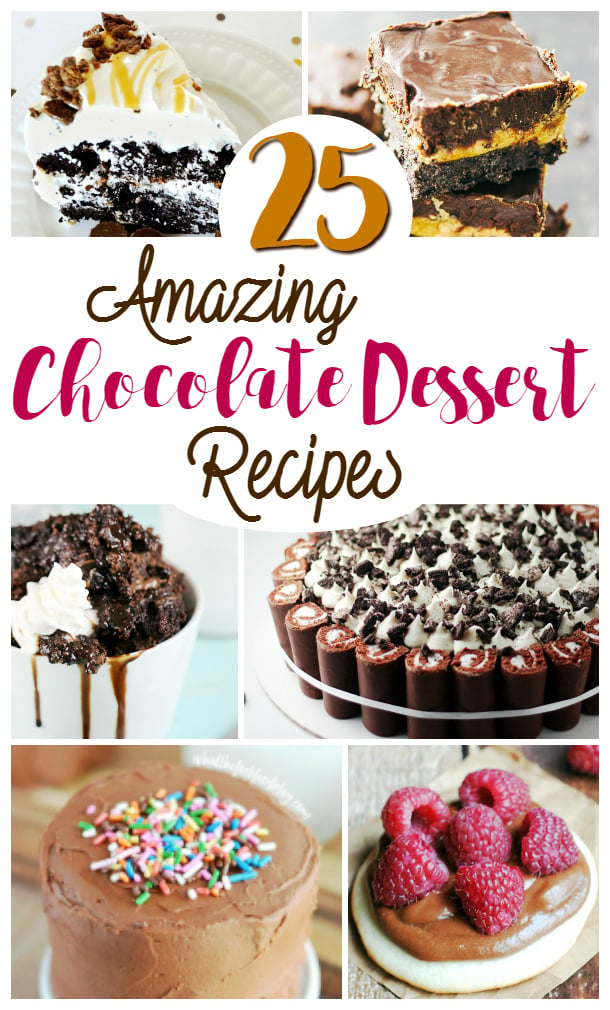 Are you a chocolate lover? What is your favorite chocolate loaded treat?