I've always been a big fan of The Cat in the Hat and many more books by Dr. Seuss. I remember the crazy adventures of Thing One and Thing Two just like my mom was reading the book to me when I was little. It's hard to believe that the clever stories written so long ago are known across many generations and still is well loved today. It's also funny how time flies, I actually wanted to make Thing One and Thing Two Dr. Seuss Mason Jars last year in honor of the 111th anniversary of Dr. Seuss' birthday. Well, that didn't happen. But, hey! Now it's time to celebrate the 112th! This post contains affiliate links.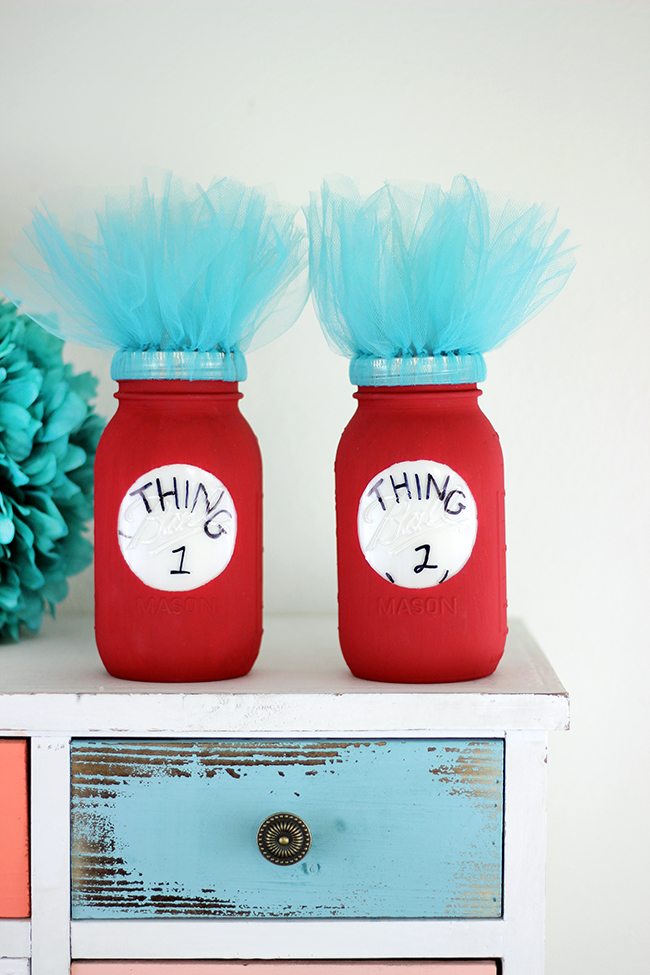 I love creating fun things with Mason Jars, now I just need more rooms in my house. Ha. Working on that. These jars are pretty easy to make, but take a little patience with drying time and also with making the circle stencil with a cool painter's tape hack. All in all, they are on the easy side, just the way I like it. Let's do it!
Thing One and Thing Two Mason Jars
Here's what I used:
Quart Sized Mason Jars
Red Acrylic Paint (I used Holiday Red)
White Acrylic Paint (I used Apple Barrel)
Turquoise Tulle Cut Into Strips (9″ length & 3″ wide). 24 strips per jar. (I used this Turquoise Tulle)
Paint Brush
Painter's Tape (I used FrogTape brand)
Sheet of Wax Paper
Black Sharpie
Here's what to do:
1. The first thing to do is to paint the inside of your mason jars white. This will serve as a back drop in the circle. There are many ways you can do it. I put some of the white acrylic paint inside and rotated the jar to cover. Then, place upside down on something like a paper plate to let the remaining paint drain out. If you need a visual, check out this post. Make sure to let dry thoroughly. I actually decided to do this after I painted the outside because my brilliant Dad suggested it. For some reason I couldn't decide how to get the circles white originally. Score.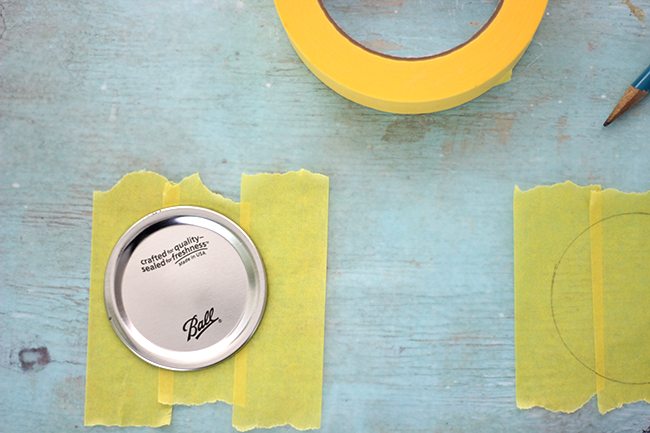 2. Create a circle painter's tape stencil. On a sheet of wax paper, stick on strips of painter's tape. I used about 3 small strips for each jar. Using the inner cap, I traced my circles with pencil onto the tape and then cut them out. Carefully stick the circle "stencils" onto your jars where desired. Mine covered the word "Ball" on the jars. Press around the edges carefully to seal.
3. Paint the outside of the jars red. I did two coats. Let them dry completely. Once they are dry, you can very carefully remove the painter's tape to reveal your white circle. I used my fingernail to scratch off any excess paint to clean up the circle where needed.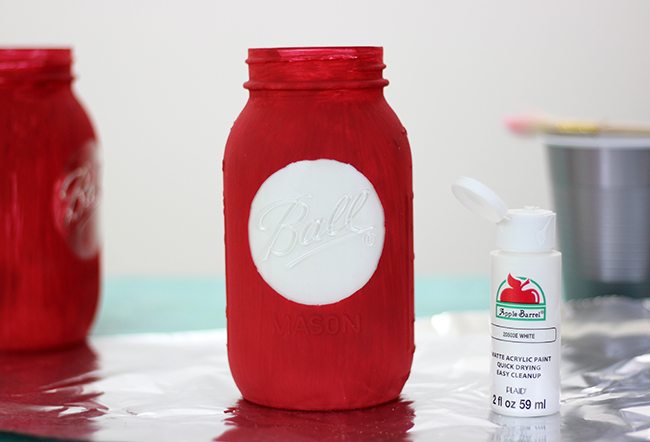 3. Cut tulle into strips. I took my roll of tulle and cut out 9″ strips. Then I cut it in half length wise so that each strip was 3″ wide total as I used a 6″ roll of tulle. This is really flexible as far as how you want your carrot tops to look, you can definitely come up with your own height and width based on your tulle or preference.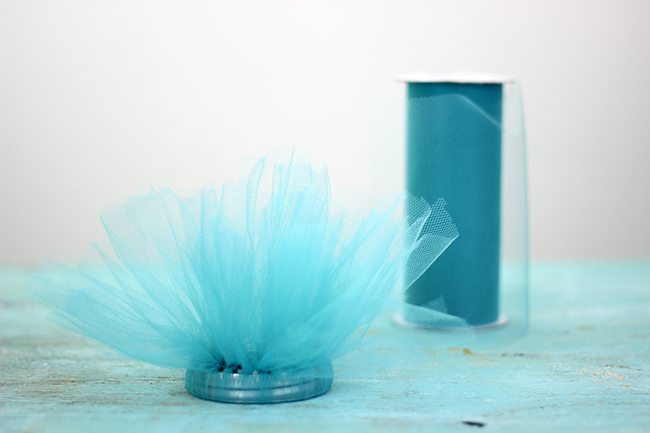 4. Tie each strip of tulle onto jar lid with a double knot. Repeat all around the jar lid. I used 24 total strips of tulle to fill the entire circle. Need a visual on this process? Check out my Carrot Jar project.
5. Very carefully use a black sharpie to write Thing 1 & Thing 2 in the white circle. I made sure to look at a visual while I was doing this. This is a make or break part. Luckily it's generally child like handwriting, so it's not to bad to free hand. It's a little challenging writing over the "Ball" word so make sure to have patience and take your time with it.
That's it! You now have adorable Dr. Seuss Mason Jars that are perfect for room decor or a themed party!