There is so much candy being exchanged during Valentine's Day, I thought it would be nice to break it up with a healthier option. How about some dressed up raisins to hand out? Pretty them up with our cute new gift tag printable that says "You're The Raisin I'm Smiling".  Its easy to do, promise! All you will need are some mini boxes of raisins, our printable below and some tape and you'll be good to go. Nice and easy for you 😉

How to Make "You're The Raisin" Valentine's Gifts
–> You will need the amount of  individually boxed raisins needed for each V-day gift you're making. I used Sunmaid Raisin 6 Packs that are 1 oz each. The printable tags will fit that sized box perfectly.
–> Print our You're The Raisin Gift Tags They are 6 per page. Print as many sheets as you need.
–> Then, cut out each individual gift tag.  Then you need to attach them to the boxes of raisins. You can tape them onto the boxes. I personally used Scotch brand double sided tape, which makes for a nice seamless attachment. But you can absolutely use any other regular tape too. If you are out of tape, you could even do glue or a glue stick. Just make sure they are completely dry before packing them away or handing them out to your Valentine.
–> Enjoy making your friends smile with this healthier alternative to a V-day treat!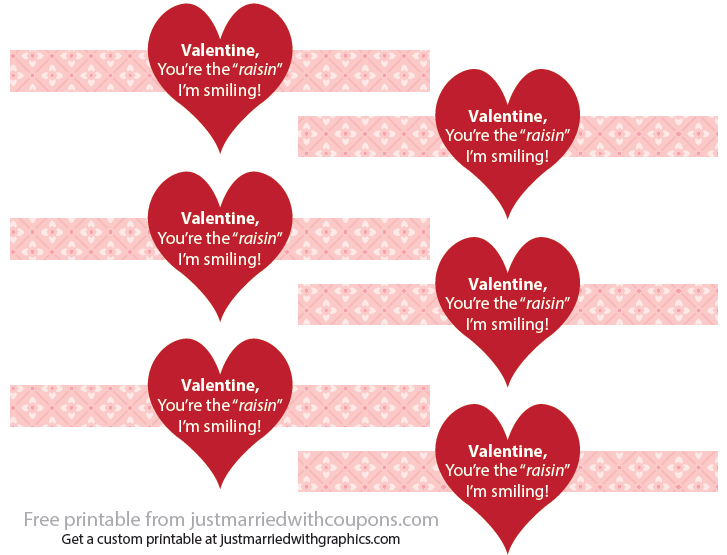 Want more Valentine's DIY Gift Ideas? Make sure to check out our other Valentine's Day Craft ideas that your budget will personally thank you for.