This is one of the most popular Valentine's day ideas here on Cutefetti to-date and for a very good "raisin". People are always looking for non-candy Valentine's day treat ideas making this mini individual boxes of raisin idea an easy winner. Candy plays a huge part in any holiday, so it makes it extra special to be able to do something a little different for a change. Basically, an alternate Valentine's Day treat.
I gave the printable gift tag file a bit of a makeover so that they would be more modern and formatted better, too. In all their simplicity, I'm really happy with how they turned out.
There is so much candy being exchanged during Valentine's Day, I thought it would be nice to break it up with a healthier option. How about some dressed up raisins to hand out?
Pretty up your little raisin snack with this updated cute gift tag printable that says "You're The Raisin I'm Smiling". It's easy to do, promise!
In just minutes, you will have a little sweet Valentine to hand out to an entire classroom and beyond.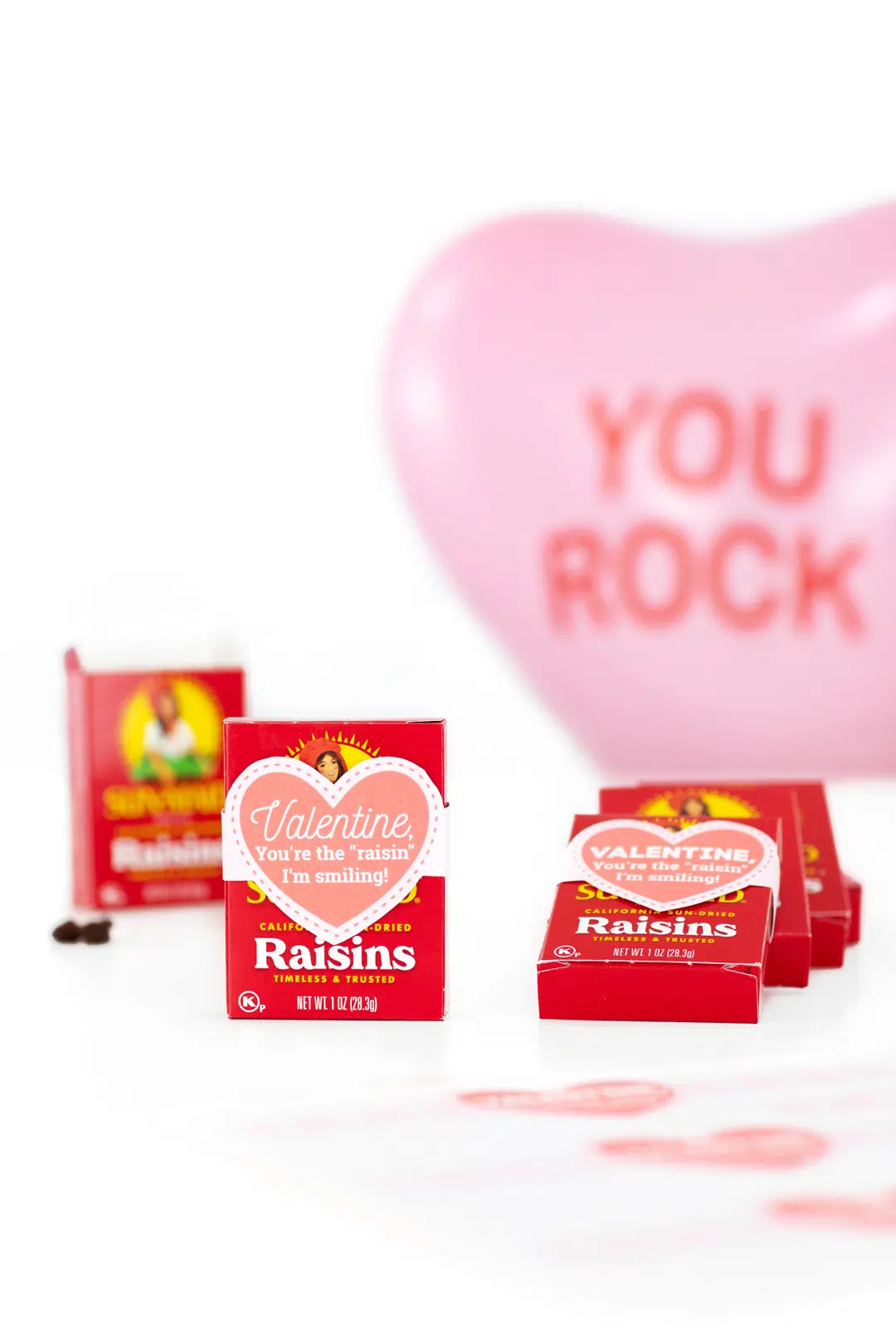 All you will need are some raisins, the printable below, tape and scissors and you'll be good to get this quick craft idea going.
Could not get much easier for a semi-homemade diy gift that takes such little effort. It's a total V-day win.
NON-CANDY VALENTINE DIY GIFT
Want a fun V-day gift alternative? You have come to the right place. Here is what you need to make these:
Individually Packaged Raisins, 1 oz
Raisin Gift Tag Printable (Below)
Scissors & Tape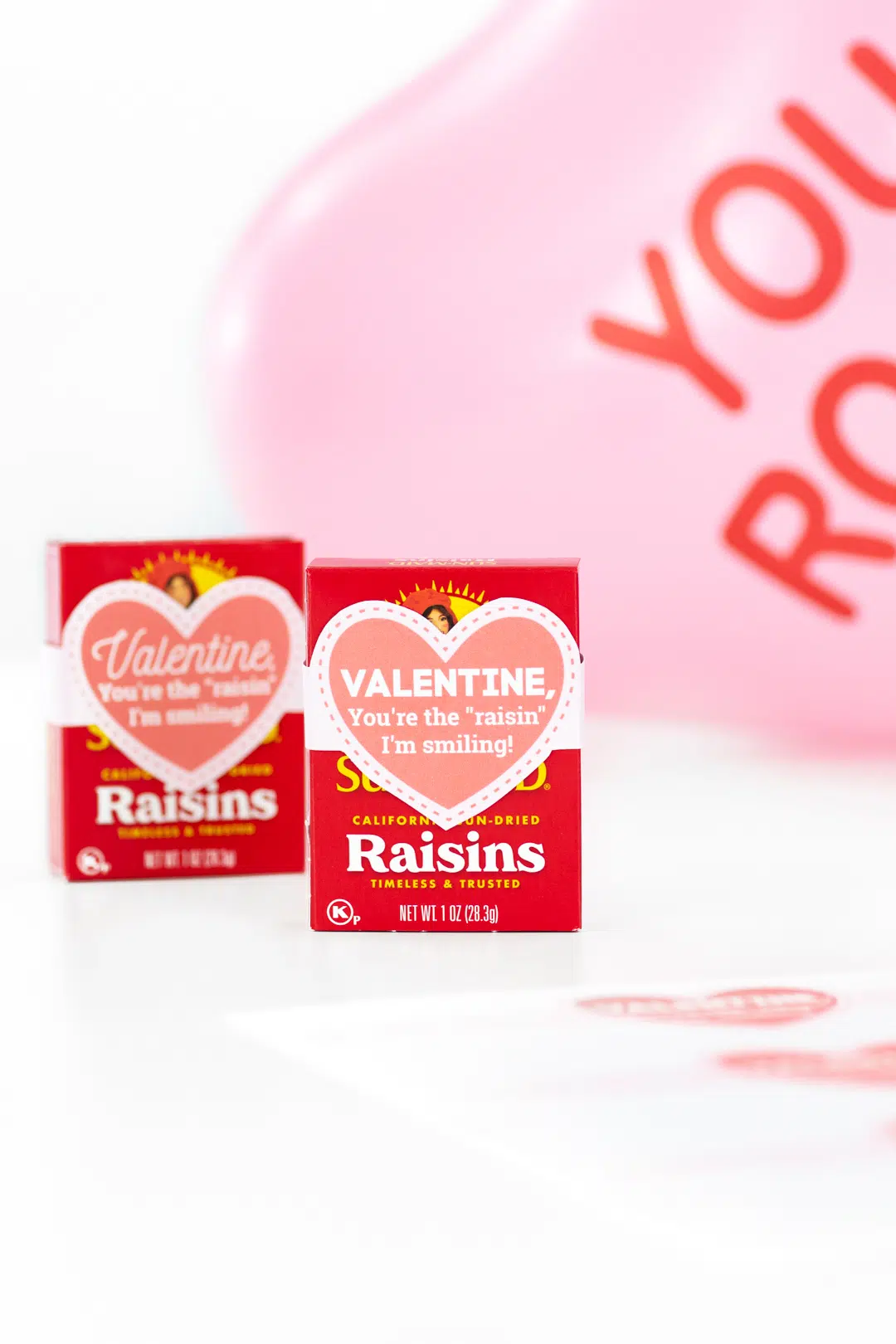 Here is how to assemble/make "You're The Raisin" Valentine's Gifts:
You will need the amount of individually boxed raisins needed for each V-day gift you're making. I used Sunmaid Raisin 6 Packs that are 1 oz each. The printable tags will fit that sized box perfectly. I was happy to see the same exact product in the same size is still available after all of these years. For another variation, they also sell yogurt covered raisins in the same sized boxes.
Print the updated You're The Raisin Gift Tags (pdf) They are 6 per page. Print as many sheets as you need.

Then, cut out each individual gift tag. Then you need to attach them to the boxes of raisins. You can tape them onto the boxes. If you want to get really neat with these, you can use double sided tape, which makes for a nice seamless attachment. But you can absolutely use any other regular tape of course. If you are out of tape all together, you could even do glue or a glue stick. Just make sure they are completely dry before packing them away or handing them out to your little Valentine.
Enjoy making your friends smile with this healthier alternative to a V-day treat!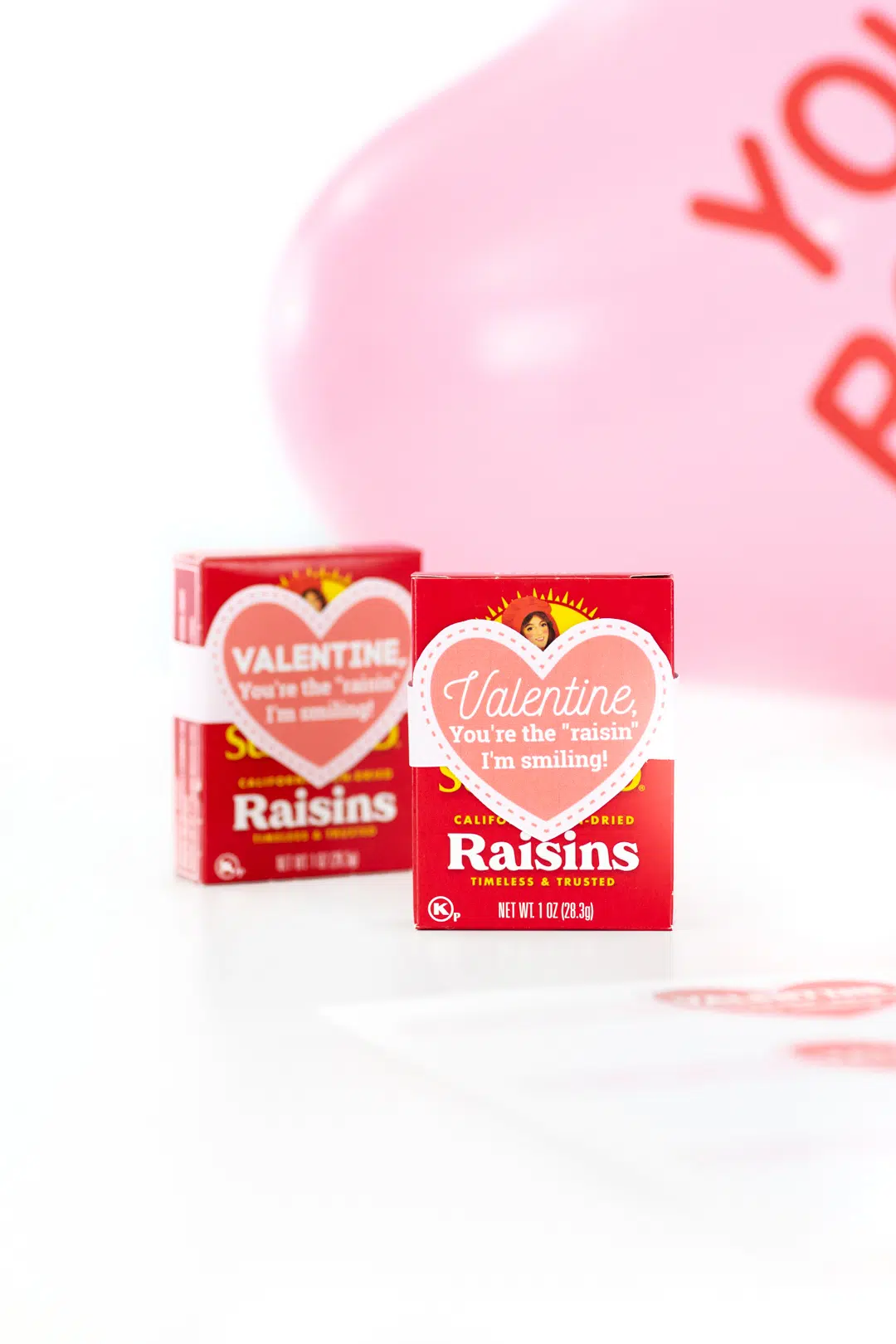 Non-Candy DIY Shopping List
Here is everything you will need to make your own non-candy Valentine's Day gift using individual boxes of raisins.

As an Amazon Associate and member of other affiliate programs, I earn from qualifying purchases.

Want more Valentine's DIY Gift Ideas? Make sure to check out our other Valentine's Day Craft ideas to get your creativity flowing.
Love to celebrate the holiday of love? I have more ideas that you might love, too.
See how to make a cookie decorating tray.
Get a big list of candies that are shaped like hearts.
See how to decorate a Valentine's Day Tree.