I love surprises when it comes to gift giving, so Christmas Crackers are something that I'm finding extra magical this season. Not only are they fun little treasures with a unique history, but they make an equally unique tradition you can start now. I'm excited to tell you all about them and share my top 9 favorites right now, but I'm thrilled to bring you amazing news about this year's Golden Christmas Cracker Treasure Hunt from Cost Plus World Market. This is a sponsored post with Cost Plus World Market, opinions are my own.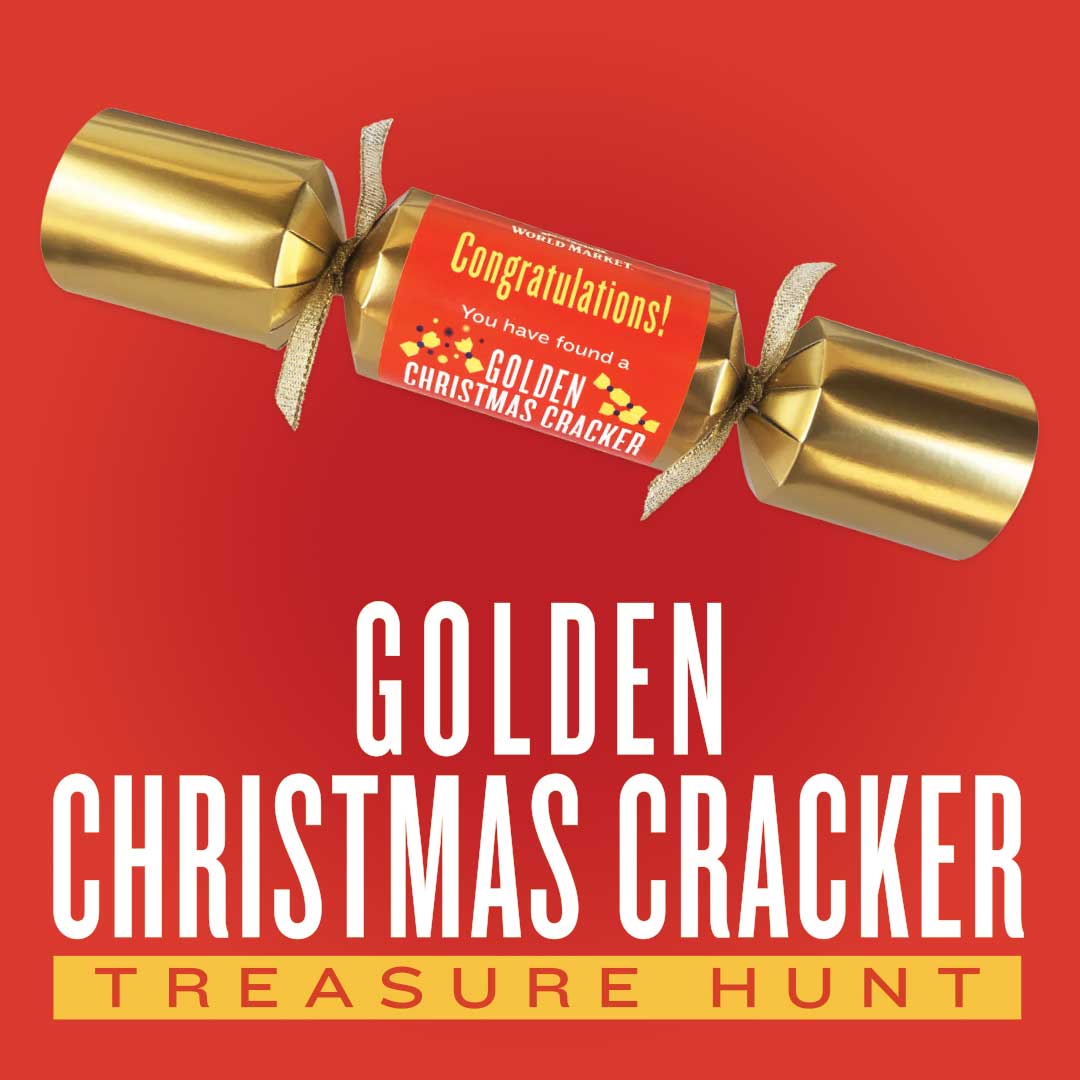 When I first noticed Christmas Crackers, I thought it was just a one person gift filled with surprises. The reality is that it's more of a game. The winner gets to keep the trinkets inside. So on that note, let me tell you all about the Golden Christmas Cracker Treasure Hunt so I can tell you how to enter and what you can win!
This will take place IN STORE only, so you will need to visit to play. (Find participating stores here).
Here is all you need to know:
PRIZES: Find a Golden Christmas Cracker in Store and you could receive a $20, $50 or $100 reward instantly!
Each participating store will hide a total of 8 Golden Christmas Crackers PER DAY from 11/1 - 11/27 during TWO different game times.
Game 1: Store Opening to 3pm
Game 2: 4pm to Store Closing
Helpful hints: There will be daily clues to help you find the Golden Christmas Crackers. You will find these daily clues in-store, via email, and on the Cost Plus World Market social media channels.
These Golden Christmas Crackers not only consist of a reward, but once a winner pops open the Christmas Cracker, they will also receive a paper crown (tissue party hat), a motto (joke or riddle), a snap (friction activated popping device), and a small gift or novelty item!
If you find one of these Golden Christmas Crackers in-store, you need to bring it to the nearest store associate to exchange for a reward coupon worth $20, $50 or $100. The reward is valid only on the day it is awarded. Limit one (1) reward per person throughout the Promotion Period (11/1/19 – 11/27/19), regardless of store location(s) visited. EMPLOYEES AND DESIGNATED SHOPPER NOT ELIGIBLE.
Read official rules.
Each day, I will be sharing Cost Plus World Market's Golden Christmas Cracker Treasure Hunt daily joke and CLUE for your chance to win. Be sure to follow me at @DawnChats on Twitter for your daily clues.
Today's joke and clue are below: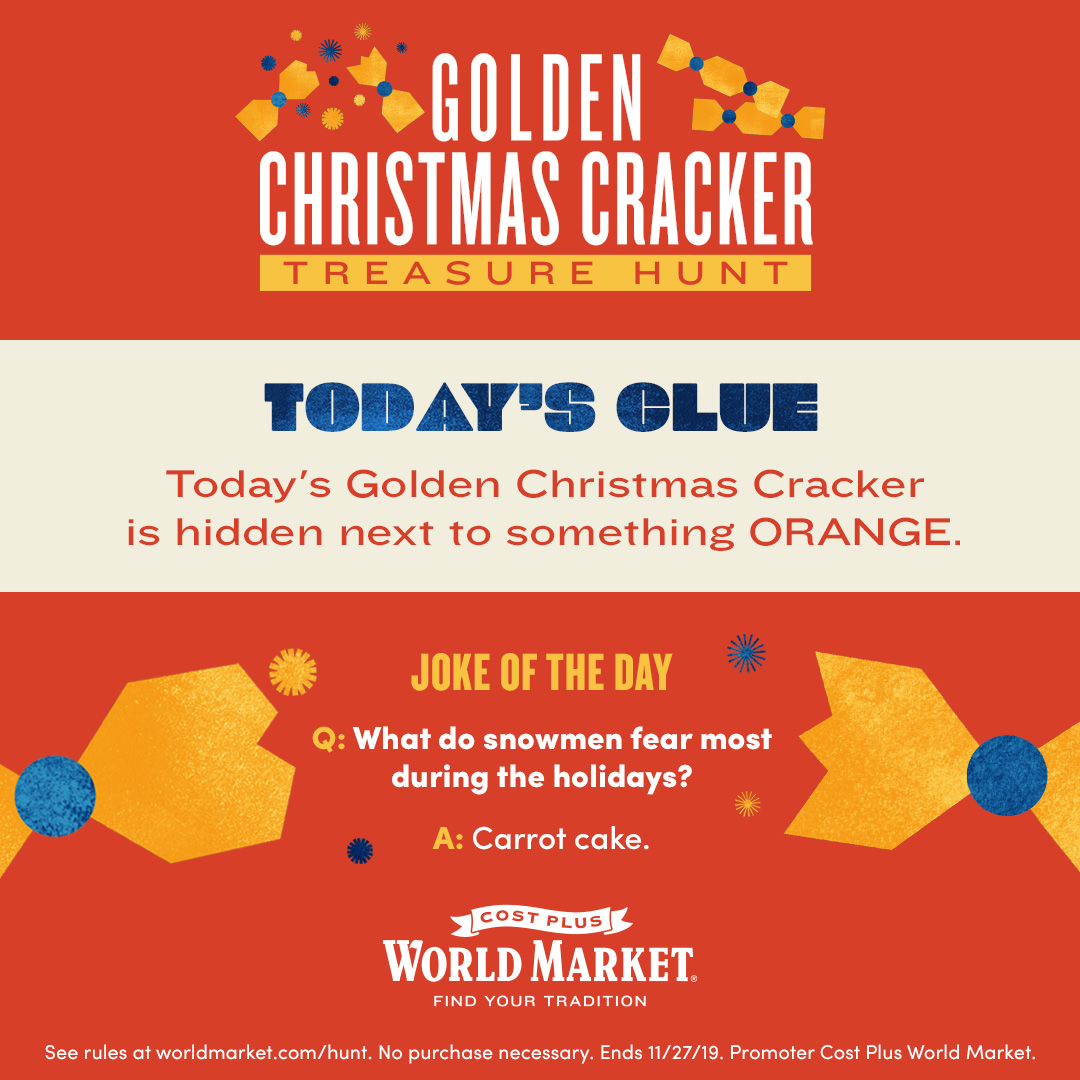 Sending you the best of luck with this fun opportunity to WIN!!! So exciting! Now, as promised... let me backtrack and tell you more about what a Christmas Cracker is all about. It really is more than meets the eye and I'm currently obsessed.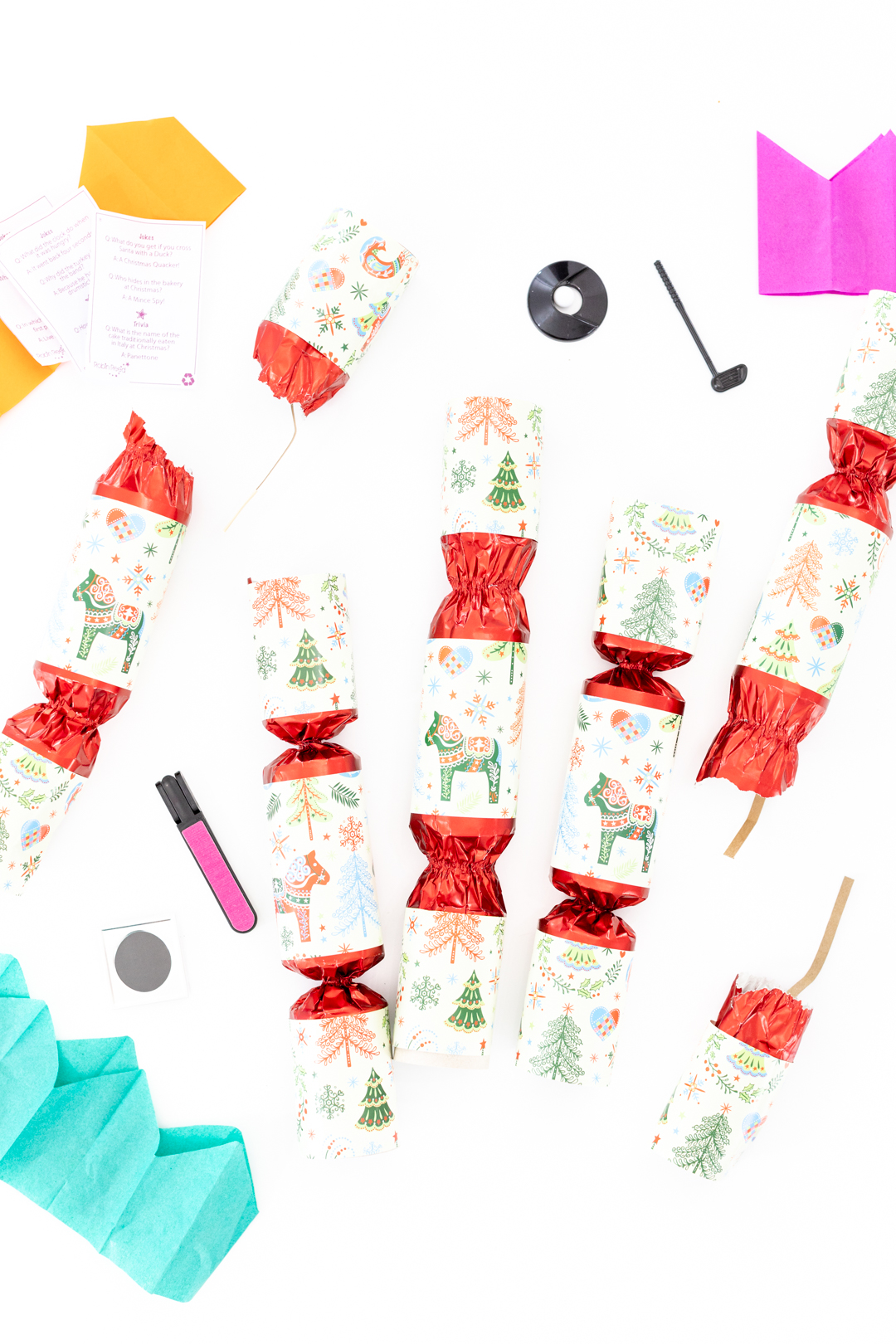 WHAT IS A CHRISTMAS CRACKER
A Christmas Cracker is a small gift-wrapped cardboard tube with two ends. There are traditionally trinkets inside that include a tissue made hat, small trinket of sorts and jokes and trivia questions inside.
More modernly, Christmas Crackers, "Crackers" are used as decorative party favors to celebrate a variety of other special occasions and festive events. These clever crackers originated in the U.K. They can be a part of your holiday tradition or they can be given as a gift. Would also be a great gift topper, too.
The tradition of pulling the crackers and donning of the party hats that are inside adds to the fun and festive atmosphere to set your holiday celebrations off right.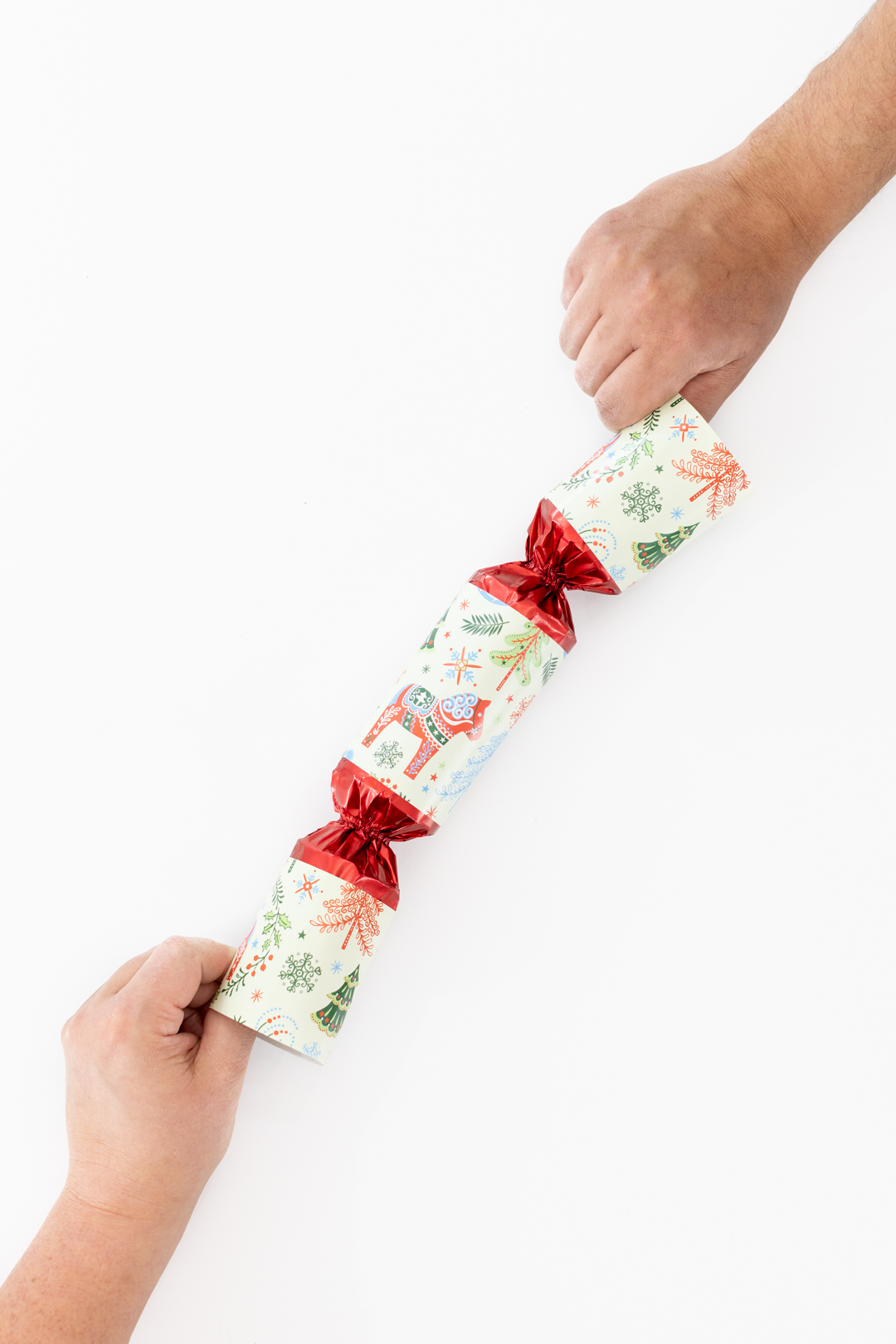 HOW DO YOU OPEN A CHRISTMAS CRACKER
The idea is that two people will pull and the person with the biggest end of the cracker gets to keep what's inside. When done right, the cracker will make a popping sound. A little hint for you here. Pulling the hardest may not actually help you win. I've found that a moderate tug and pull is more helpful in getting the largest end of the cracker and essentially winning.
DO THEY HAVE CHRISTMAS CRACKERS IN AMERICA?
YES. They are known to be sold at Cost Plus World Market in-store or online during the holiday season. They actually have the largest collection around!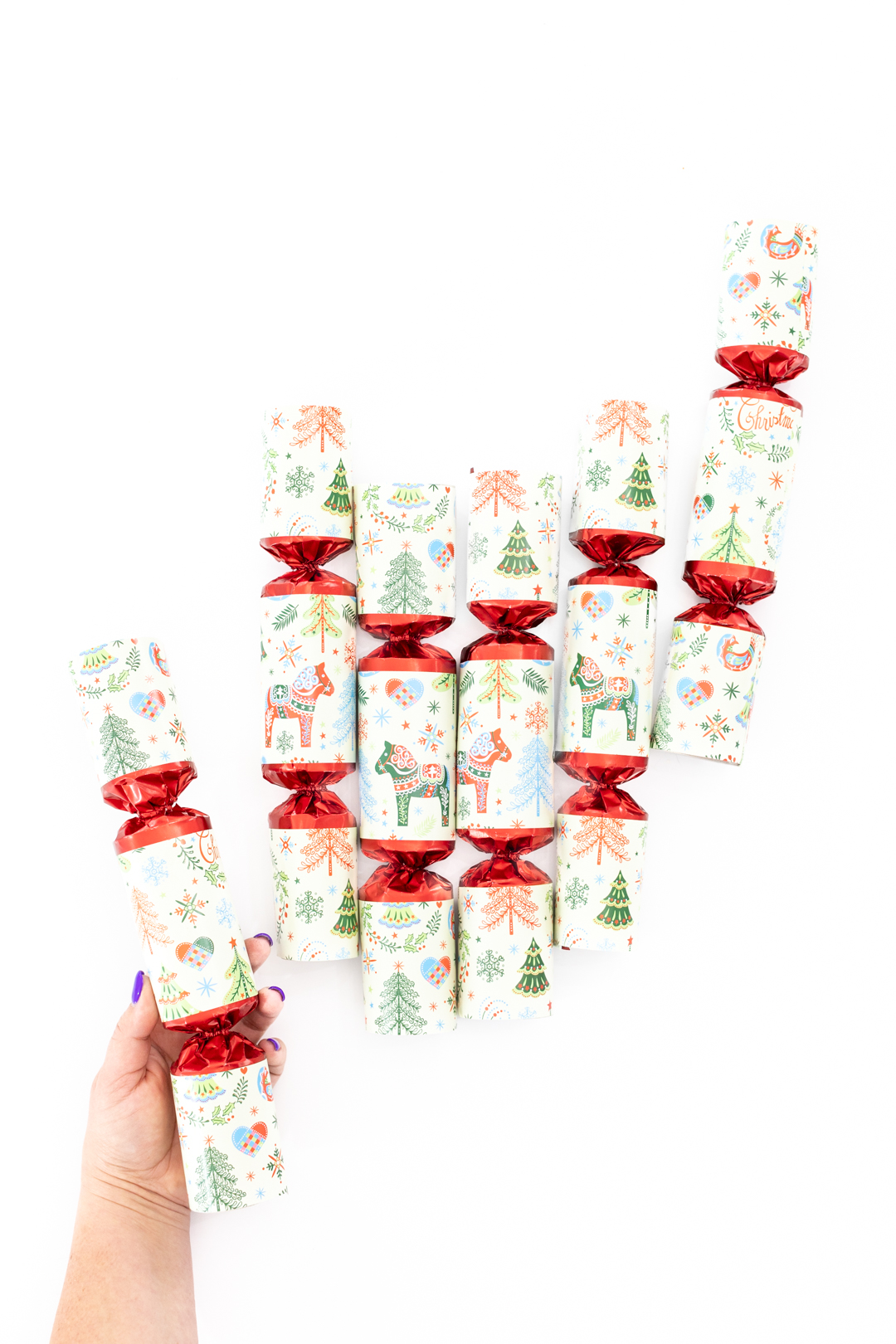 Best Christmas Crackers
Make a new tradition with Christmas Crackers. Here are some of the best crackers you can find here in America at Cost Plus World Market.
Each day, I will be sharing Cost Plus World Market's Golden Christmas Cracker Treasure Hunt daily joke and CLUE for your chance to win. Be sure to follow me at @DawnChats on Twitter for your daily clues. I love my local Winter Garden Cost Plus World Market, so I'm excited to share the fun with you all month long.
Today's joke and clue are below: