Its no secret that I adore easy to make recipes. I honestly won't have it any other way, its just not my thing! I literally "StumbledUpon" and Re-Pinned this amazing No-Bake Strawberry IceBox Cake recipe on the Kitchn.com. The recipe is seriously simple and the outcome is simply to die for. It wanted me to make it.. I can tell. I changed up the recipe just a tad to meet my needs and to make a half portion since the whipped cream is very heavy. This was me trying to save myself… from myself 😉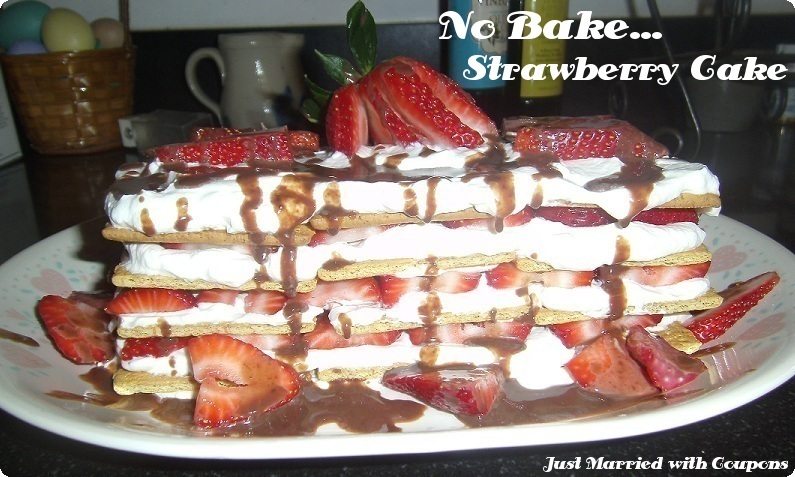 No Bake Strawberry IceBox Cake Recipe
Ingredients:
2 Cups of Whipping Cream
1/6 cups of Confection Sugar
1/2 Tsp Vanilla
12 sheets of Graham Crackers
1 lb of Strawberries
Hershey Chocolate Bar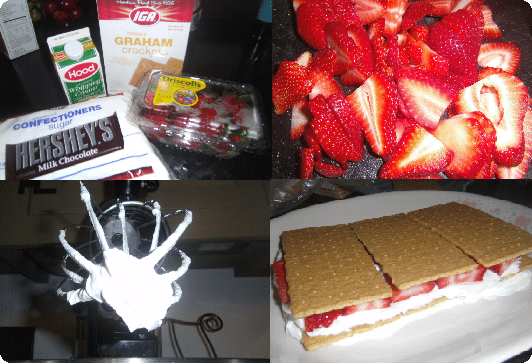 Directions:
Slice your strawberries into thin slices leaving 1 or 2 whole strawberries to top your cake with. Make whipped cream by adding 1.5 cups of whipping cream to your mixer, add 1/3 tsp of vanilla and about 1/6th cup of confection sugar +- to taste. One serving platter or dish, make a thin layer of whipped cream , then stack 3 sheets of graham crackers on top. Add a thin layer of whipped cream, then strawberries and repeat 3 more times. Top with another thin layer of whipped cream and more strawberries for decor. Next prepare the chocolate drizzle by heating 1/8 cup+- of whipping cream in the microwave until hot, stir every 1- seconds until it reaches an ideal temperature. Add Hershey Bar squares and let sit for a couple of minutes, then mix until full blended into a "chocolate sauce". Drizzle lightly over your cake. Refrigerate for at least 4 hours until serving. Voila!