I'll admit it. I am so ready for a Disney Halloween this year. Don't judge. I know it's early. But is it, really? The festivities technically are starting soon at Walt Disney World and these these Mickey Halloween Cookies a delicious way to kick off the celebration. I love black and purple together for this season, so I thought it would be fun to decorate these with this color theme making them great for any Haunted Mansion parties or for Ursula fans, too.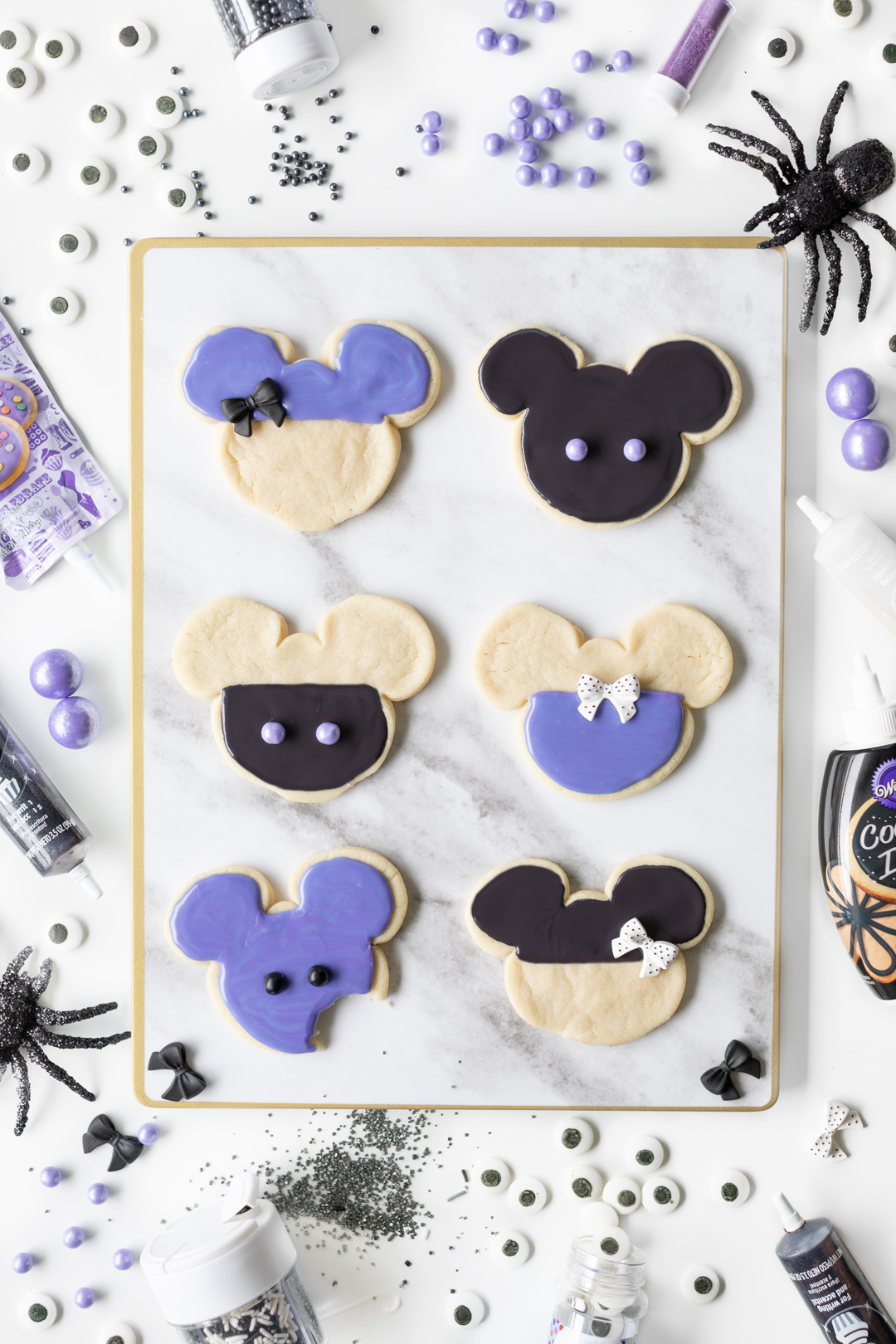 Mickey's Not So Scary Party kicks off at WDW on August 16th, 2019. Just a couple of weeks away! I am SO excited that I'll be attending the party during the last week of the month! So, eek. I just cannot contain my excitement. I can't be the only one that thinks Mickey Mouse and Halloween just go together!? I'll also be sharing what's hot this upcoming fall 2019 season at the #PTHDisney #WDWFall event, so pretty please follow the hashtags to get the scoop.
If you don't know much about this epic Disney Halloween event, check out my post to see why you really shouldn't miss it.
Now, let's kick things off with these cookies that will be perfect for your own Mickey Mouse Halloween party at home. Sounds like fun in the making!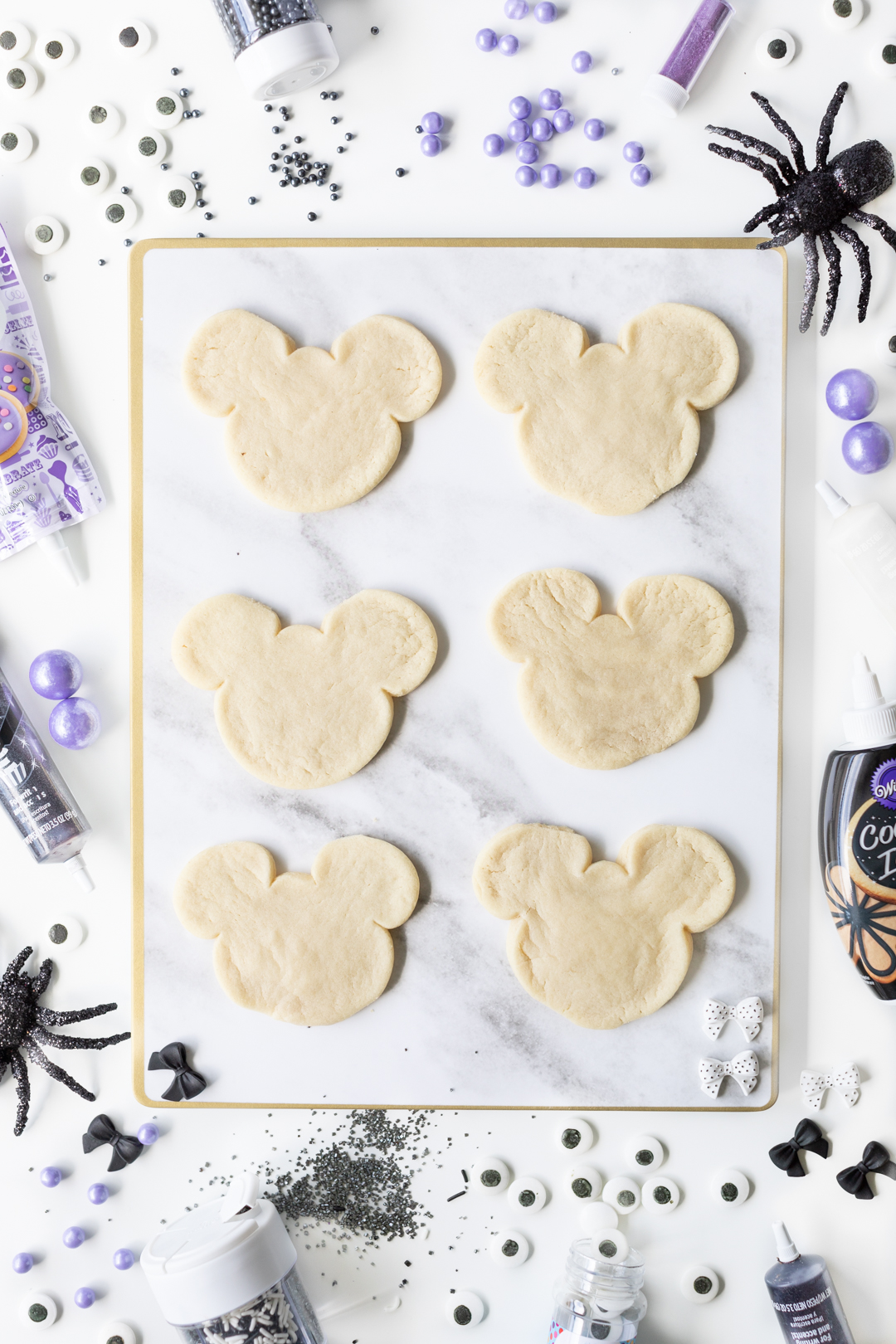 MICKEY HALLOWEEN SUGAR COOKIES
This easy recipe is nearly mind blowing. Using your fav sugar cookie dough and follow the rest of the steps will have you baking up a storm in no time. Let me hauntingly guide you through this easy peasy sugar cookie making process.
Here are the basics that you need to make these:
Mickey Mouse Cookie Cutter
Ready to use Sugar Cookie Dough + All Purpose Flour
Purple and Black Cookie Icing
Black, White and Purple Sprinkles
Favorite Purple and Black Candies
HALLOWEEN COOKIE DECORATING IDEAS
To get your spooky cookie decorating on, it's time to break out candies and sprinkles.
Get your creativity on and choose your favorites!
You can even set everything out and have a Halloween cookie decorating party.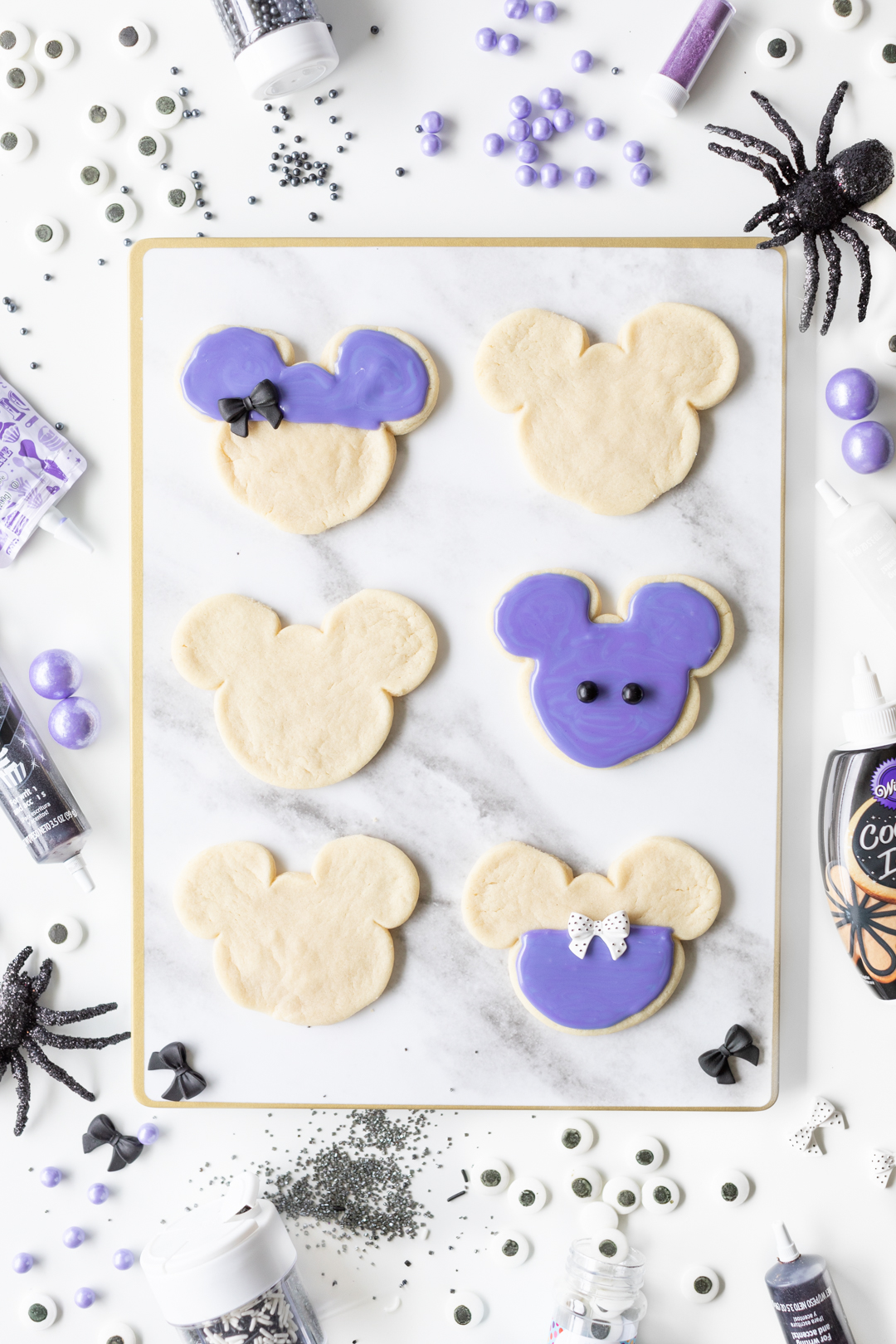 VARIATIONS FOR MICKEY HEAD HALLOWEEN COOKIES
There are many fun ways that you can decorate your Mickey Halloween cookies and these are my favorites using black and purple colors.
Idea #1: Purple or black icing on top or bottom half of cookies with added icing bow in the center.
Idea #2: Ice cookies in both purple &/or black and add two candies in the opposite color to represent Mickey's pant buttons.
Here are so more simple tips to create your new favorite seasonal cookies:
HOW TO USE COOKIE CUTTERS WITH STORE BOUGHT DOUGH
You need to add flour and roll out your store-bought dough. Most products will have specific tips and instructions on the packaging so before to read them first. Generally, you will need to add All Purpose Flour and chill before baking.
CAN YOU ROLL OUT PREMADE SUGAR COOKIE DOUGH?
The answer is yes. You can easily use store-bought sugar cookie dough to make your own own shaped cookies. To prepare a roll of store-bought refrigerated cookie dough is quite simple. Typically the dough is sold in a roll or in pre-sliced cookie circles or shapes. But, to be able to use the dough to make your own cookie cutter shapes, you will need to add some All Purpose Flour to blend into it. Look on your package because there will most likely be specific instructions. The most popular sugar cookie roll calls for ¼ cup all-purpose flour to be kneaded into the dough. Then, you will need additional flour for your surface and rolling pin.
HOW TO YOU KEEP SUGAR COOKIES FROM SPREADING WHEN BAKING?
Keeping shaped sugar cookies from spreading is important. Once you have rolled your chilled dough and made your desired shapes with cookie cutters, there's one very important step to take. Add the cookie sheet with your cut cookies on it to your freezer for 10 minutes before baking. Also, make sure to give your cookies space. They will puff up a little during baking but will deflate once they are cooled. So don't be alarmed when you first remove them from the oven.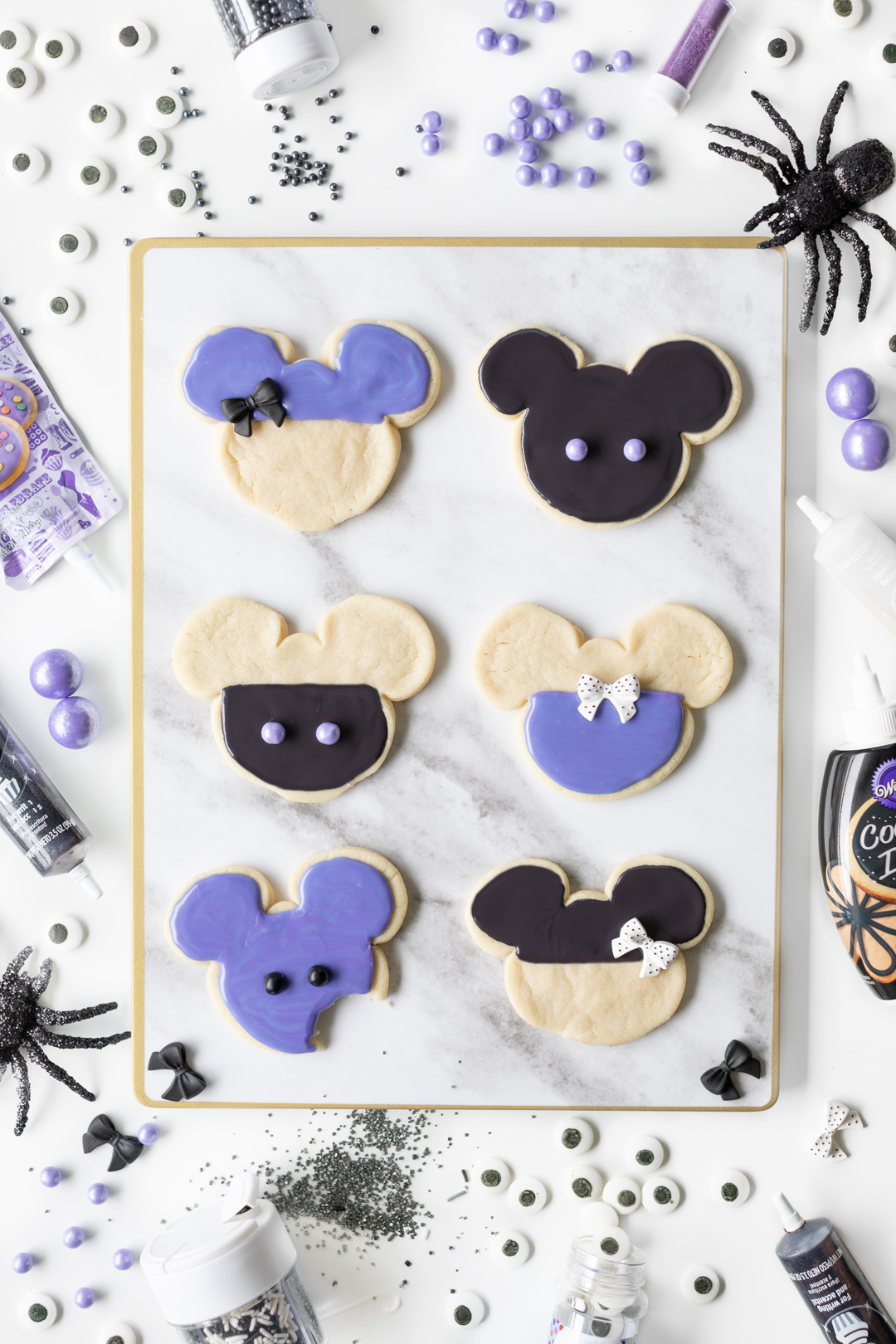 DO YOU USE COOKIE CUTTER BEFORE OR AFTER?
Before. It's very effective to roll your chilled sugar cookie dough first and then use your cookie cutter. This is due to the warmth that will be created once you start working the dough. It's also recommended to place the baking sheet in the freezer for about 10 minutes though before baking.
MICKEY MOUSE HALLOWEEN IDEAS
Jack Skellington Mickey Ear Cookies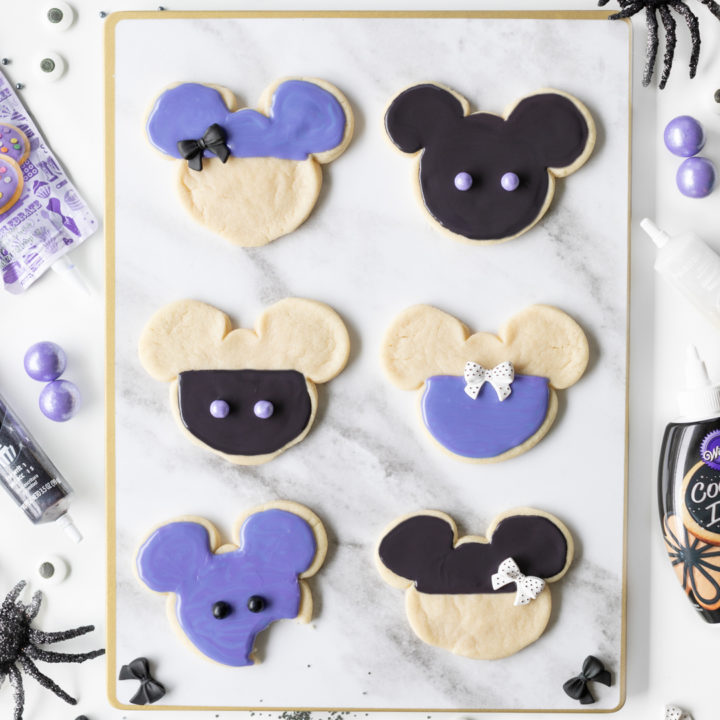 Purple and Black Mickey Halloween Cookies
Additional Time:
30 minutes
Mickey Purple and Black Halloween Cookies perfect for Haunted Mansion inspired parties.
Ingredients
Pillsbury Sugar Cookie Dough (16.5 oz)
½ Cup All Purpose Flour
Cookie Icing (Purple & Black)
Celebration Candies (Purple & Black)
Bow Icing Decorations
Tools: Mickey Shaped Cookie Cutter
Instructions
Preheat oven to 325°F
Knead cookie dough with all the purpose flour on a floured surface.
Roll the dough out until the dough is about ¼" thick
Use Mickey Shaped Cookie Cutter to make 8-10 cookies
Place cookies on a non-stick baking sheet
Add baking sheet to the freezer for 10 minutes or refrigerator for 15 minutes to preserve shape.
Bake for 8-11 minutes.
Cool completely before decorating.
Use cookie icing, celebration candies and bow icing decorations to decorate your Halloween cookies.
Let the icing set before serving.
Notes
Idea #1: Purple or black icing on top or bottom half of cookies with added icing bow in the center.
Idea #2: Ice cookies in both purple &/or black and add two candies in the opposite color to represent Mickey's pant buttons.
Recommended Products
As an Amazon Associate and member of other affiliate programs, I earn from qualifying purchases.
Nutrition Information
Yield

10
Serving Size

1
Amount Per Serving
Calories

99
Total Fat

3g
Saturated Fat

1g
Trans Fat

0g
Unsaturated Fat

2g
Cholesterol

0mg
Sodium

43mg
Carbohydrates

16g
Fiber

0g
Sugar

8g
Protein

1g
Nutrition will be dependant on size of cookies and additional topping add ons.
CUTE HALLOWEEN TREATS
Love the cute side of the spooky holiday? No worries, I have you covered with more adorable recipe options!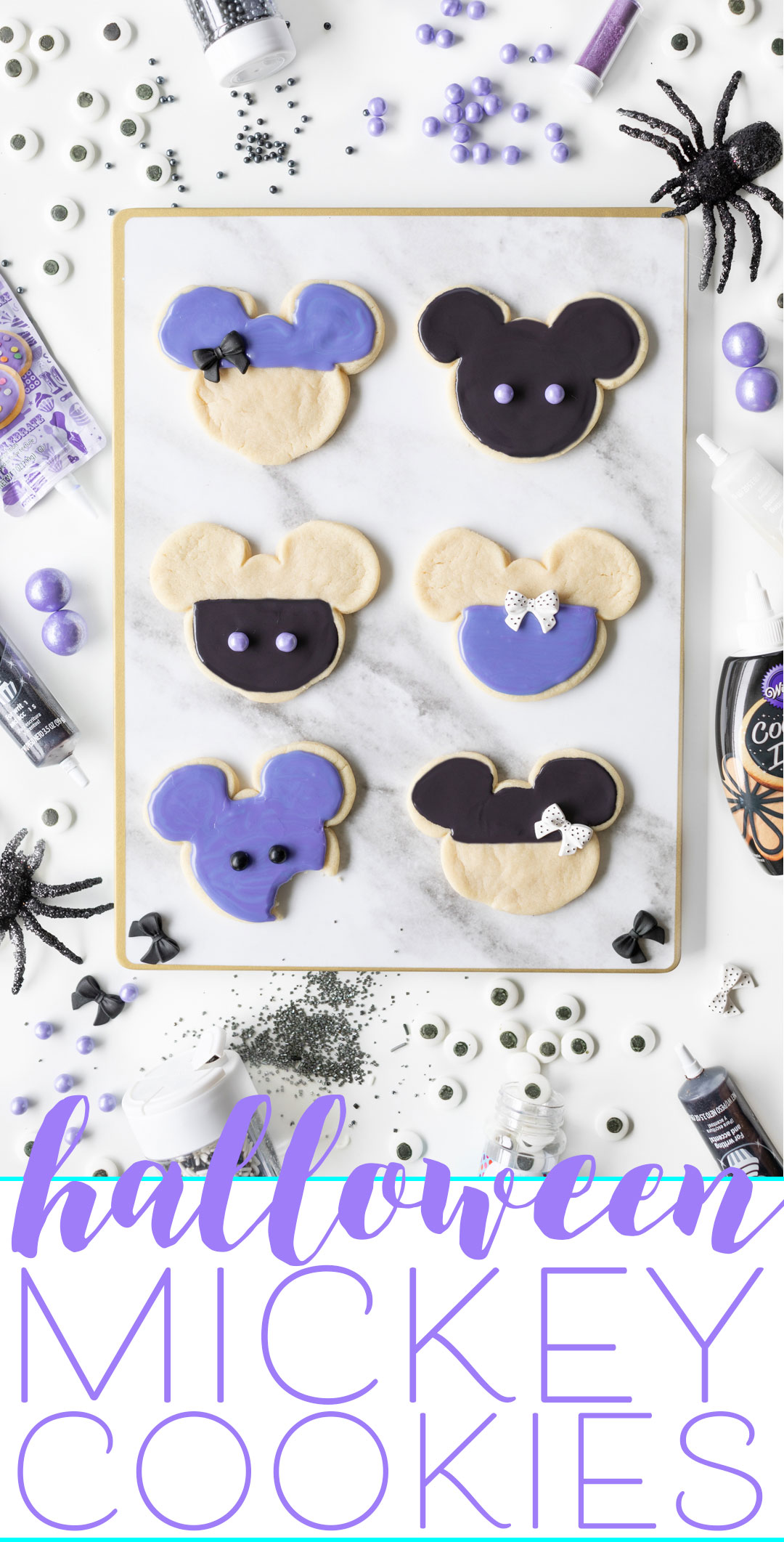 How cute would these fun cookies be for a Mickey Mouse Halloween birthday party?
They are fun for serving and work for party favors, too!