So many adorable bark recipes out there already, so I wanted to make something with a little more to it. Enter this fun St. Patrick's Day Cookie Bark. All the fun possibilities that a good bark has but with more yummy sugar cookie goodness. This recipe is so basic and flexible, you'll be wondering why you hadn't tried making it a whole lot sooner.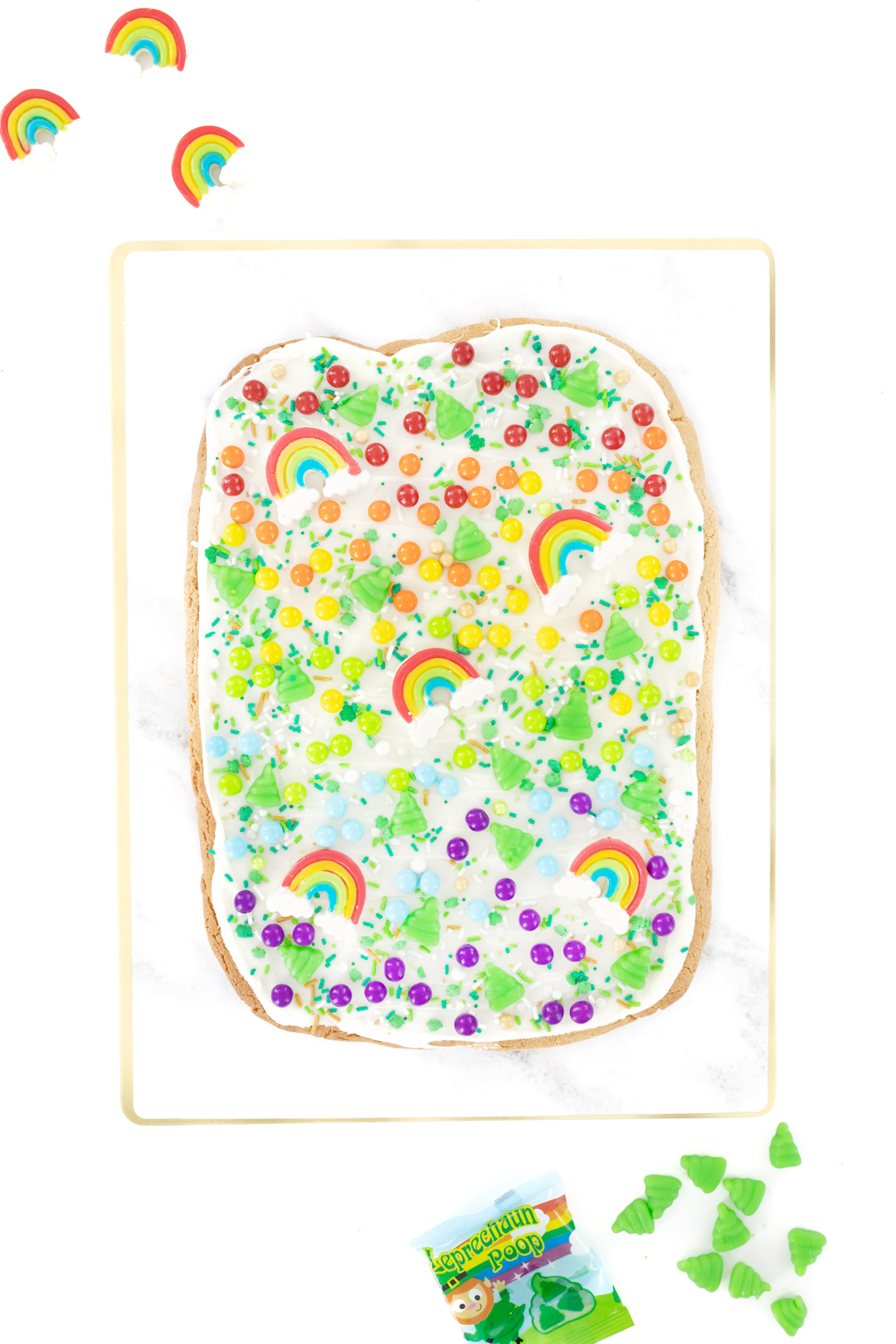 The first time I made it was a few years ago here on the blog. It was a simple but utterly delicious peppermint bark recipe. So few ingredients and the creative possibilities for every single holiday and occasion are so crazy. Fun cookie bark ideas are seriously bouncing around in my head right about now. Before I get too crazy, it's time to get back to the reason we're here. St. Patty's day!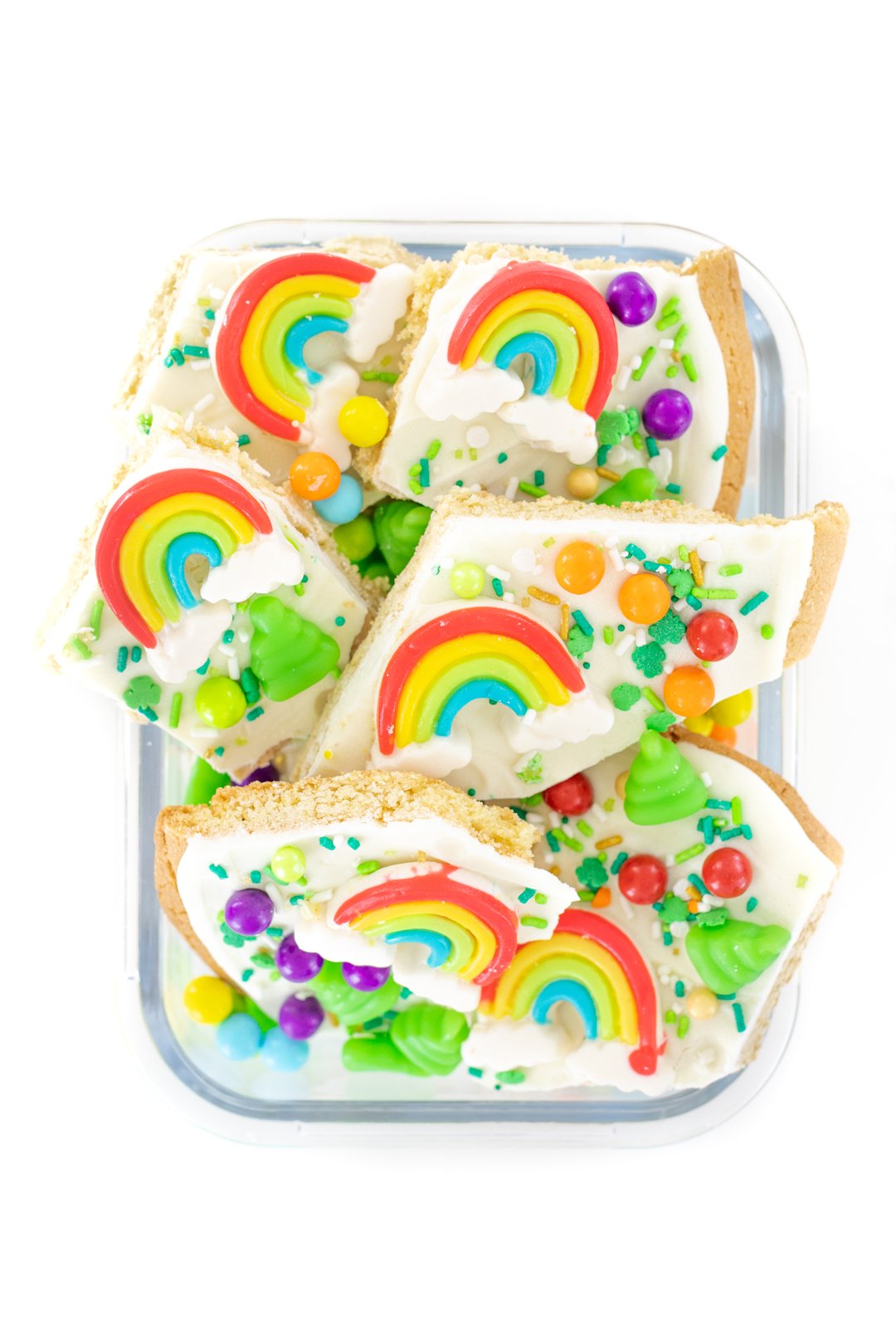 Since I had a ton of rainbow colored Sixlets leftover from these treat baggies and the coolest rainbow gummies ever, I just had to give rainbow bark a go. Throw in some Leprechaun poop candy and it's all green lights. Let me show you this very basic recipe to follow and then I'll share specifically which candies I used, they will be linked in the recipe box below.
EASY COOKIE BARK RECIPE
Using a pouch of store-bought cookie dough is key for this very simple and consistent cookie bark recipe.
Here's what you need:
Betty Crocker Sugar Cookie Mix (dry)
Softened Butter
Egg
White Vanilla Baking Chips
St. Patrick's Day Candies and Sprinkles
Get all of your specific measurements in the recipe box below. It's printable for your convenience.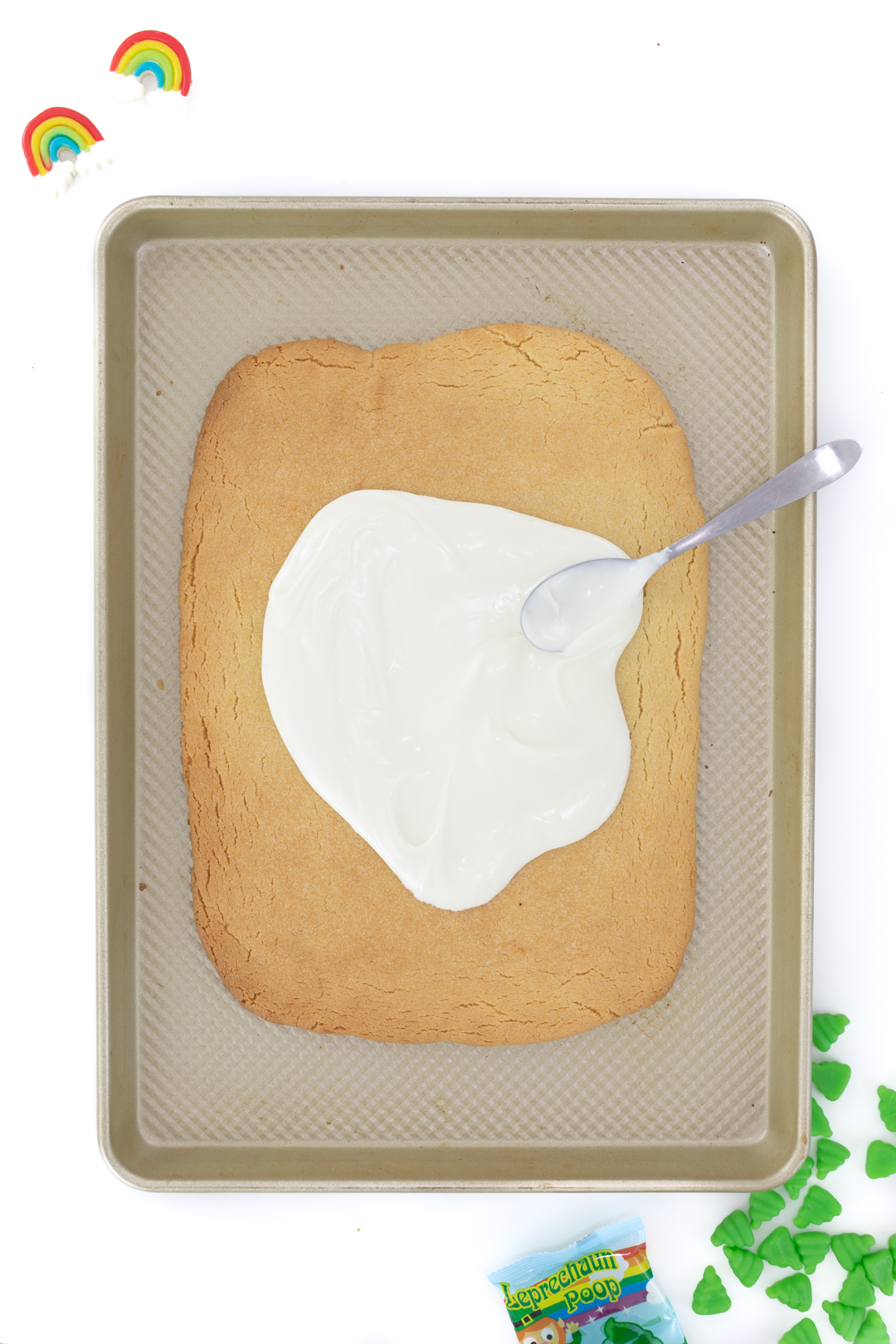 To make this fun treat, we'll make a super quick dough with the sugar cookie mix, spread it on a foiled baking sheet and bake to perfection.
After the cookie base cools, we'll be adding melted white vanilla baking chips over the top.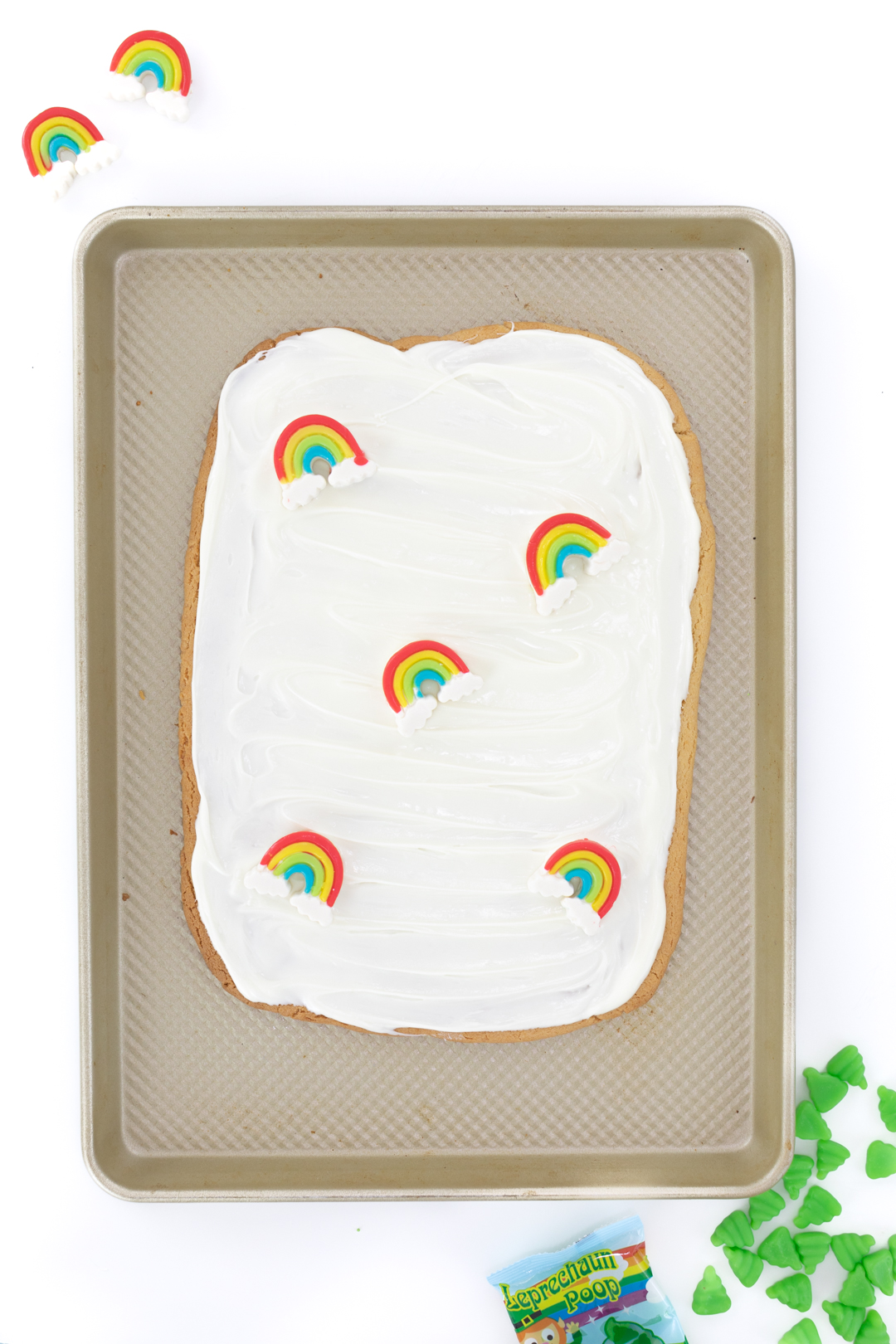 The final touch is to add all of your favorite St. Patrick's Day sprinkles and candies! Have fun with it!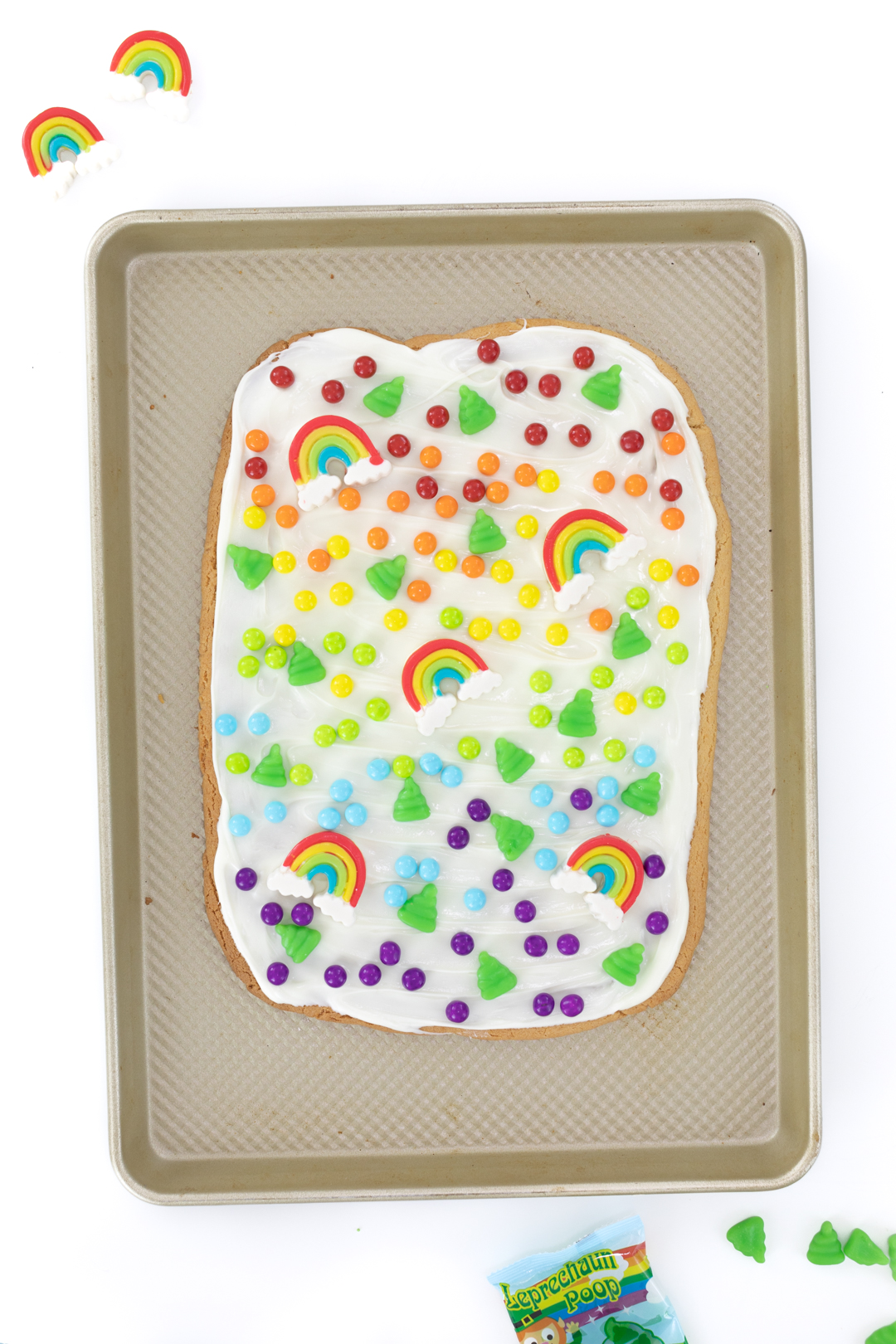 Once you let the cookie bark set, then you can break it up into fun pieces.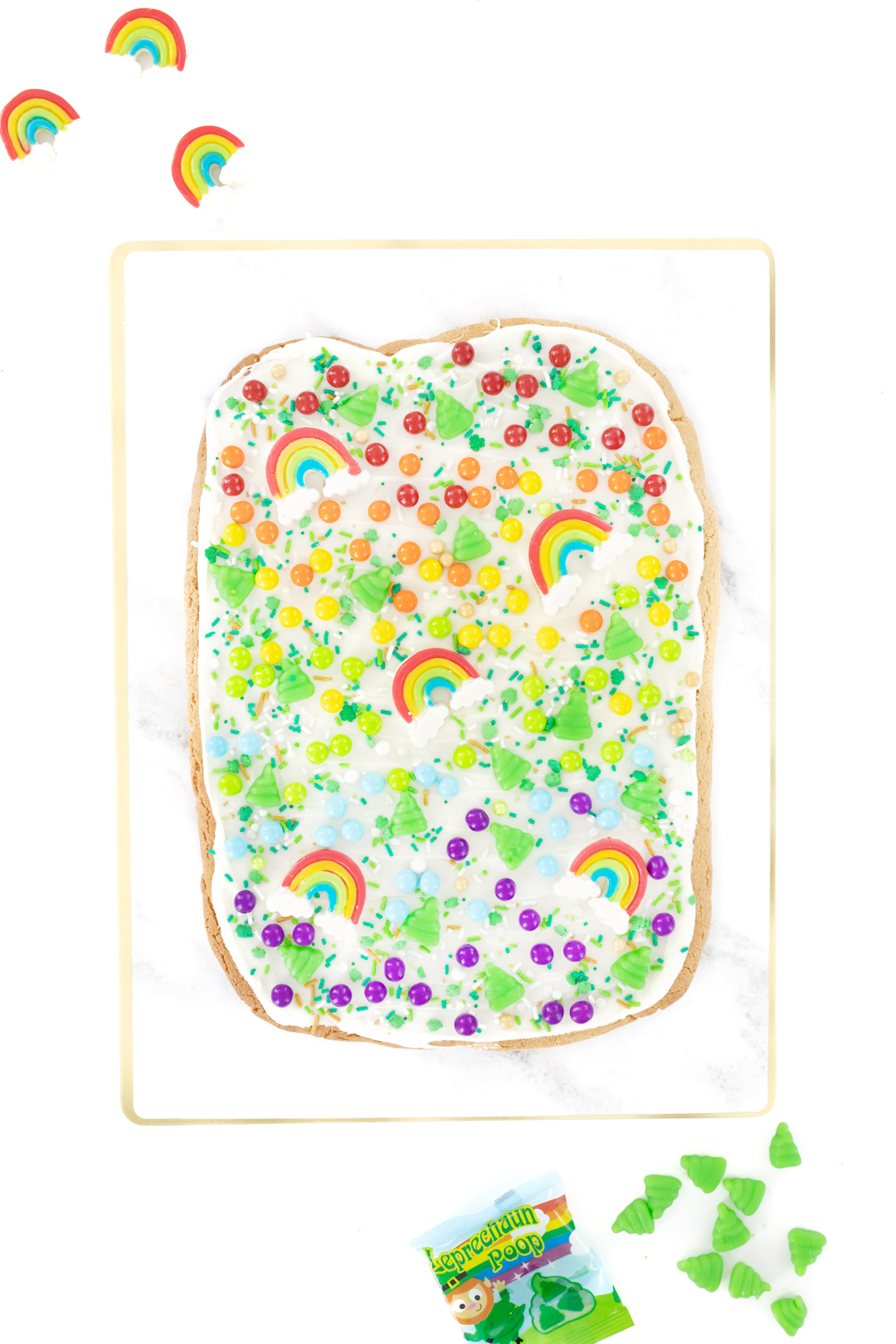 Voila! A magically rainbow inspired St. Patrick's day treat!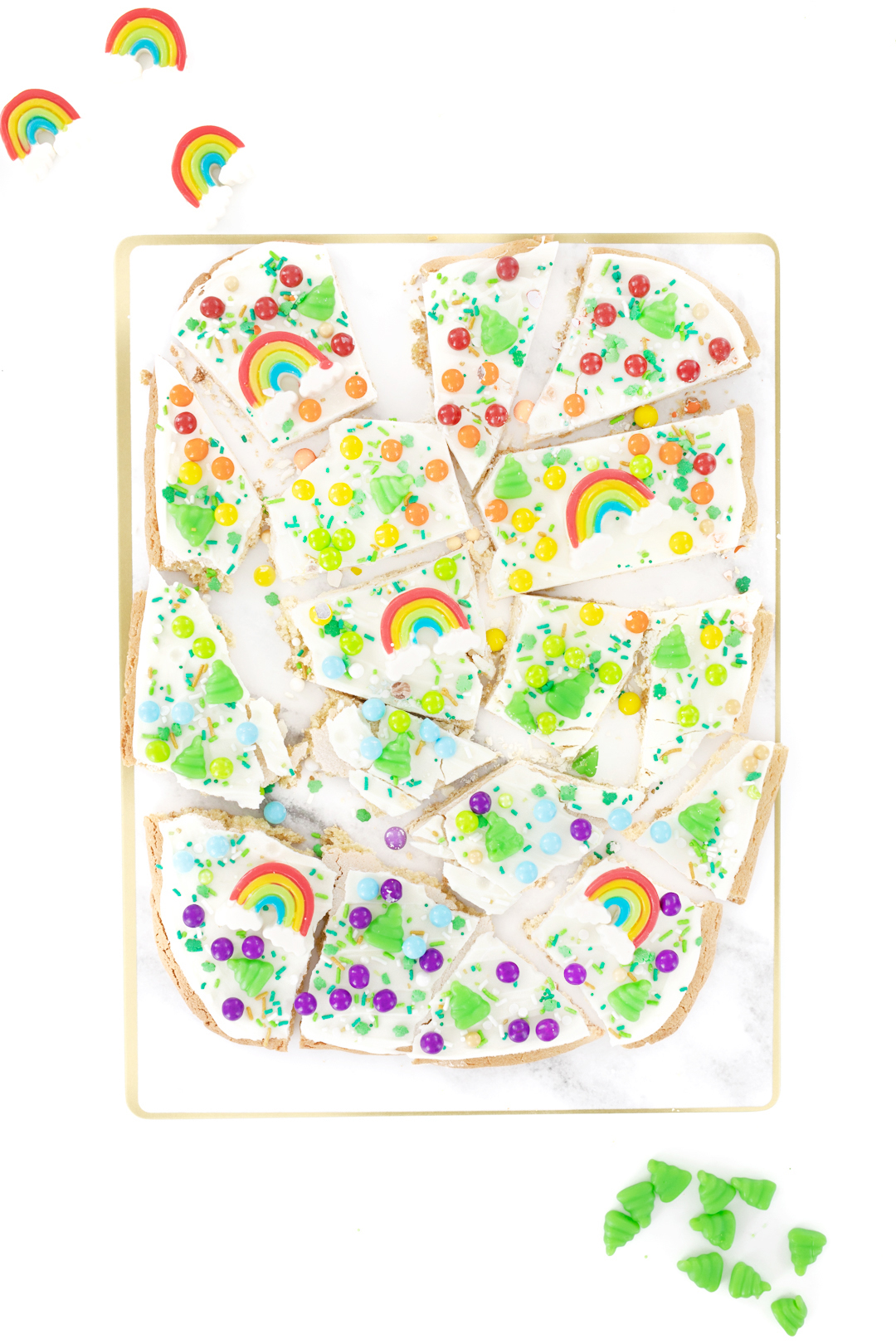 Can someone say yum?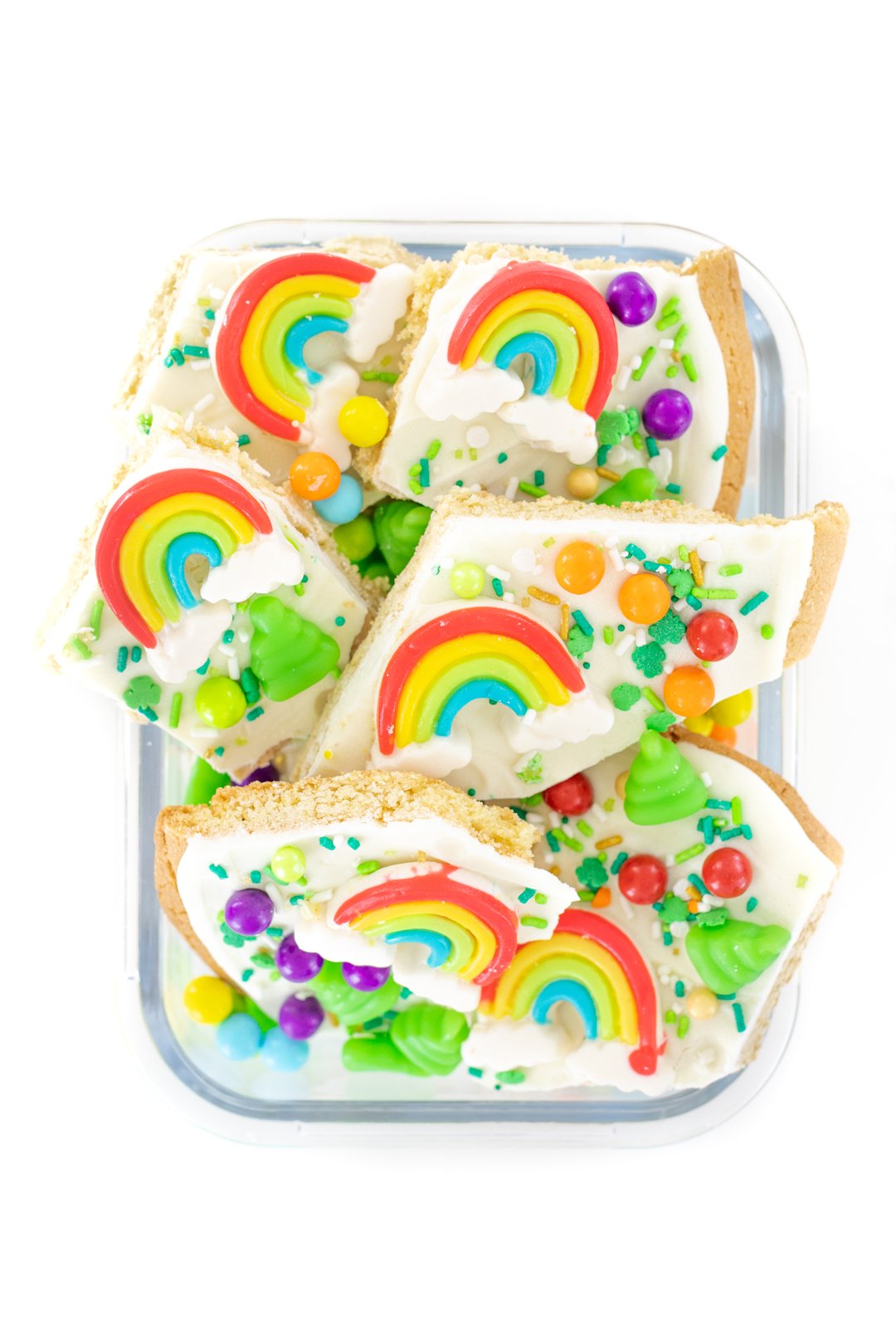 Leprechauns both big and small will love this easy cookie treat!
FUN ST. PATRICK'S DAY IDEAS
If you love celebrating with rainbows, these fun treat bags are going to be a hit.
This cookie decorating party will be popular. Just serve shamrock cookies and fun icings and sprinkles.
Last but certainly not least, I am obsessed with this themed candy charcuterie board.
Here are the specific shades of Sixlets candy that I used from Color It Candy:
Find links to the additional candies used below.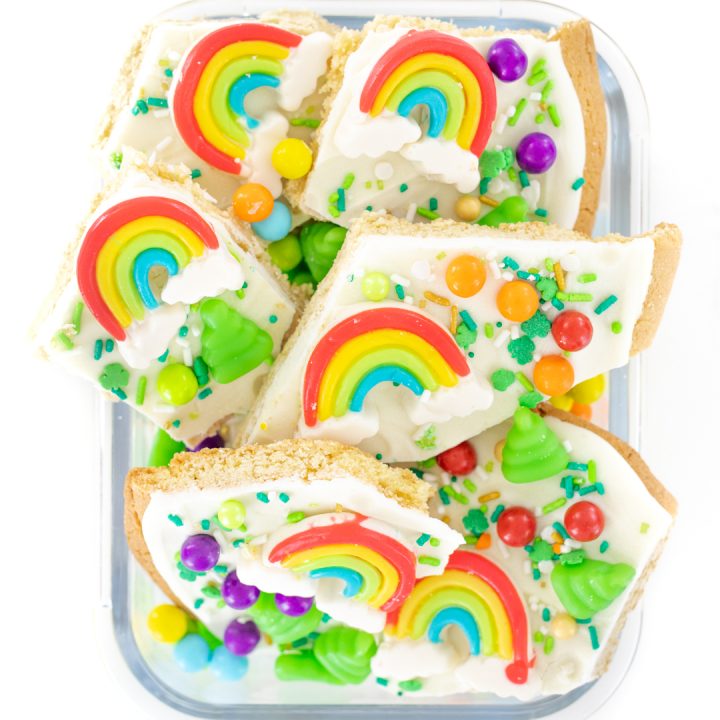 St. Patrick's Day Rainbow Cookie Bark
Additional Time:
40 minutes
Total Time:
1 hour
2 minutes
Ingredients
1 Pouch of Betty Crocker Sugar Cookie Mix (1 lb 1.5 oz) If using larger size, follow directions on bag)
⅓ Cup Butter, Softened
1 Egg
1 Bag (11oz) White Vanilla Baking Chips (2 Cups)
¾ St. Patrick's Day Candies and Sprinkles, your choice
Instructions
Preheat oven to 375 degrees.
Line a large cookie sheet with foil.
In a medium bowl, stir cookie mix, butter and egg until a soft dough forms.
Press the dough into a 12-inch square on the cookie sheet.
Bake for 10 to 14 minutes or until light golden brown, then cool.
Once cool, in microwavable bowl, microwave white vanilla baking chips uncovered on High 30 to 60 seconds, stirring every 30 seconds, until chips can be stirred smooth.
Pour and spread over the cookie base.
Immediately sprinkle with your candies, taking time to lightly press larger candies into place.
Let stand until set, about 30 minutes.
Gently break up cookie bark. Store tightly covered. Enjoy!
Recommended Products
As an Amazon Associate and member of other affiliate programs, I earn from qualifying purchases.