Summer is just a hop away and nothing gets me more excited than the thought of celebrating the 4th! There's just something about that combo of red, white and blue to get me into the spirit. When I spotted these cute smaller boxes of Cracker Jack, I knew I had to make something festive happen. They are just too perfect for celebrating the 4th of July with. This post contains affiliate links.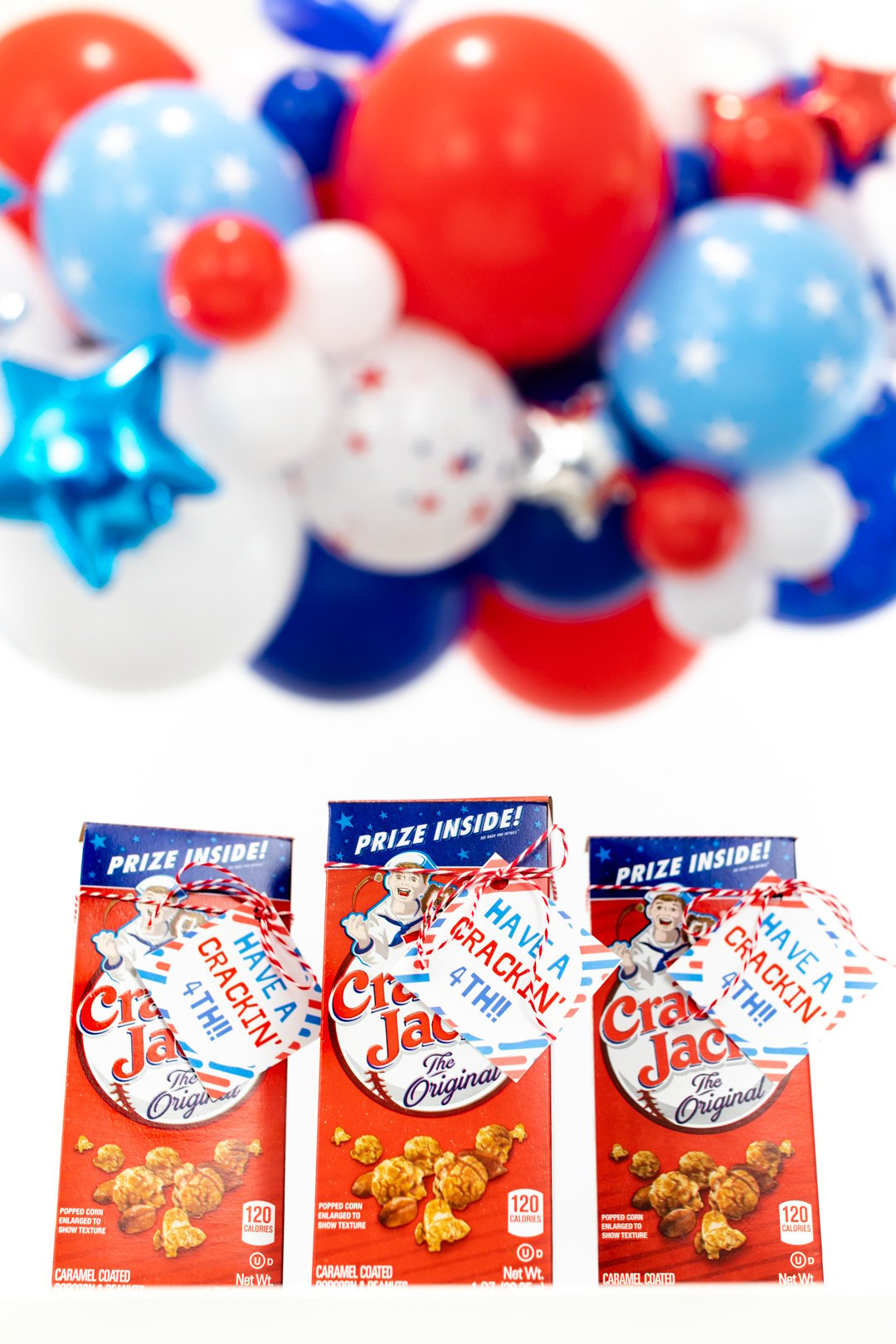 Boxes of Cracker Jack are a very popular treat to serve for summer parties because their boxes and bags are the perfect balance of the classic red, white and blue.
I thought, why not take it to another level and turn these boxes into a DIY gift or a more special party favor?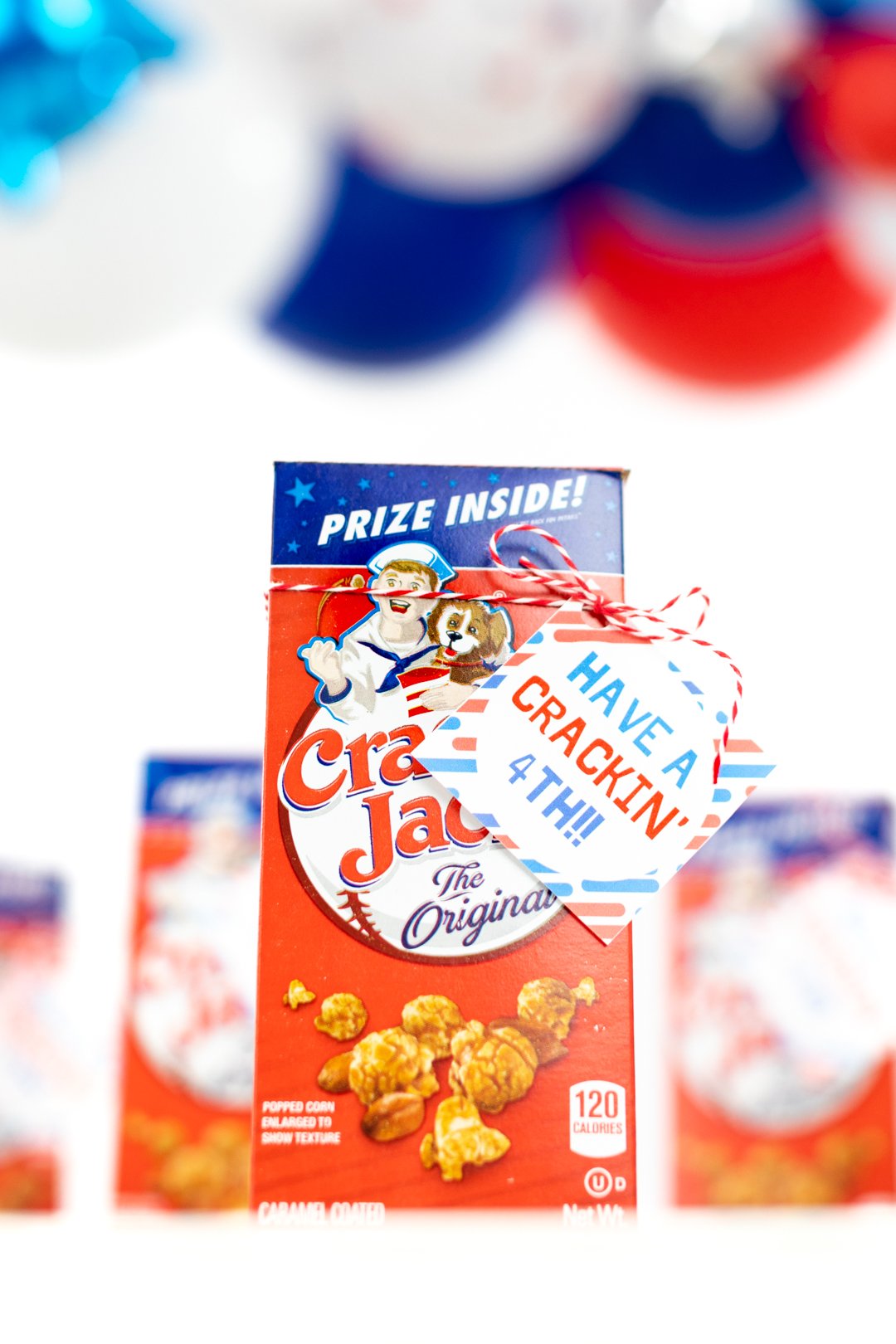 4TH OF JULY PARTY FAVOR
When I got my box of Cracker Jack in the mail, I opened it up and was instantly taken back to childhood. The excitement for that prize inside was SO real. Those memories are priceless.
A time when your whole day could be turned around in anticipation of not only a yummy treat, but a fun surprise, too. Score.
The beautiful memory got me even more excited about this simple Patriotic idea. I hope that it brings you the same nostalgic feeling.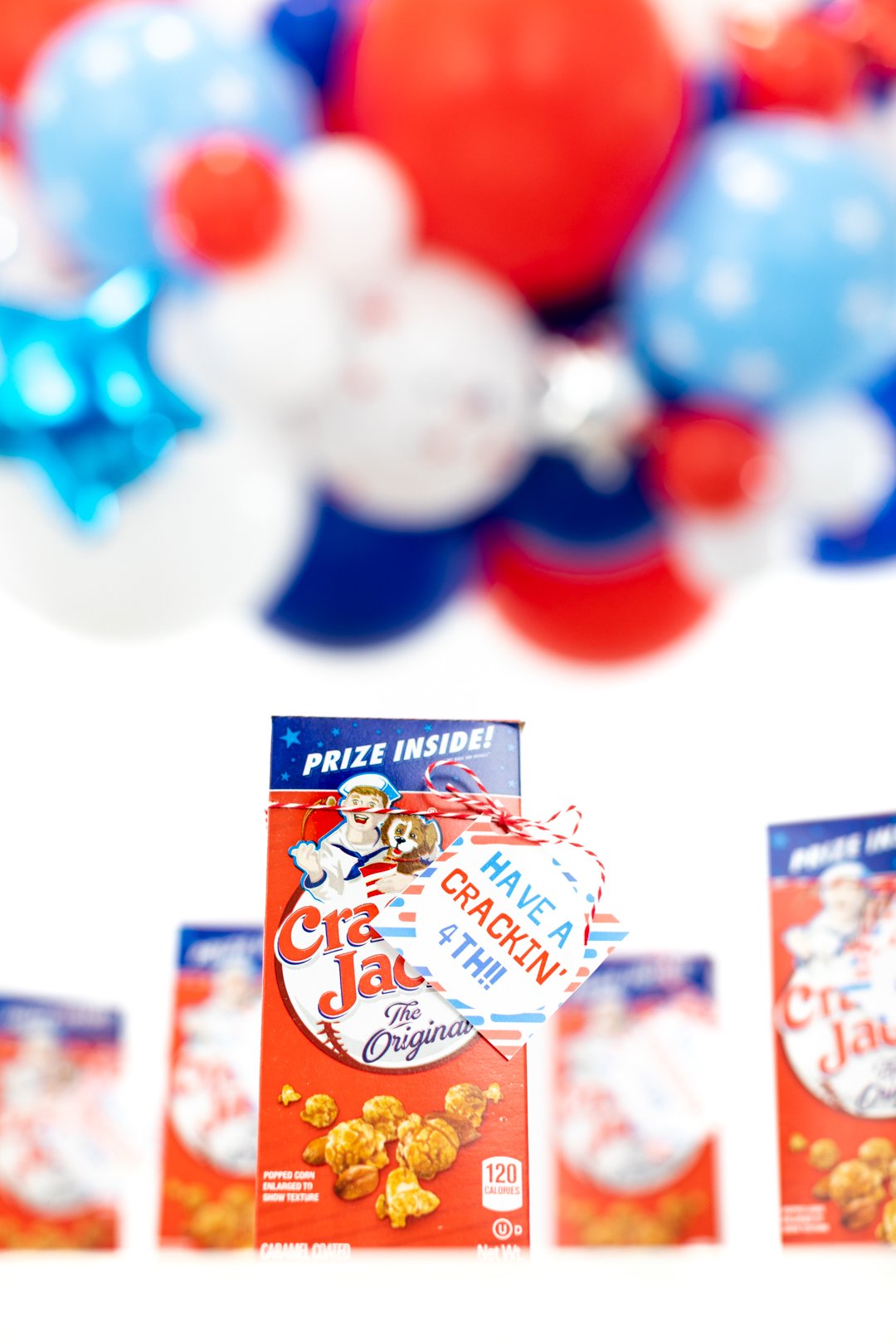 Putting these adorable favors together could not be simpler and you could do it any number of ways. You can also use any sized boxes or bags of this throwback snack.
Let me show you exactly what I did in case you would like to replicate this specific idea.
Here's what you need:
Cracker Jack Original - I used the 1 ounce sized boxes, here.
Printable Gift Tags (See Below) - I recommend using a cover stock like this for a bolder and firmer gift tag.
Red & White Baker's Twine - like this one, here.
Scissors (Tool)
Hole Punch (Tool) - such as this one.
Tape - optional
DOWNLOAD PRINTABLE 4TH OF JULY GIFT TAG - 16 per page
Here is how to easily put these cute snack gifts together for your Patriotic parties or celebrations.
Print as many of the gift tags that you need.
Trim out each individual gift tag using scissors.
Punch a hole in the left upper corner of each gift tag.
Trim out the baker's twine to about twice the circumference of a single Cracker Jack Box
Wrap the baker's twine around the box and stick the ends of both sides through the hole you punched in the gift tags.
Tie together into a bow.
Optional - use a little tape to reinforce the tags into place.
Voila! Repeat steps 4-7 as needed.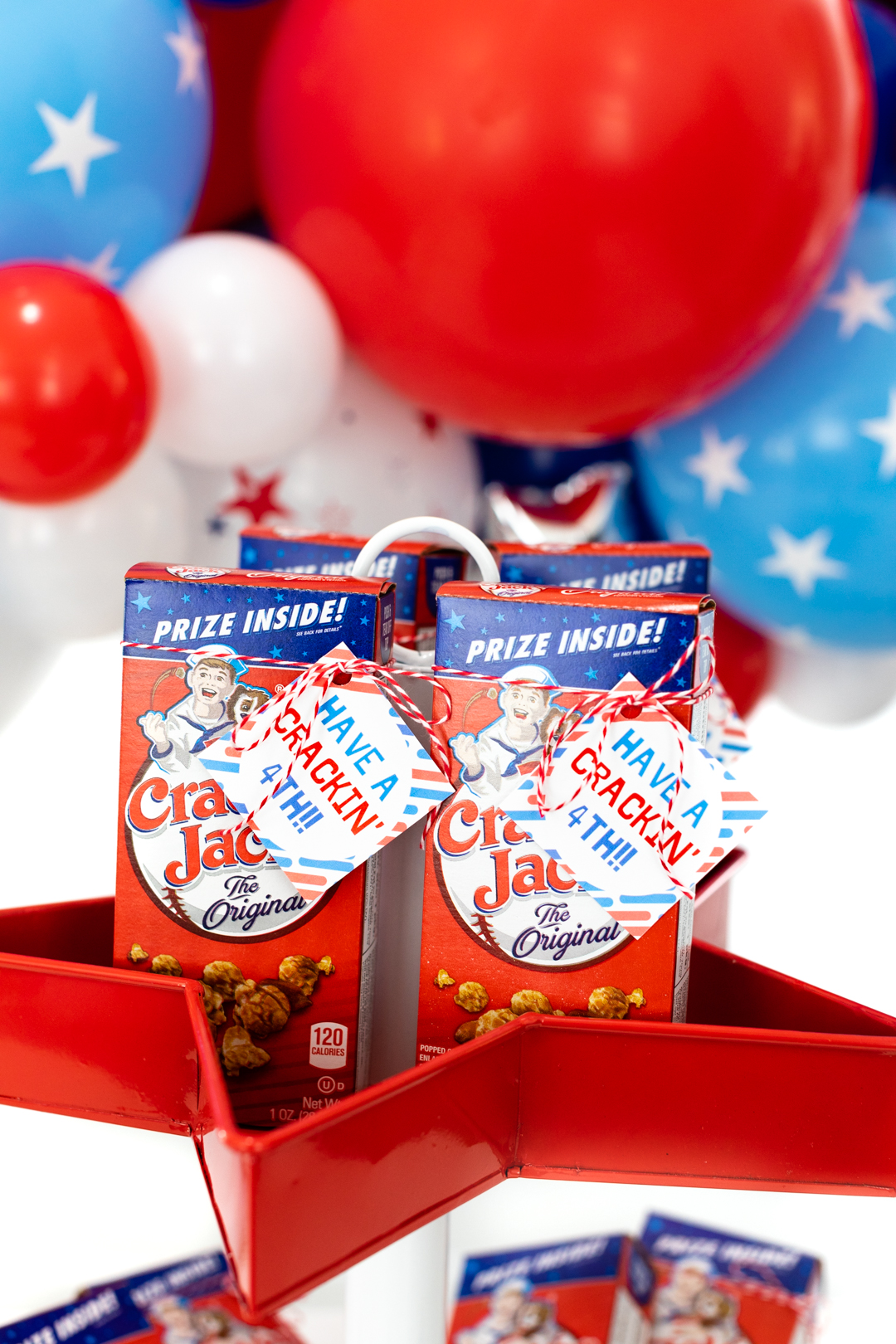 To make this even more simple, you can just simply print the gift tags and trim them out then just tape them to the boxes if you prefer.
Easy Peasy!!
PATRIOTIC PARTY IDEAS
4th of July inspired Red, White and Blue Dip Ideas
Festive Red, White and Blue Candy Charcuterie Board will be the hit of any Patriotic Party
Pretty dessert bars are perfect for Memorial Day, the 4th or Labor Day, too.
Crackin' 4th Cracker Jack Favors
Here is everything you need to make these cute 4th of July Cracker Jack favors.

Do you have any fun plans for celebrating the 4th?