This DIY gift idea is a great way to show your teacher how much you appreciate them. With only a handful of simple ingredients it can be made in minutes and the best part is that the apple shatters into pieces when smashed, making it completely edible! This Breakable Chocolate Apple DIY Gift Idea will make an impactful teacher's day while also being extremely tasty. We're taking the idea of smash chocolate hearts and turning it into an awesome gift for teachers. This post may contain affiliate links.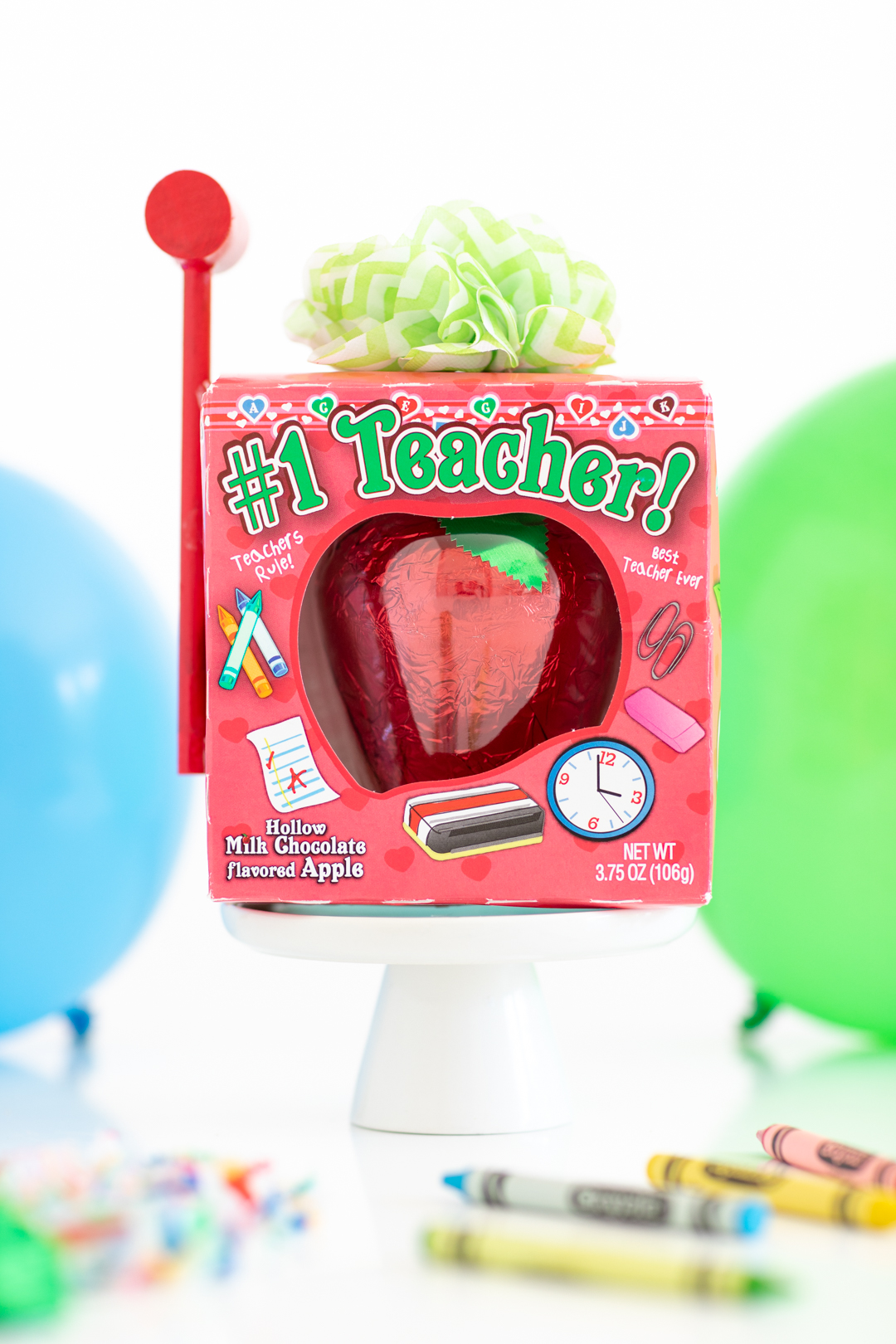 This Breakable Chocolate Apple DIY Gift Idea will impress for teacher's appreciation day while also being super fun and delicious.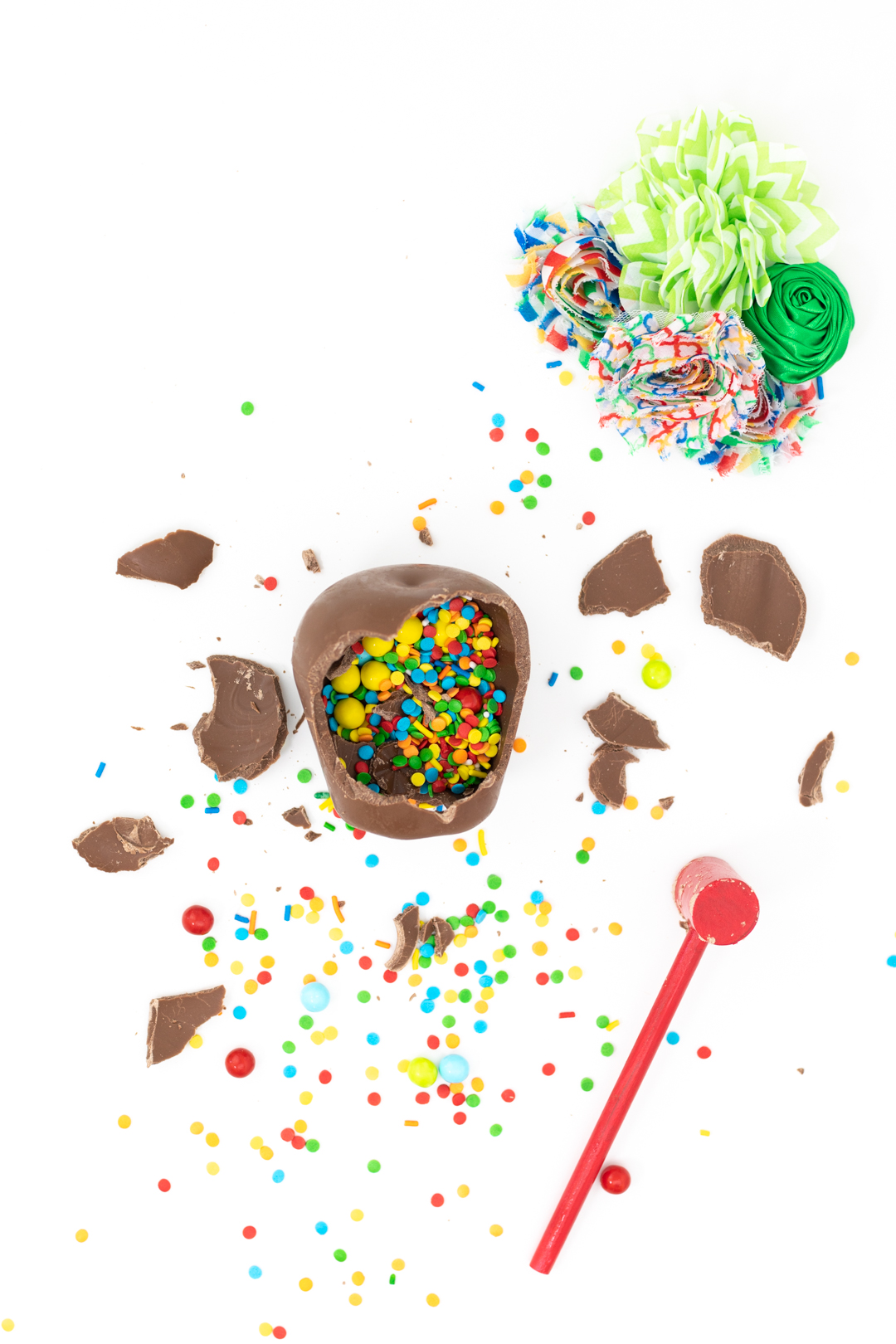 BREAKABLE CHOCOLATE APPLE DIY
Teachers deserve the best! Give them a surprise gift they will never forget this year with this creative and delicious idea.
A hollow chocolate apple is filled up with candy like a piñata and then sealed back up so that your favorite teacher can have fun smashing it to reveal delicious treats.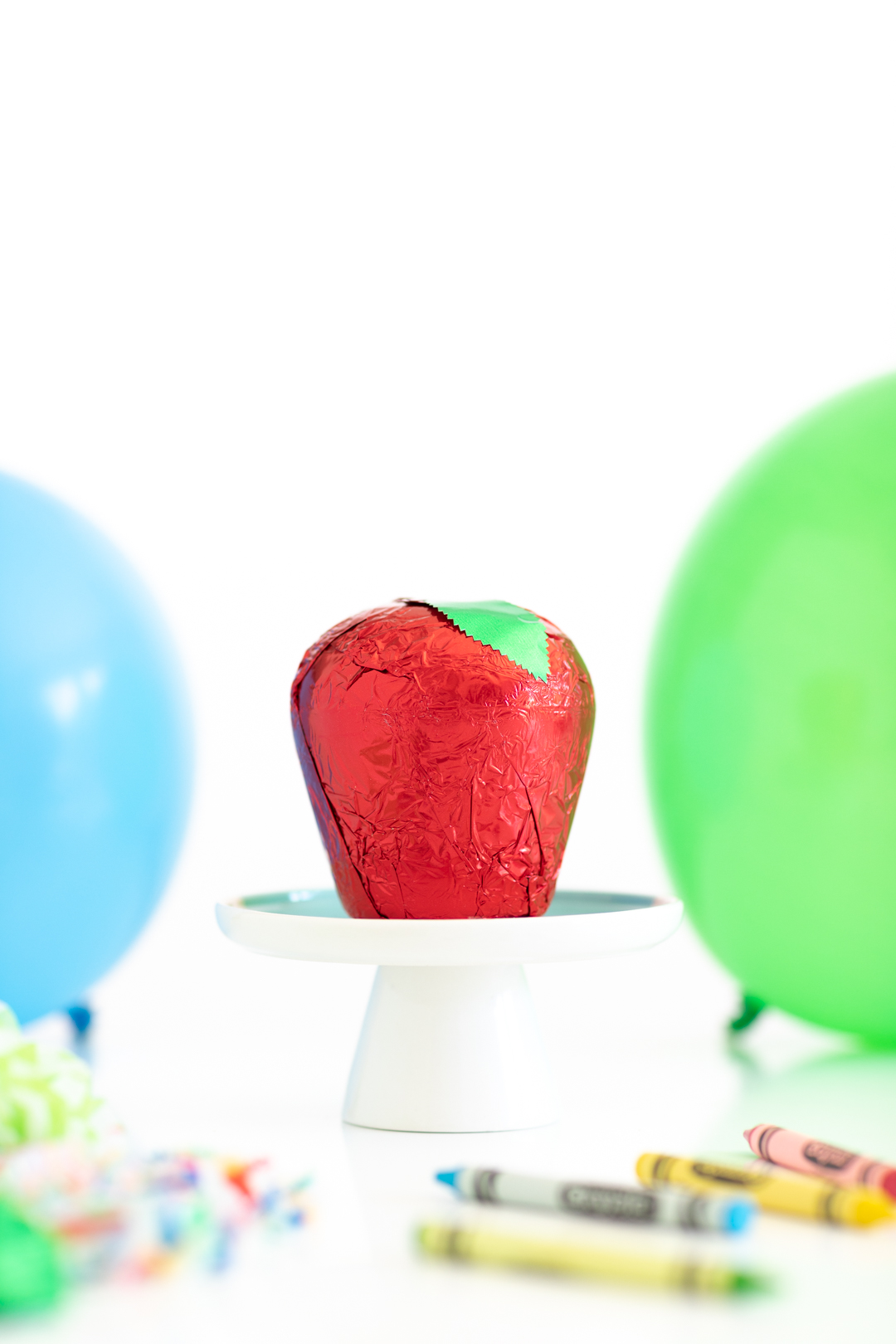 BREAKABLE CHOCOLATE APPLE INGREDIENTS
All you need is a store-bought hollow chocolate apple (or one that you make with your own mold) to get started.
Then, you fill up the hollow chocolate apple with desired goodies such as: small candies, sprinkles and other small gestures like a small note.

Here is exactly what you need:
Hollow Chocolate Apple - Store bought like this one or made with a mold.
Apple Corer Tool - to help make a hole in the hollow chocolate apple. This OXO apple corer is similar to the one I used.
Lighter - to heat the apple corer to melt through the hollow chocolate shell. This activity is for adult's only and at your own risk.
Small Candies - I love primary colored treats, but you can choose any you like. Wrapped treats might be the better option for freshness.
Sprinkles - This is an optional ingredient, but they look so cute when the chocolate is smashed.
Small Note - This is a fun optional idea as well. I recommend wrapping in plastic wrap so it does not touch the edible candies.
Small Mallet for Smashing - I like to paint mine to match my gift for extra cuteness. I went with red paint on this one.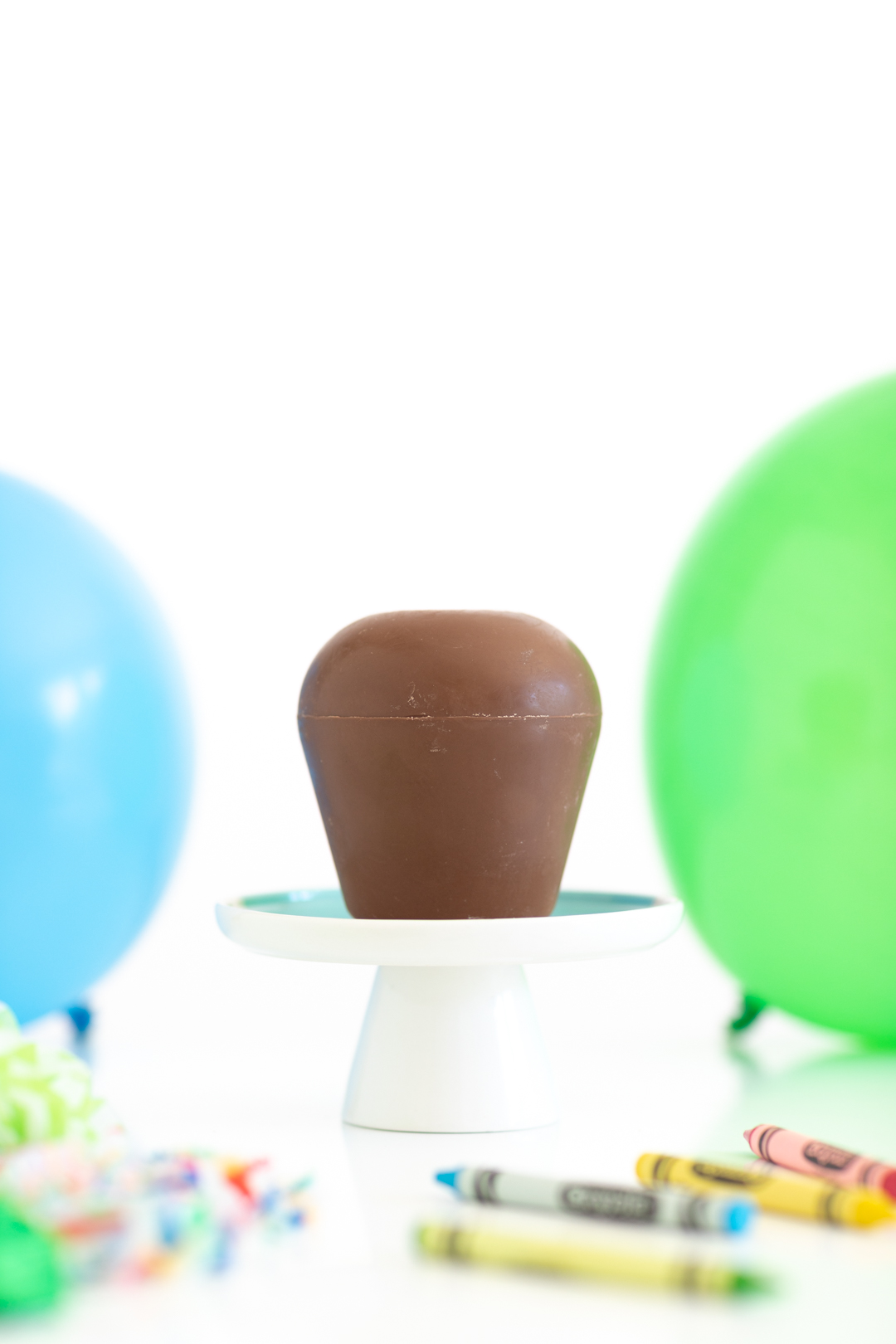 HOW TO CUT THROUGH HOLLOW CHOCOLATE
To make a clean break through this large chocolate bunny, I had used a heated knife but this apple didn't have anywhere to make a good cut without ruining the overall appearance.
While I was brainstorming ideas, my husband actually suggested trying an apple corer.
Can you say brilliant? This enabled me to make a clean break through the bottom of the apple. I could not believe it.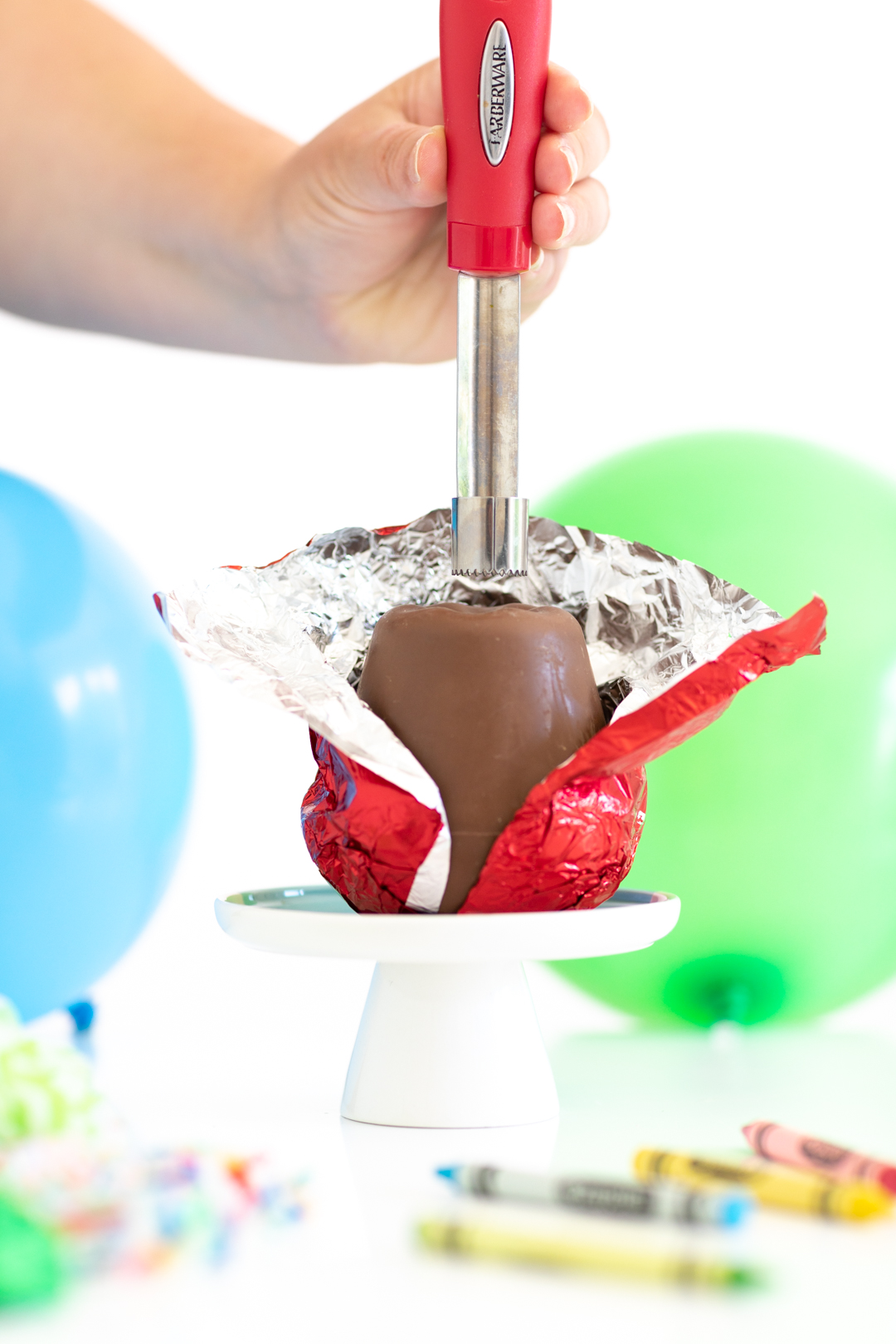 Here is exactly what I did that works BEST (despite what I showed in the image)
Heated the tip of an apple corer with a lighter - adults only. You could also dip into super hot water and dry to do this, but it will take a lot longer.
(IMPORTANT) HOLD THE APPLE UP AND WORK UNDER IT so that the circle you cut falls OUT and not INTO the apple.
Wiggle the apple corer gently into the center bottom of the apple until you break through. You may need to wipe and rewarm the apple corer to do this. I had success on my first attempt.
Place the circle on a sheet of wax paper or parchment paper until you are done filling it.
It will take a little patience and about 5 minutes of time. Slow and smart is the name of the game. Be sure to patiently press and gently wiggle and melt through instead of cut.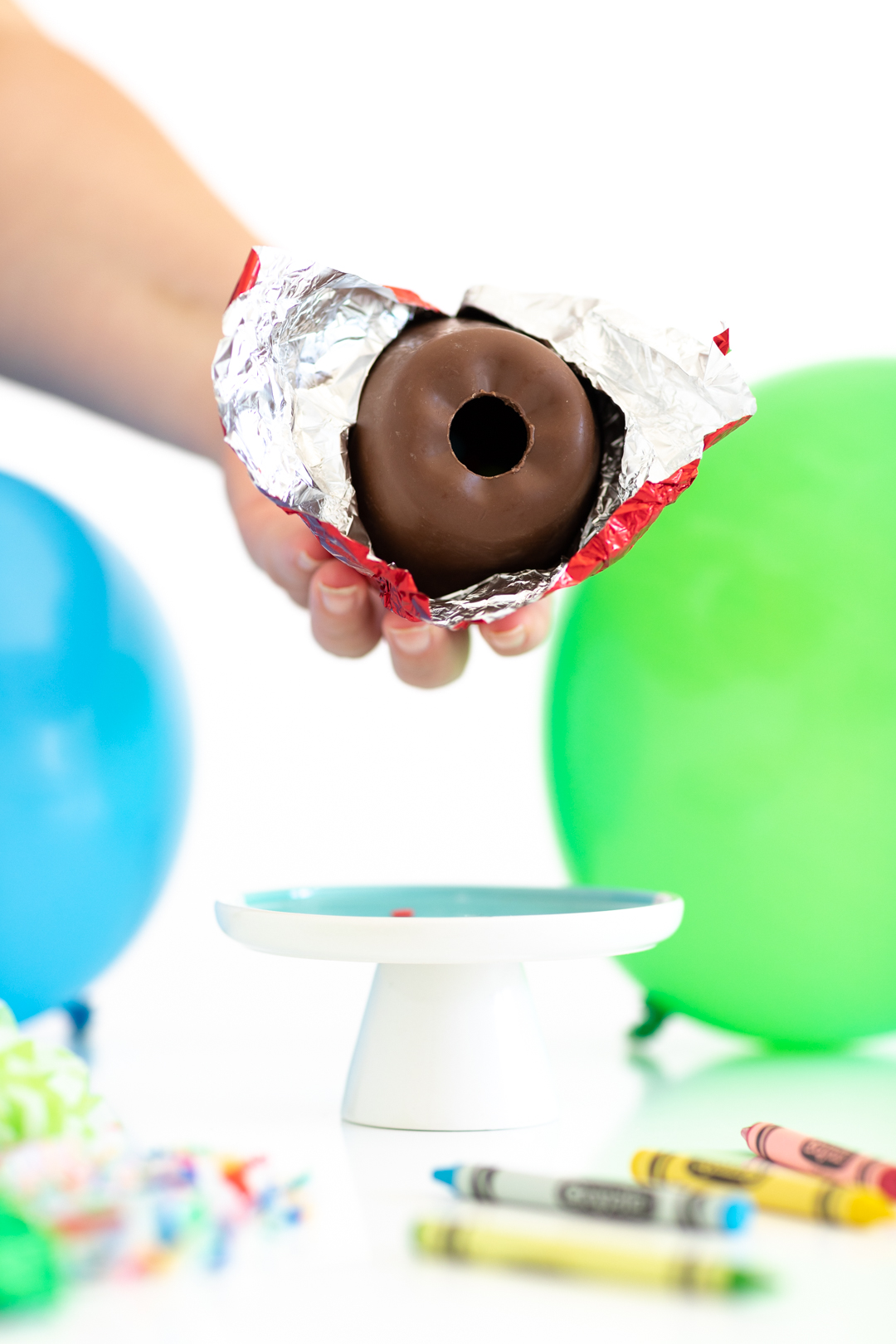 HOW TO FILL A BREAKABLE CHOCOLATE APPLE
Once you have made a hole in the base of your hollow chocolate apple, it's time to fill it with small candies, sprinkles and a small note to your teacher if you like.

For best results, use a small funnel to get your treats into that small hole.
Alternately you can pour and place things by hand.
Very easy and fun process.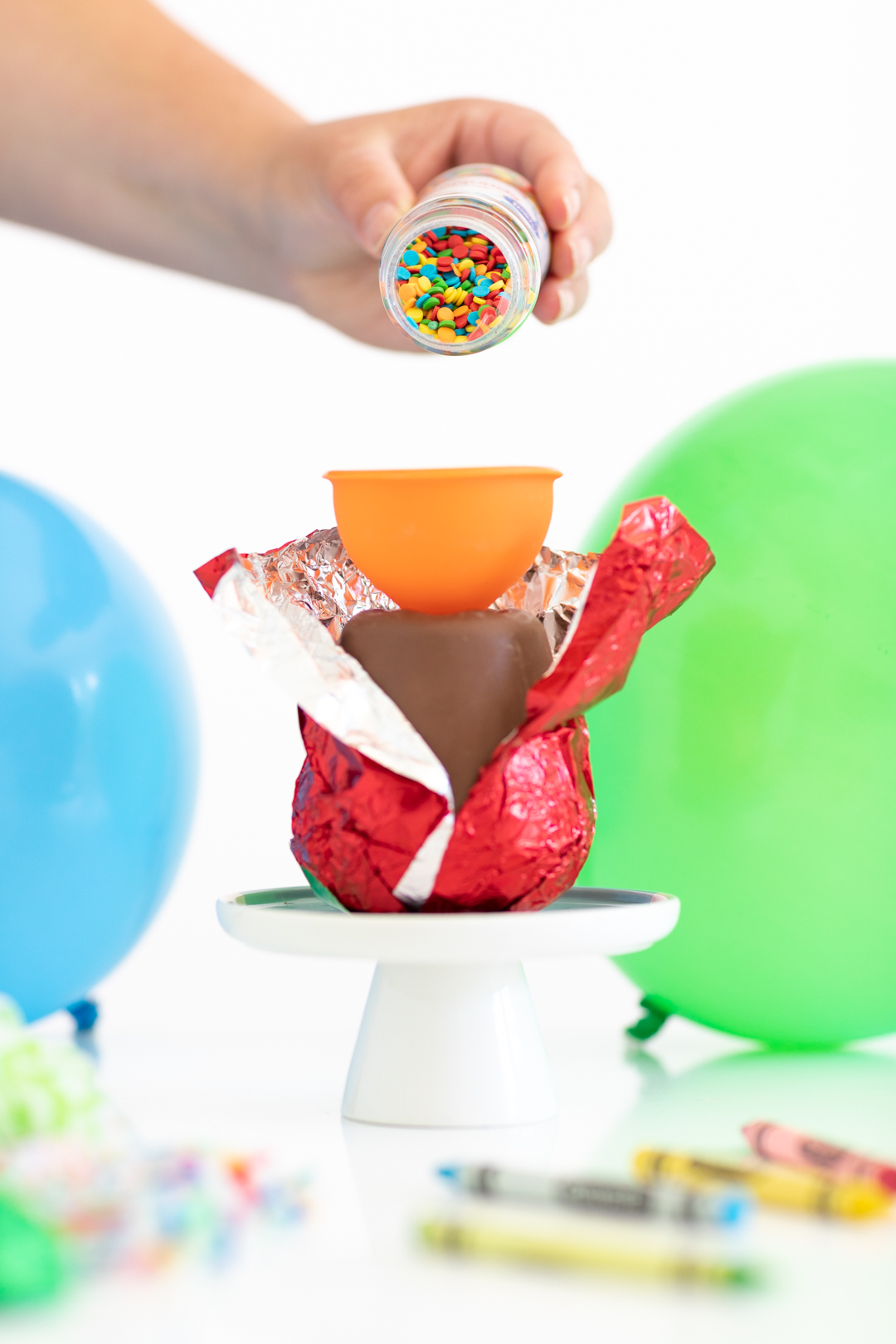 I recommend only filing the apple about ⅓ of the way and definitely no more than half.
This will ensure the best smashing outcome once you gift this treat.
If you fill too much, the chocolate will be harder to smash and then the candies will end up getting smashed as well.
HOW TO RESEAL A BREAKABLE CHOCOLATE APPLE
Once you have filled your hollow candy apple like a pinata, it's time to reseal it.
Ideally you will be able to get your chocolate circle back into place.
You will want to use a lighter (adults only) to really gently warm round the circle and place on for a few seconds until it sticks back on.
Alternate option if you are not able to do this - you can use a single chocolate melting wafter with this same method to block the bottom.
Worst case scenario, you can use something like a tootsie roll rolled into a circle and placed there.
Don't worry, you will easily be able to find a solution if the original piece will not work out.
Once you are done, you can place the chocolate apple back into its foil wrapping and back into the package if desired.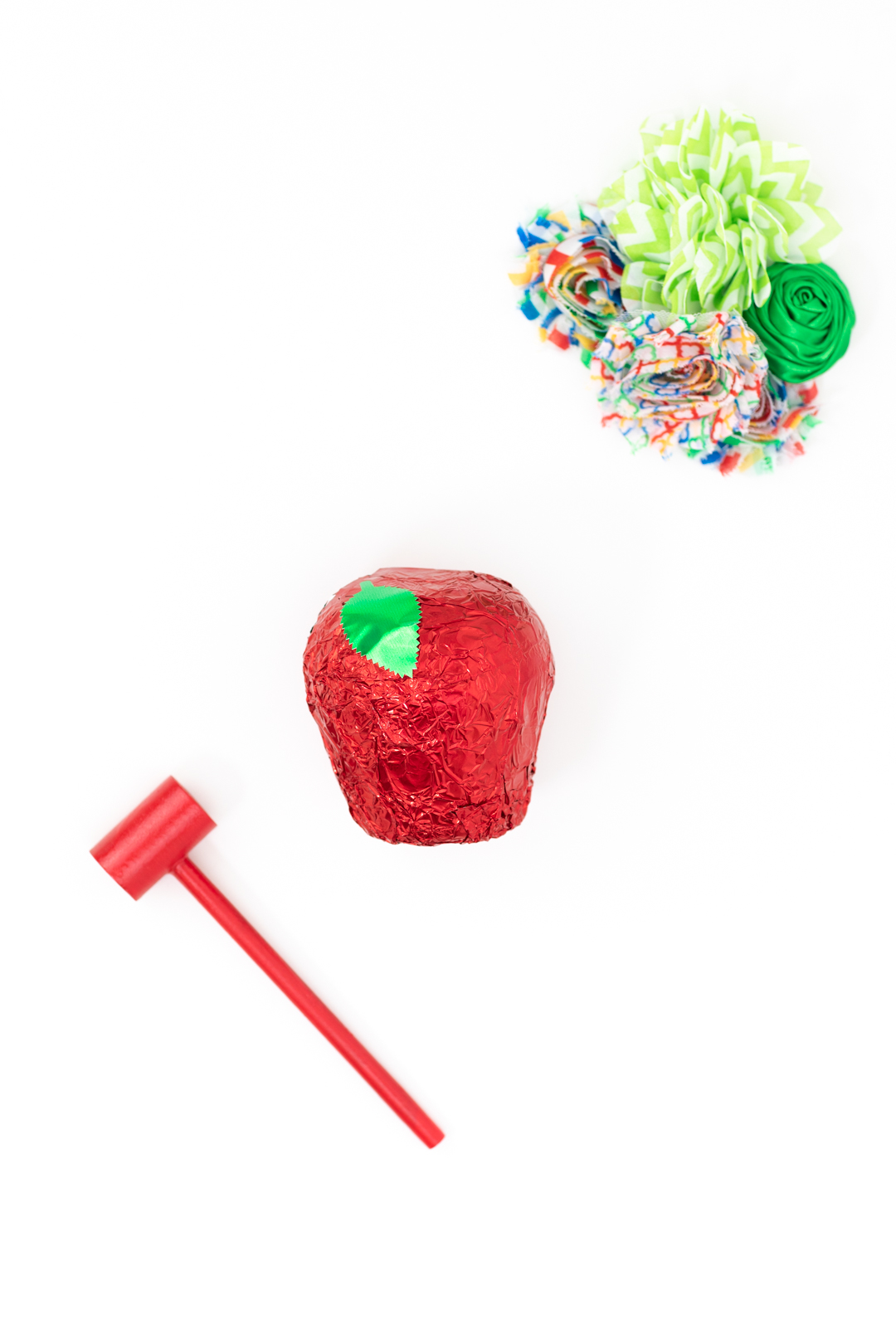 HOW TO SMASH A HOLLOW CHOCOLATE APPLE
Once you are ready to repackage your smash apple and gift it to your favorite teacher, it's time for them to SMASH the chocolate.
This is the VERY best part.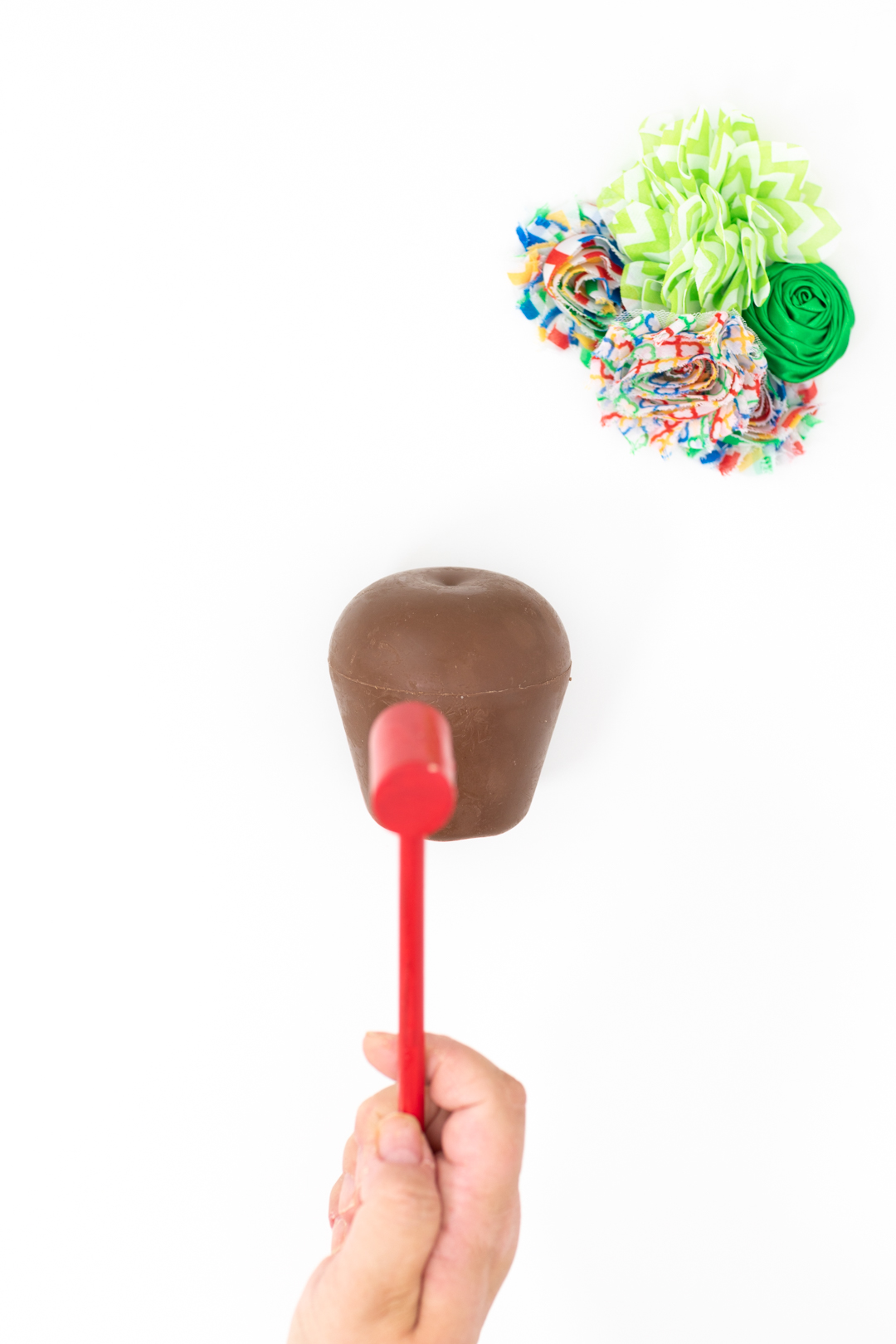 You will need to tell your giftee that they need to use the mini mallet to give the apple a few really good smashes to make it crack open and reveal the treats inside.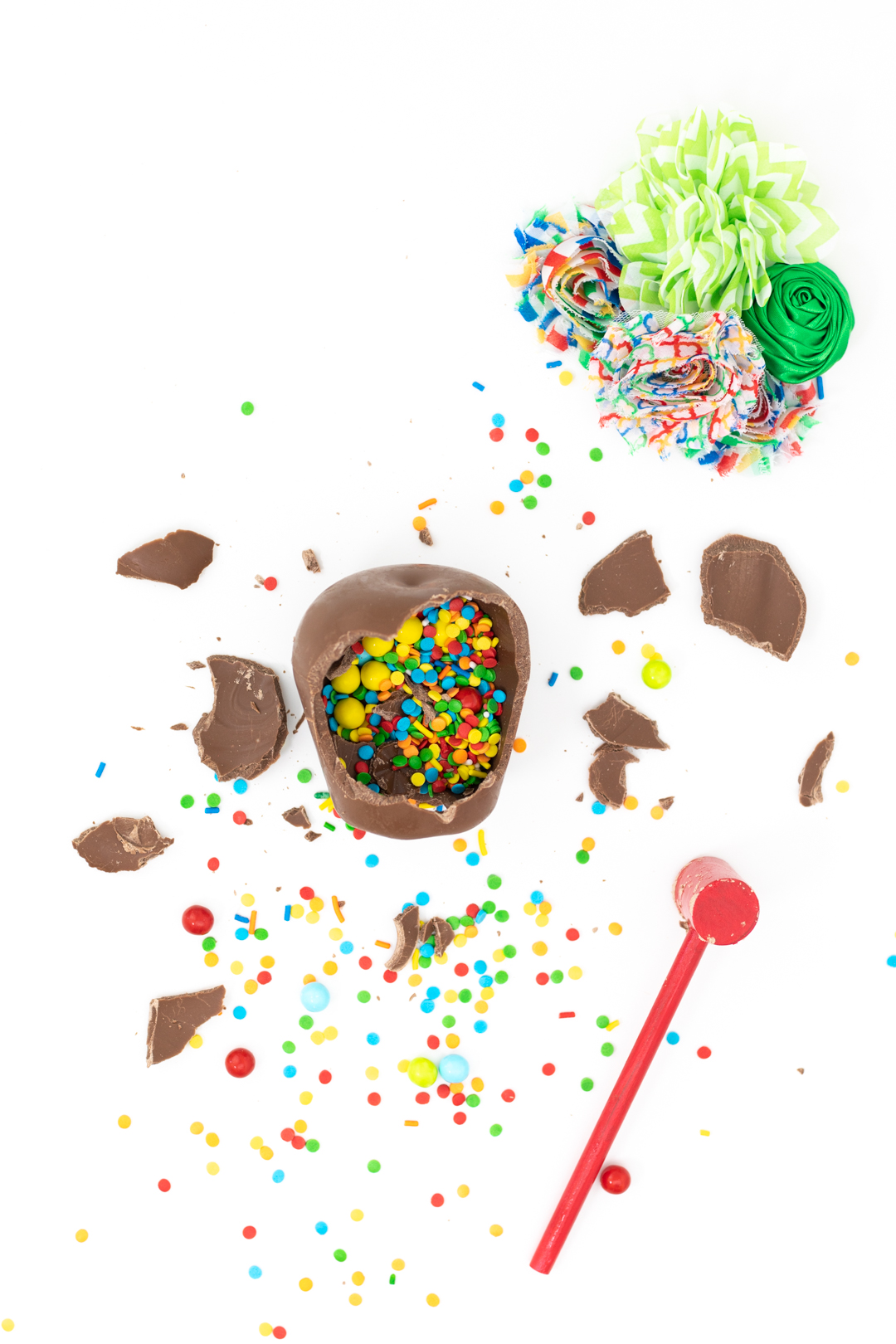 This hollow chocolate apple is not as easy to smash as some other hollow chocolates I've tried. So be ready to do some good smashing. Don't forget your camera because it can get really funny!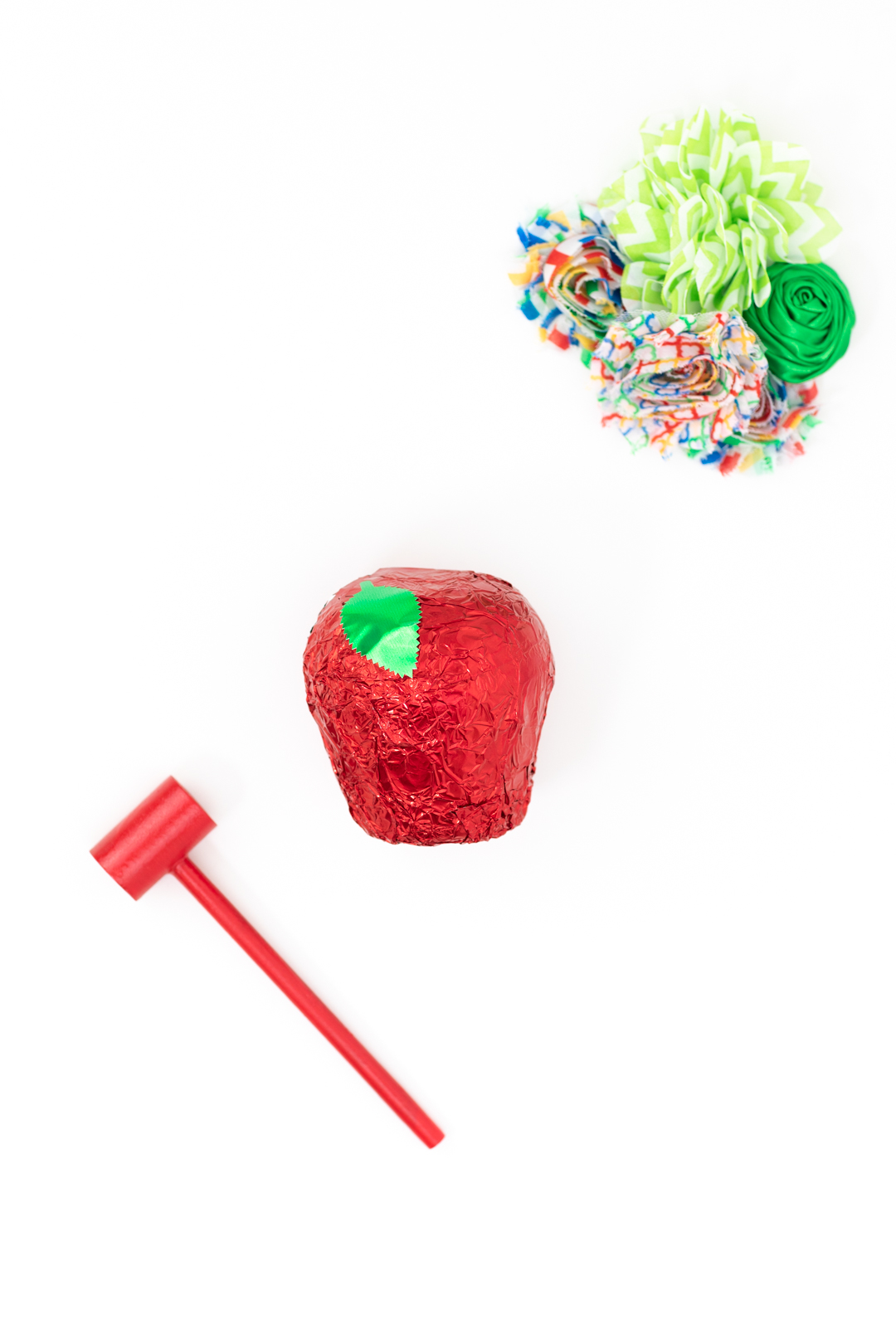 WHEN TO GIVE A TEACHER A GIFT?
This DIY project is perfect if you want to give someone a teacher in your life a unique yet thoughtful gift. But when should you gift your teacher?
Here are some thought-starters.
First Day of School
Last Day of School
Teacher's Appreciation Day - Varies, But Currently Recognized on May 4th in 2021.
Teacher's Appreciation Week - First Full Week of May.
World Teacher's Day on October 5th.
On Their Birthday or Special Milestone
Any day!
All you have left to do is wait for your favorite teacher's last day of school before giving them this delicious treat. They will love getting this thoughtful gift from their cherished students.
DIY GIFT IDEAS
I'm sure you've heard that saying, "It's the thought that counts." But often times we find ourselves in a bind when it comes to gift giving. We want something thoughtful and personal but don't have the time or know-how to put into it. That's why I created this these easy ideas for all of my lovely readers who are looking for some DIY gift ideas!

There are many ways to relieve stress, but sometimes you need a little help.
A care package is an easy way to send your love and support that includes yummy treats for the person needing some R&R as well as some soothing items like lotion or bath salts.

Do you have a friend who is always hard to buy for? Maybe they are the type of person who has everything, or maybe they just seem impossible to shop for. Well, we may have found the perfect gift idea for them: our DIY Spa Gift Basket! This easy-to-make basket includes face masks, bath salts in their favorite scent, bubble bath and more.

Who doesn't love a surprise every once in awhile? Whether it be an unexpected happy birthday party or just that candy you've been craving for days, surprises are always fun. That's why we have created the perfect gift for everyone! This is the best way to show someone how much she means to you and make their day.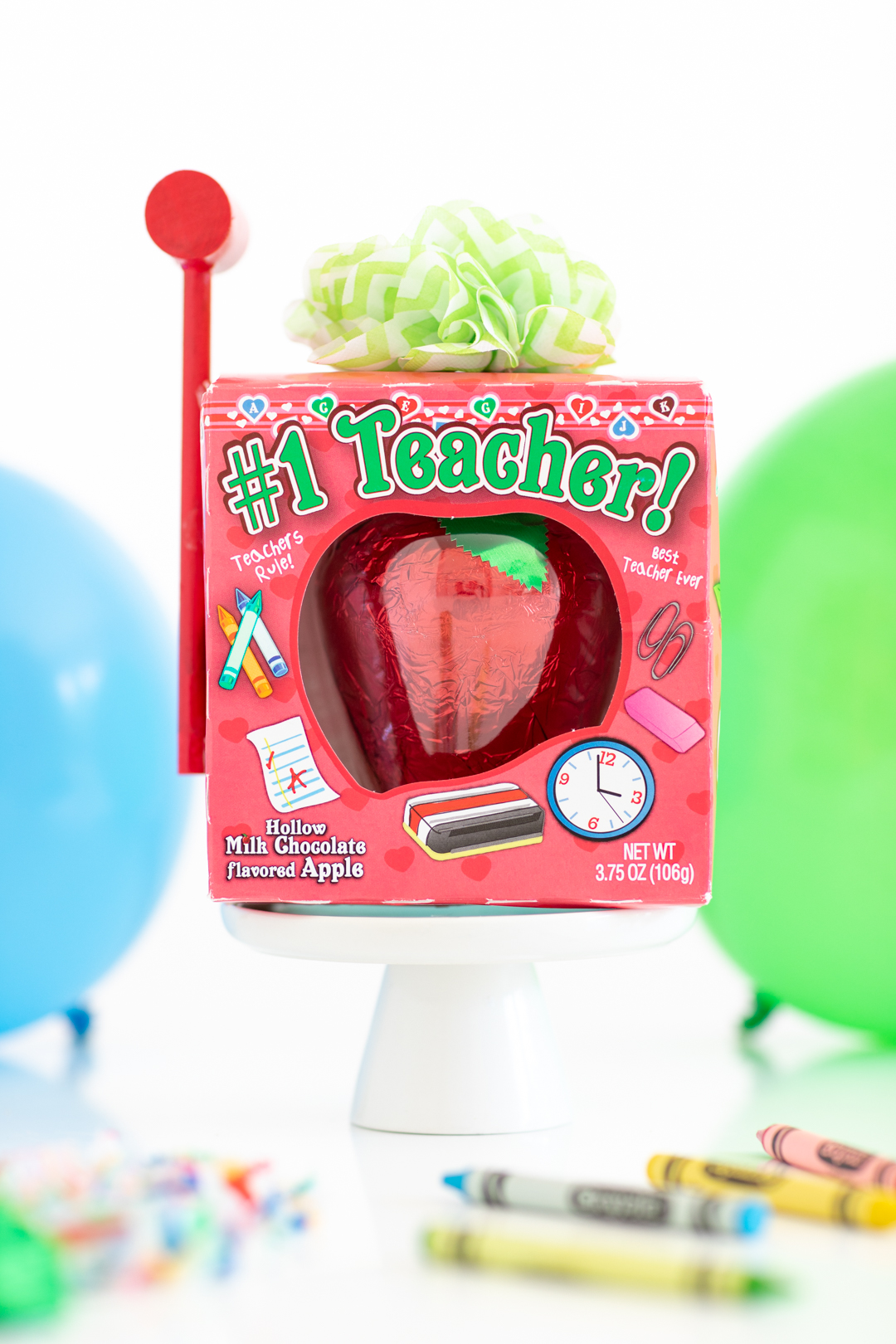 Teachers deserve more than just some pencils and pens for your last day of school. That is why I came up with this delicious treat to show appreciation! If you like this idea, please email it to a friend. Sharing is caring!