"Stop playing with your food!" When is the last time you had to say this to your kids? Well, this might shake things up a bit because this craft encourages playing with food. Of course, you won't want to eat it afterwards. It's really easy to dye pasta or rice using an easy combination of food coloring and rubbing alcohol. The possibilities are endless on what you can create, but for this season we're doing a Valentine's Day Heart. We even created the heart printable and included the measurements that you will need to make just enough colored pasta.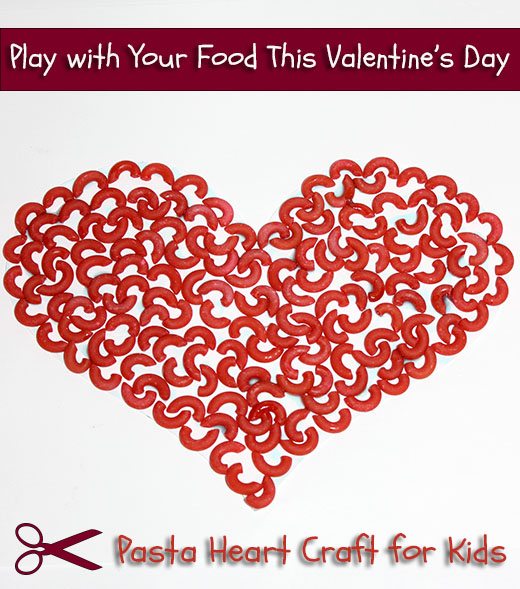 My son gets a kicked out of colored pasta crafts, hopefully you will enjoy this little project with your kiddos too.
Red Pasta Valentine's Day Craft
Supplies you will need to color enough pasta for the heart:
-½ Cup of Pasta ("Elbows" work great)
-½ Cup+- Rubbing Alcohol
-Red Food Coloring
-1 seal-able bag (like Ziploc)
-Paper Towel for drying
Supplies you will need to create a pasta heart:
-Sturdy sheet of paper or stock
-Our Printable Heart Template
-Glue
Red Colored Pasta Directions
Pour the pasta and rubbing alcohol into your seal-able bag. Make sure the pasta is completely covered, you may want to add a few more drops of the alcohol. Add food coloring to contents until you achieve the desired shade of red. Seal the bag and let the pasta sit for several hours. The longer it sits, the darker the color will be. Soaking it overnight works great for the best color, but its not necessary. Then, drain the liquid from the bag and lay the pasta out to dry on a paper towel. Once your colored pasta is completely dry, its play time!
Heart Preparation:
-> Print out our Valentine's Day Heart Template. Either print on stock paper or you can glue your regular printer paper sheet to something more sturdy like stock, construction paper, ½ of a file folder or even piece of cardboard from a package or cereal box, etc. You'll want something that can handle the weight of the pasta.
Then, its play time. Glue your pasta individually to fill up the heart. Let dry.
Voila, you have a super sweet Valentine's Day craft made by the kids! Have fun!