Dashing through the snow... list of super easy holiday hacks. Here's another super simple Christmas cookie idea that uses store-bought cookies to save a ton of time and pretty pink icing to make them memorable. These holiday cookies really could not get much easier and nobody will no how little time you spent making them. That's a Christmas win. Let me show you just how simple these little cookies are to make. Like many of my recipes and ideas, you can easily make swaps that work for you.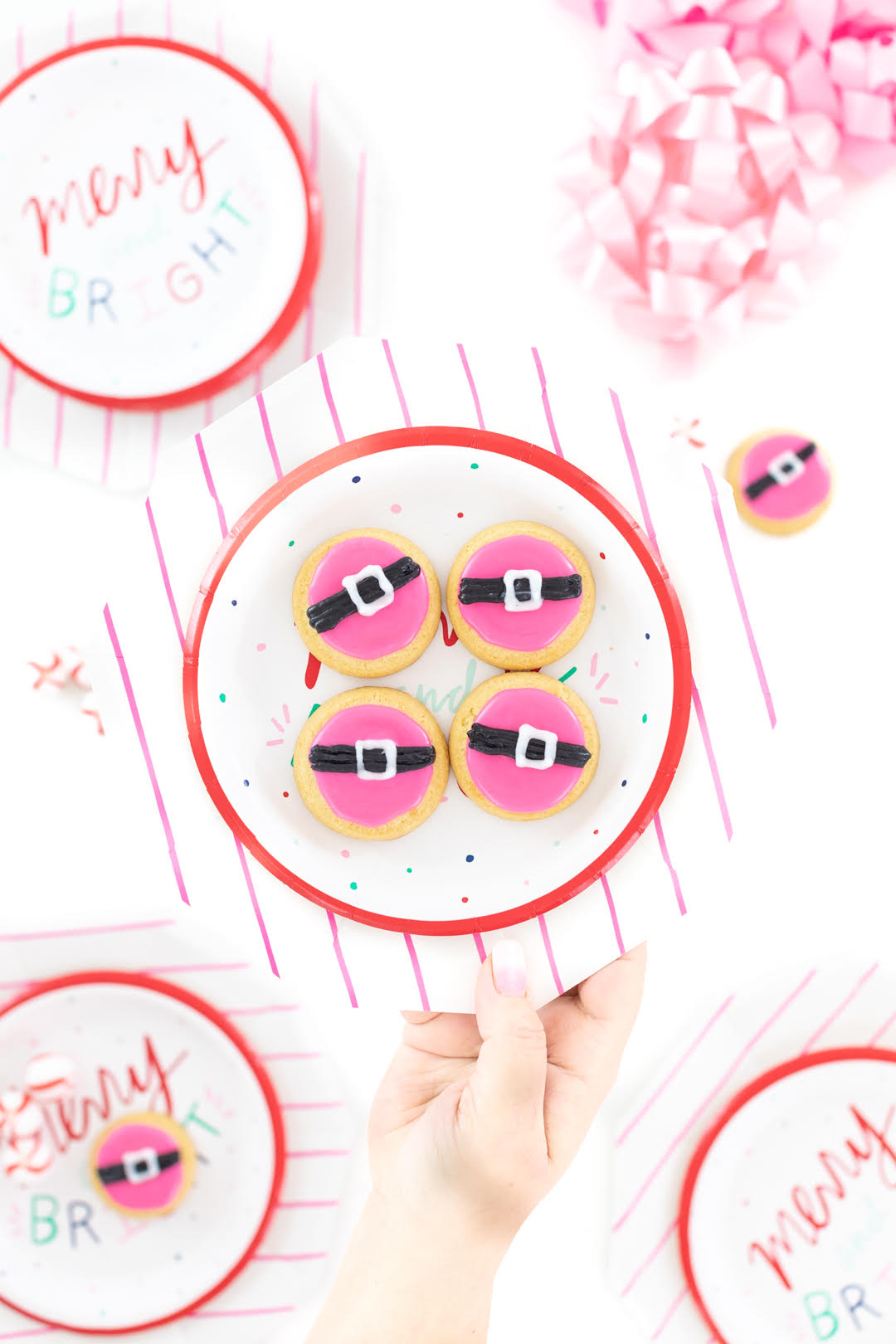 Here comes Santa Claus, here comes Santa... cookies. I don't care how old you are, there's still some magic to be had. Adding a little pink twist to your holiday is very smile-inducing and I highly recommend that you try it. It's time to bake, I mean MAKE some cookies. It just does not get much easier than this, friends.
SANTA BELT COOKIES
Being busy, doesn't mean you can't do it all. It's all about little shortcuts and tricks. Using store-bought cookies to put your own twist on is a pretty amazing hack. These are so cute, I doubt anyone would even wonder further than the adorableness of these sweets. So, let's get to it! Here is what you need to prepare these cute Christmas cookies for Santa:
Sugar or Shortbread Cookies
Pink Cookie Icing
Black and White Writing Icing
All you need to do is using your pink cooking icing to neatly cover your choice of cookies and let that set.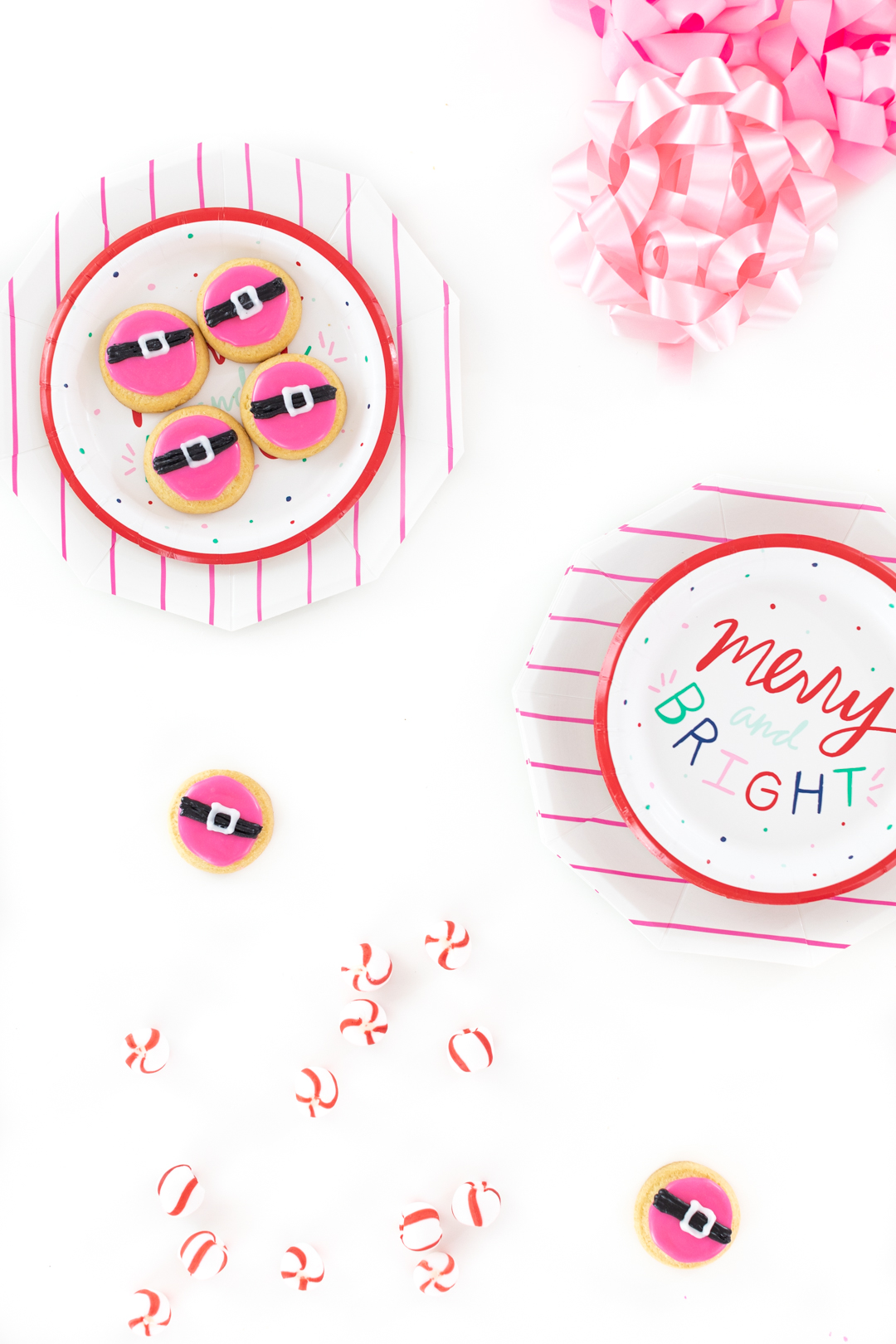 Then, add a thick black line in the center using a black icing writer of your choice and let that set.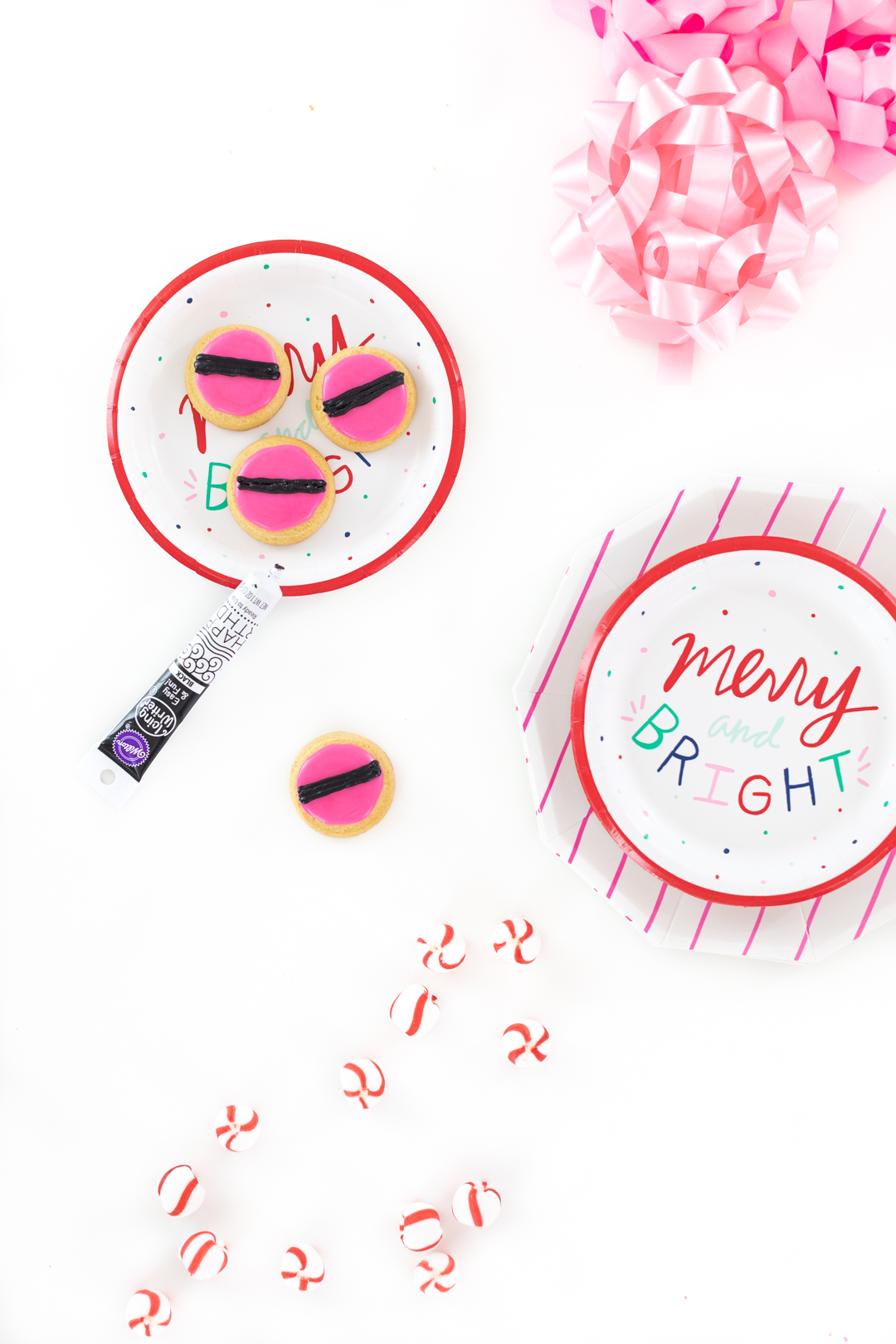 Finally, carefully add a square in the center of the black "belt" using a white icing writer to represent the belt buckle.
Once the icing has set, these cookie are ready to serve. This is going to take no time at all.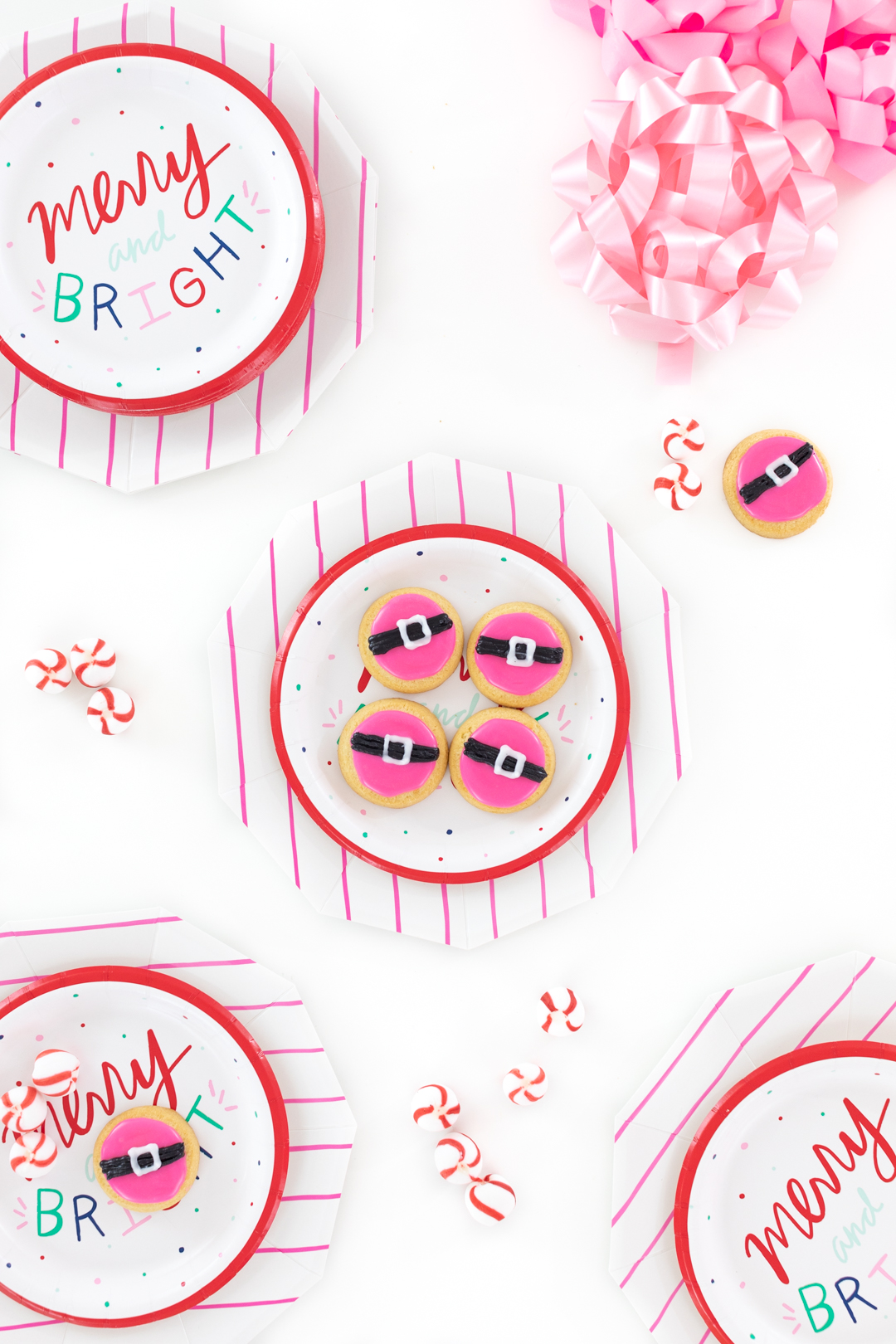 Easily the most simple cookies you could ever "make" or put together.
EASY CHRISTMAS DESSERTS
Need more holiday recipes that are easy? I totally have your back. Check out these simple ideas.
Pink Christmas Tree Cupcakes that are an easy show-stopping recipe. You can use boxed cupcake mix or amp up your store-bought cupcakes.
Mickey & Minnie Cookies that are made with store-bought sugar cookie d0ugh.
Big list of no-bake holiday recipes to help you save time and free up that oven.
Easy Christmas Wreath Cupcakes are whipped up using $1 store cookies. Crazy easy hack that will impress guests.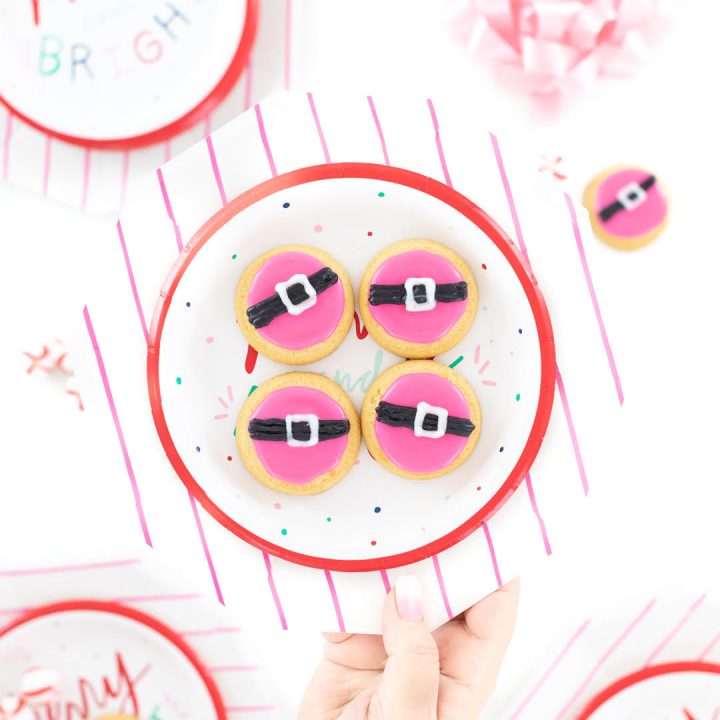 Pink Santa Belt Cookies
Easy Santa belt cookies using store-bought cookies with a charming pink whimsical twist.
Ingredients
6 Small Shortbread or Sugar Cookies, Prepared
Pink Cookie Icing
Black Writing Icing
White Writing Icing
Instructions
Use pink cookie icing to neatly cover your choice of store-bought cookies and let the icing set.

Add a thick black line in the center of the cookies with a black icing writer and let that set.

Carefully add a square in the center of the black "belt" using a white icing writer to represent the belt buckle.

When the icing is set, the cookies are ready to serve.
Recommended Products
As an Amazon Associate and member of other affiliate programs, I earn from qualifying purchases.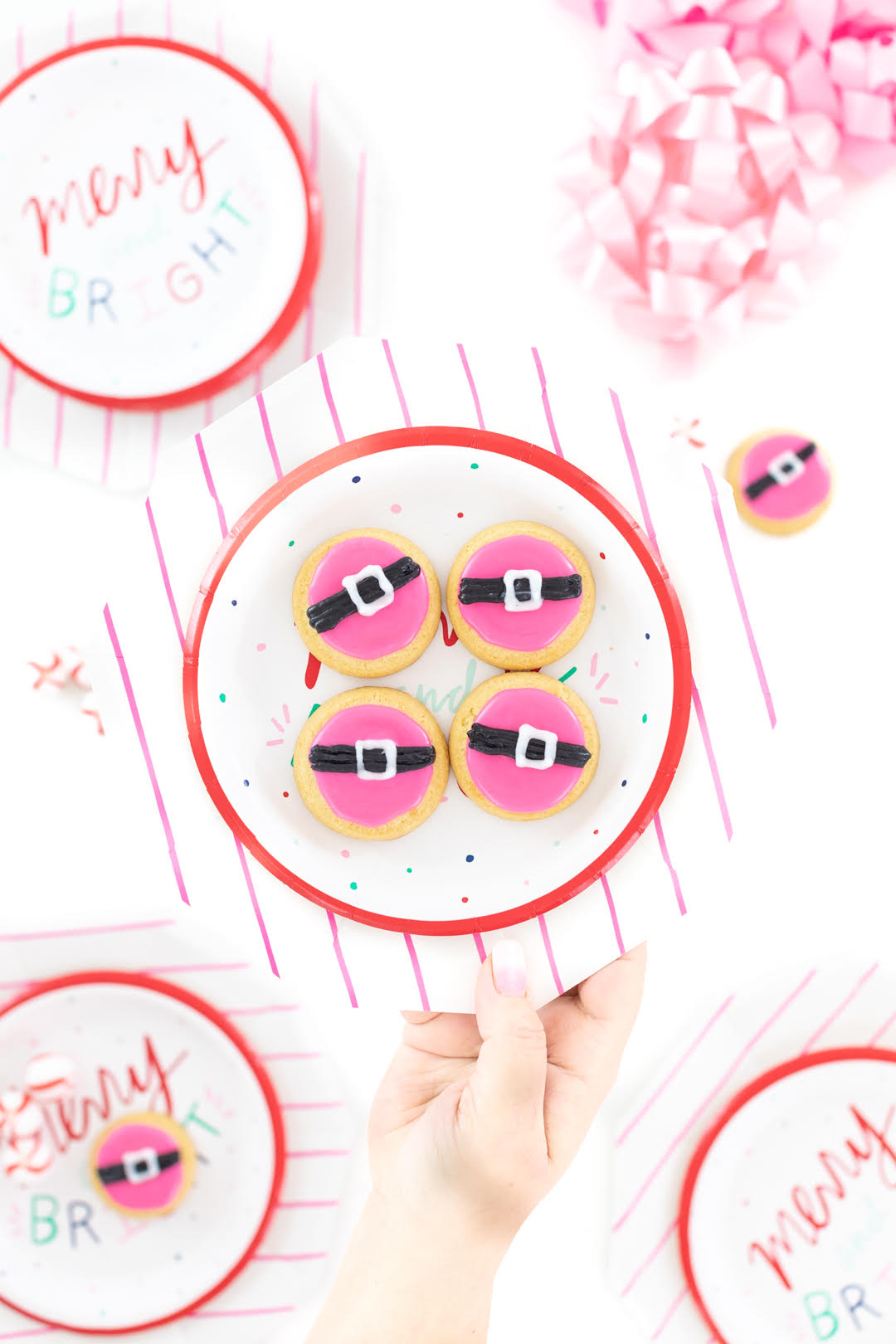 Ho ho hope these cookies makes your holiday extra special!