Quickly prepare the tastiest nachos for you and your loved ones to eat with this recipe for Sheet Pan Nachos. It is a simple dish that works perfectly as an appetizer for a family gathering or special occasion.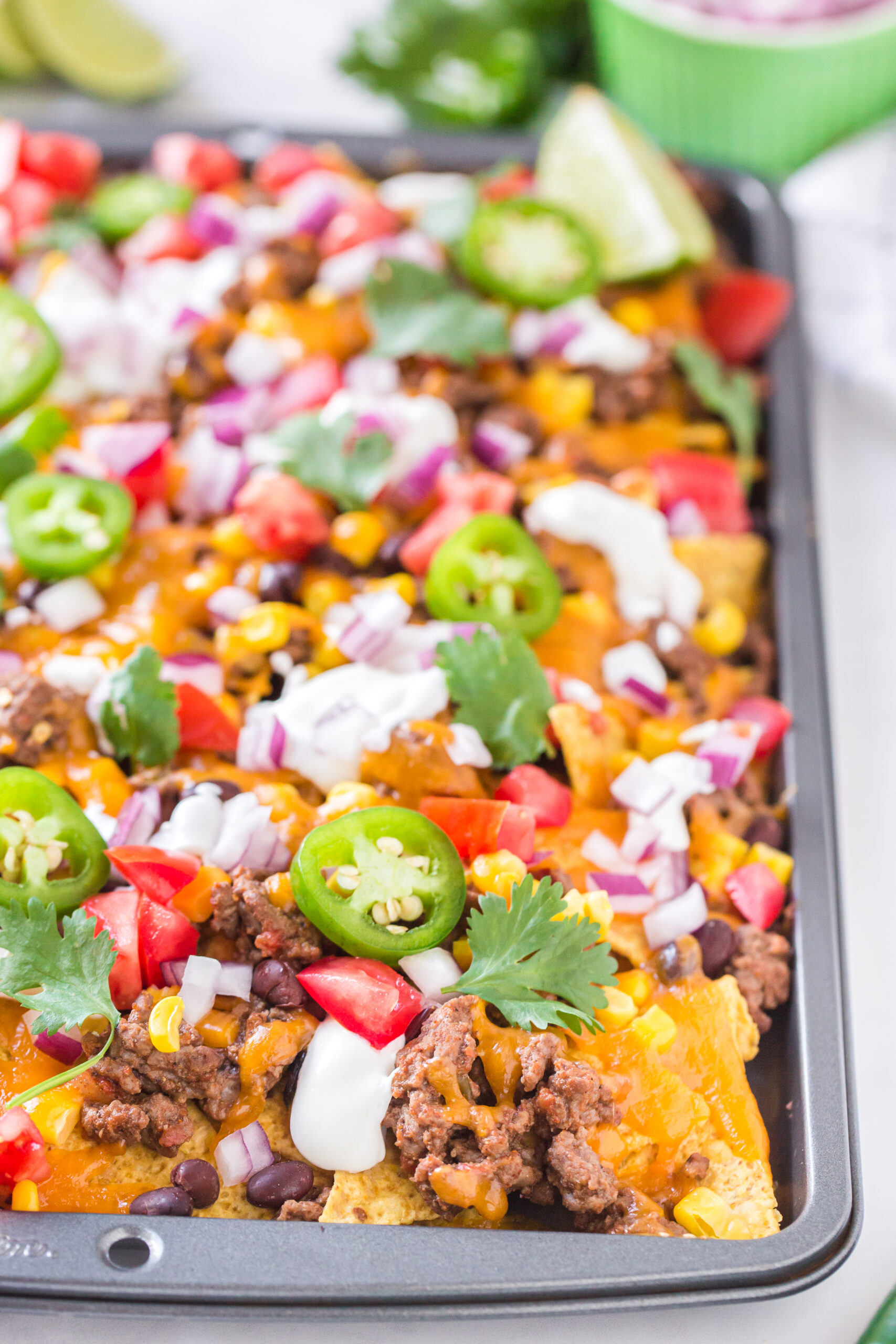 If you want to prepare the perfect dinner recipe for your family or an appetizer for friends and family at your next celebrations, make these Sheet Pan Nachos. They are crunchy, flavorful, and easier than you might think to prepare. The nachos contain a blend of cheese, ground beef, red onions, and several other toppings that pair well together. After making these nachos, you can dig right in, serving them hot and fresh for any gathering.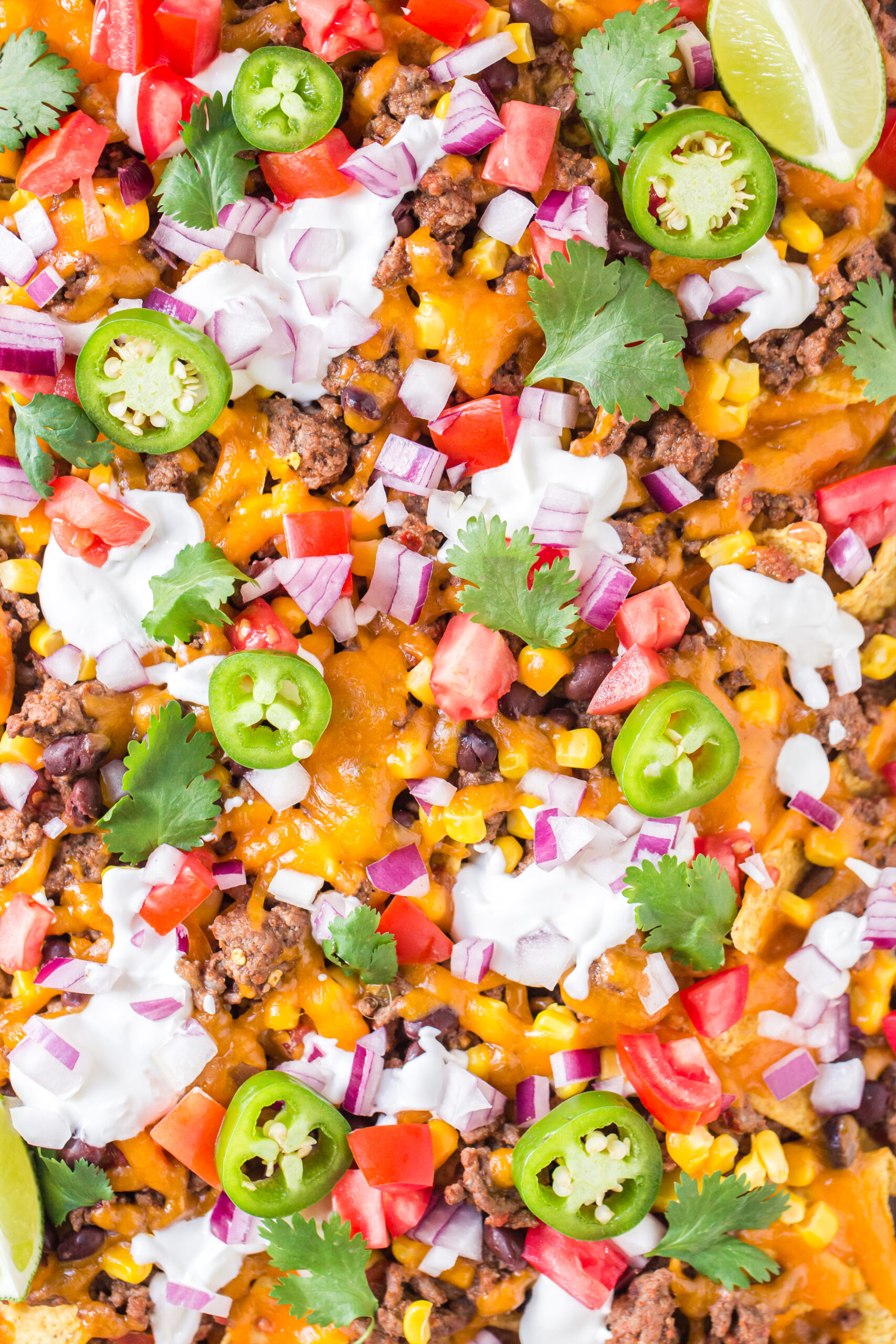 SHEET PAN NACHOS RECIPE
Are you ready to make the perfect restaurant style beef nachos for your entire family? This recipe could not get any more simple. Let me show you how to make them, step by step.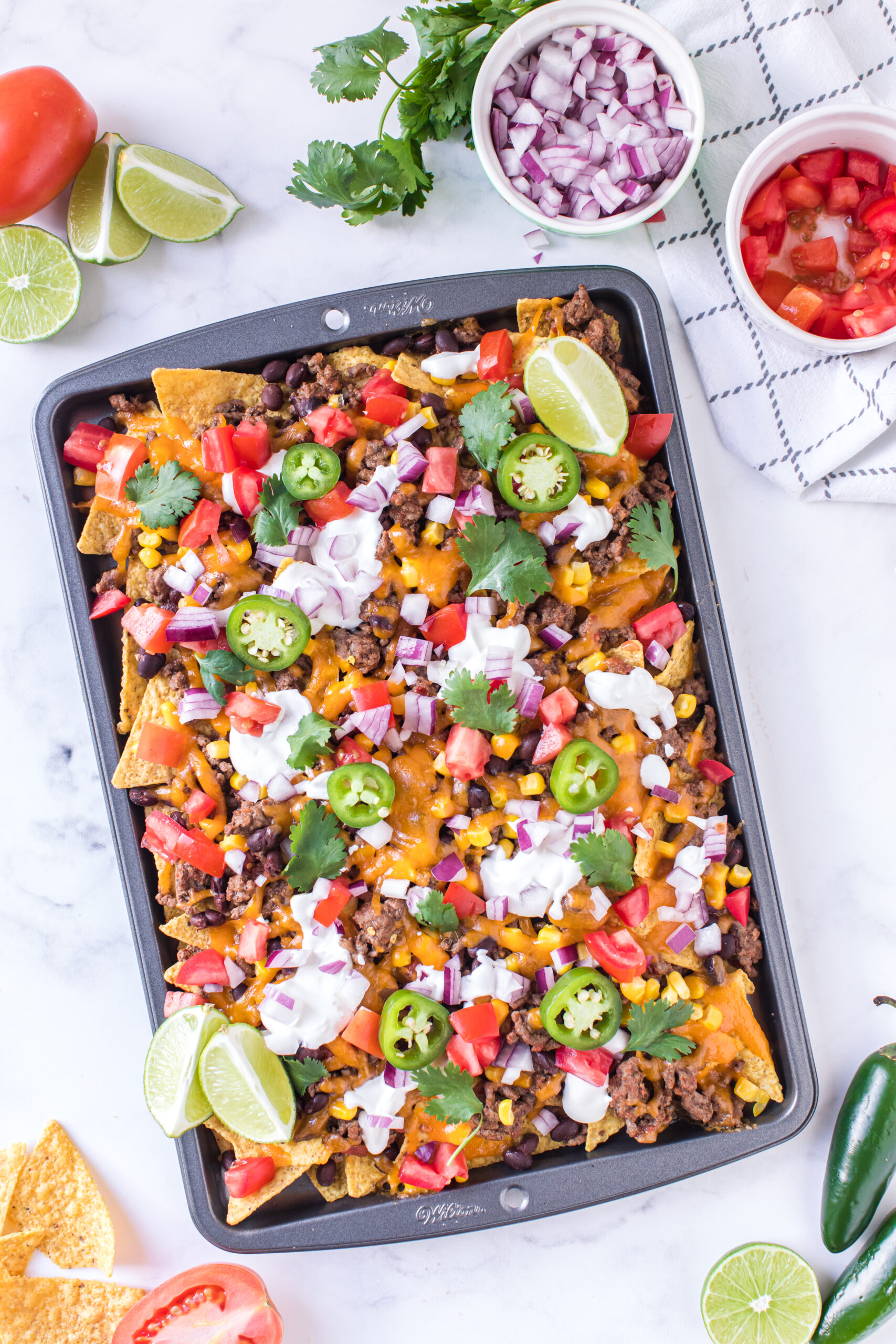 TOP INGREDIENTS TO MAKE THE BEST SHEET PAN NACHOS
Sheet Pan Nachos are simply the best because they are so easy to make! Before you make these Beef Sheet Pan Nachos, gather some crucial ingredients to prepare them. You will need to have:
Tortilla Chips.

When choosing your tortilla chips, purchase a brand with thick chips that will not break easily to hold the weight of the toppings.

Ground Beef.

You will need ground beef to brown and season, adding flavor to your nachos.

You could also use some chicken for these nachos. Just cut up into small chunks or shred and use the same seasonings.
Salsa.

Choose your ideal brand and spice level when picking out the salsa to add to the nachos.

Corn.

The corn adds a slight bit of sweetness to these nachos and naturally goes with the other ingredients.

Cheese.

Although you can add any cheese you like, Mexican-style cheese does go very well. I'm also into a shredded sharp cheddar though.

Jalapeños.

If you want to add a kick, slice up some jalapeños and toss them on top.

Sour Cream.

The sour cream is another great addition to this dish because it goes great with the tortilla chips' crispy crunch.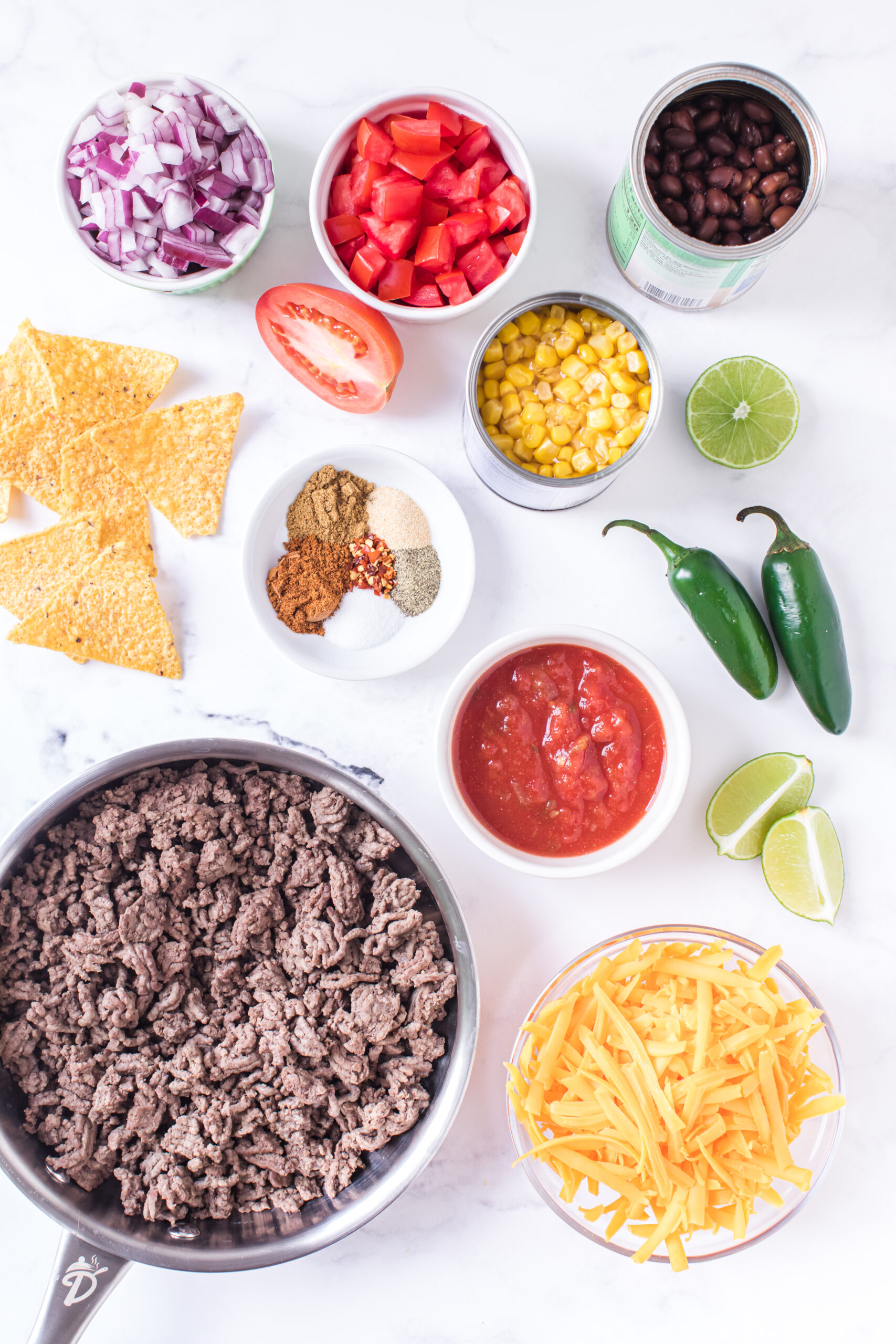 Additional ingredients needed include chili powder, garlic powder, cumin, red pepper flakes, salt, pepper, black beans, tomatoes, red onion, cilantro, and lime.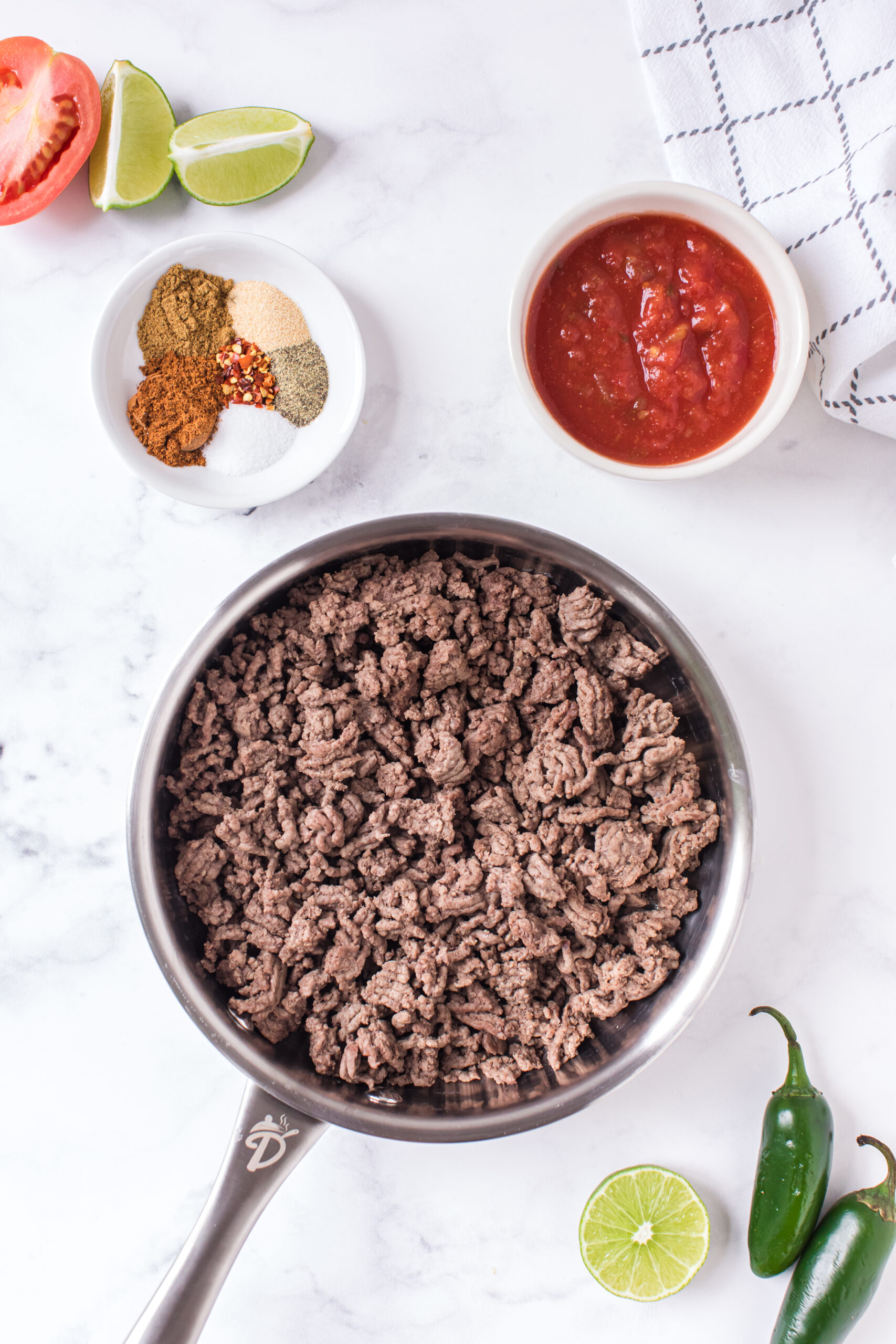 If you don't have black beans, feel free to use refried beans, pinto beans, or any other type that you might like on nachos.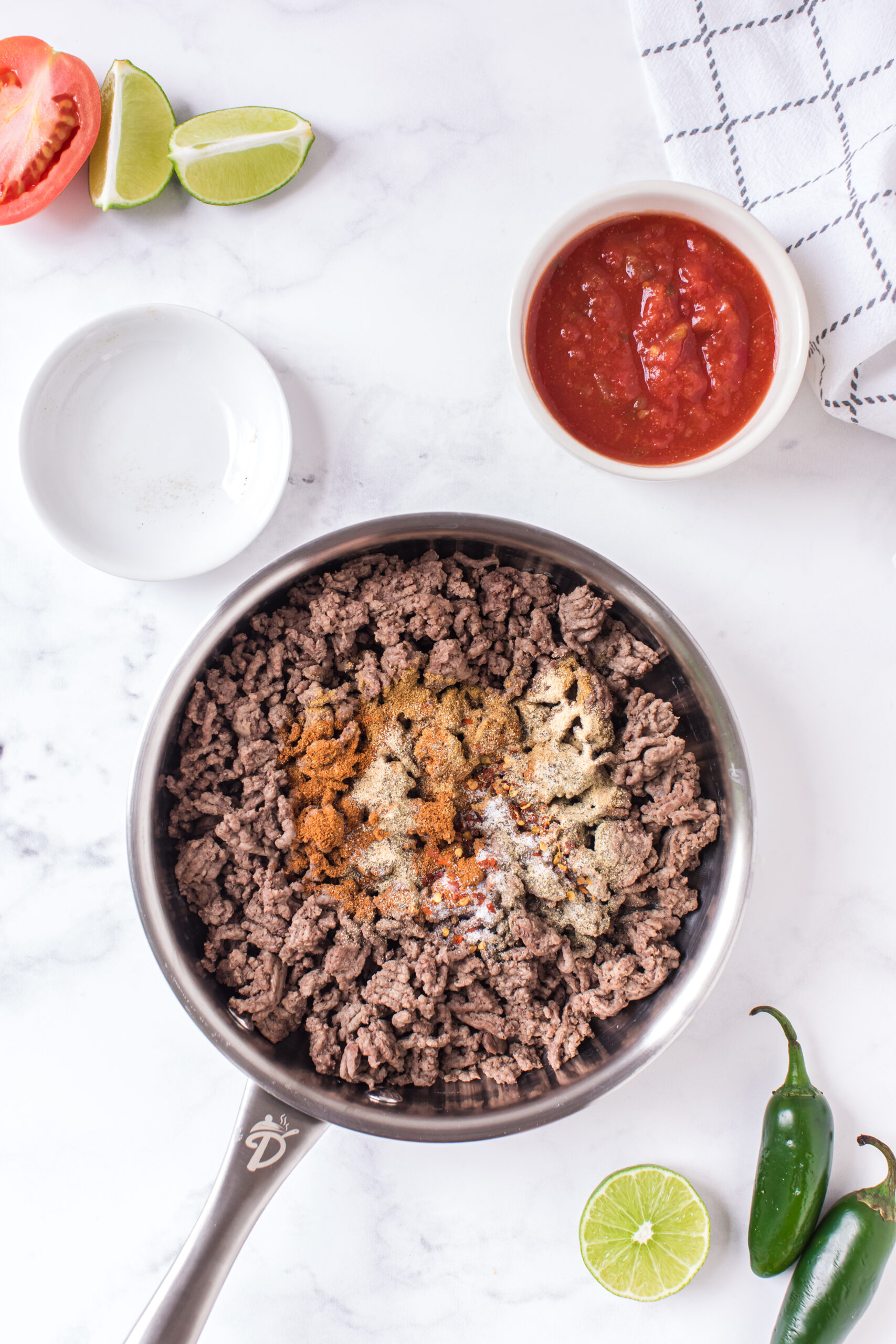 SUPPLIES NEEDED TO MAKE THESE NACHOS
Once you have the ingredients, make sure you have the supplies needed to prepare these nachos, including a sheet pan, cooking utensils, and measuring tools to keep track of what you add to the tortilla chips.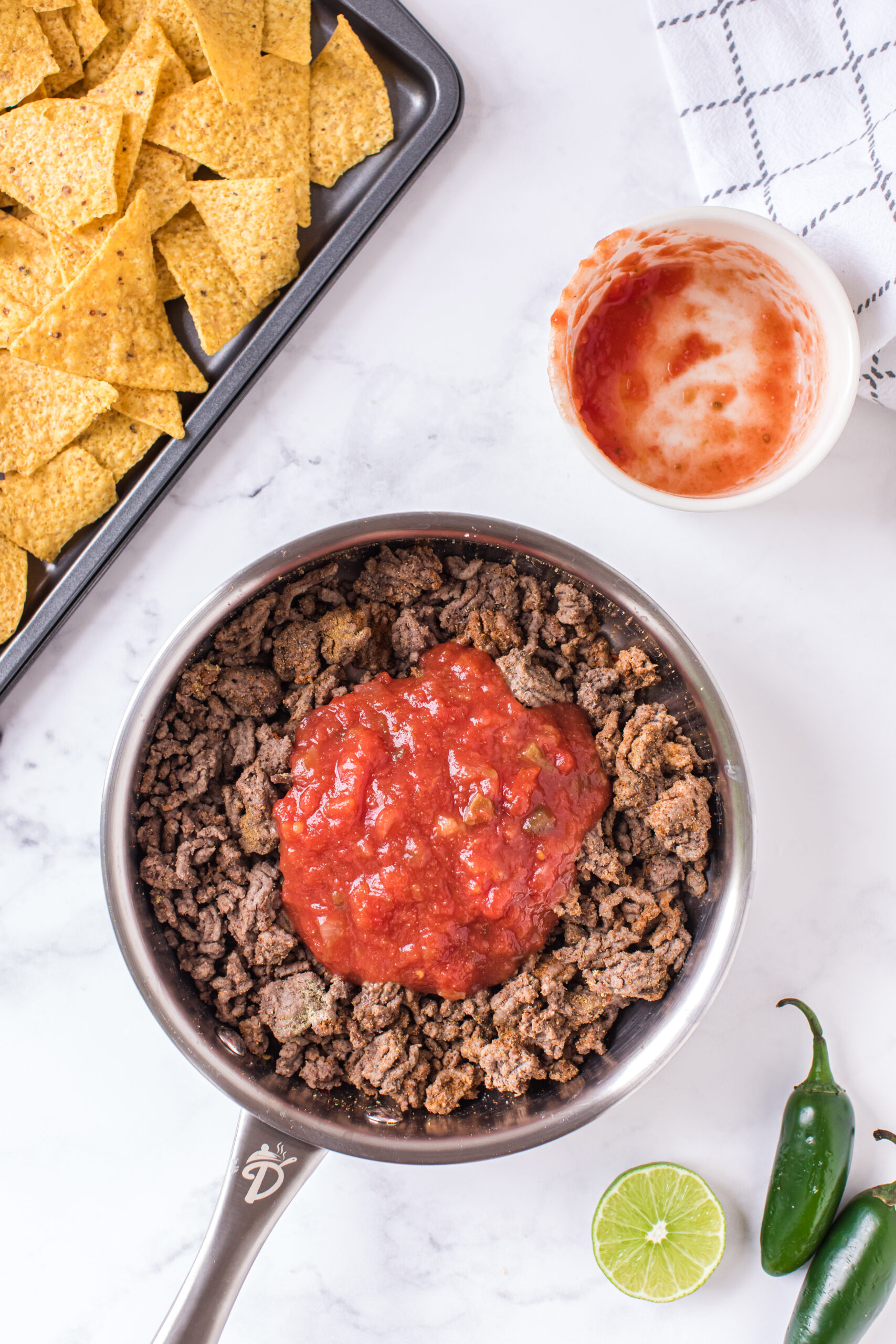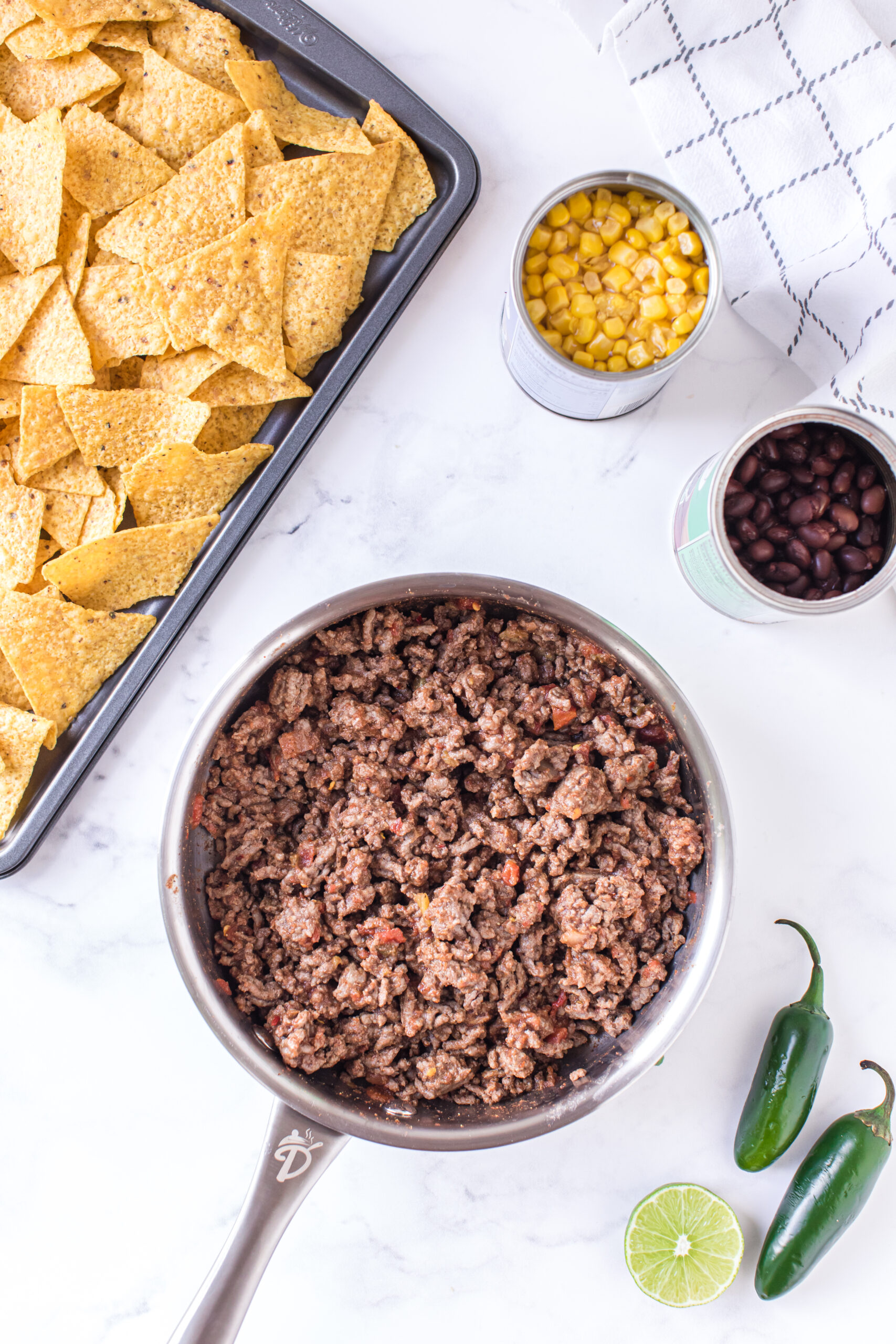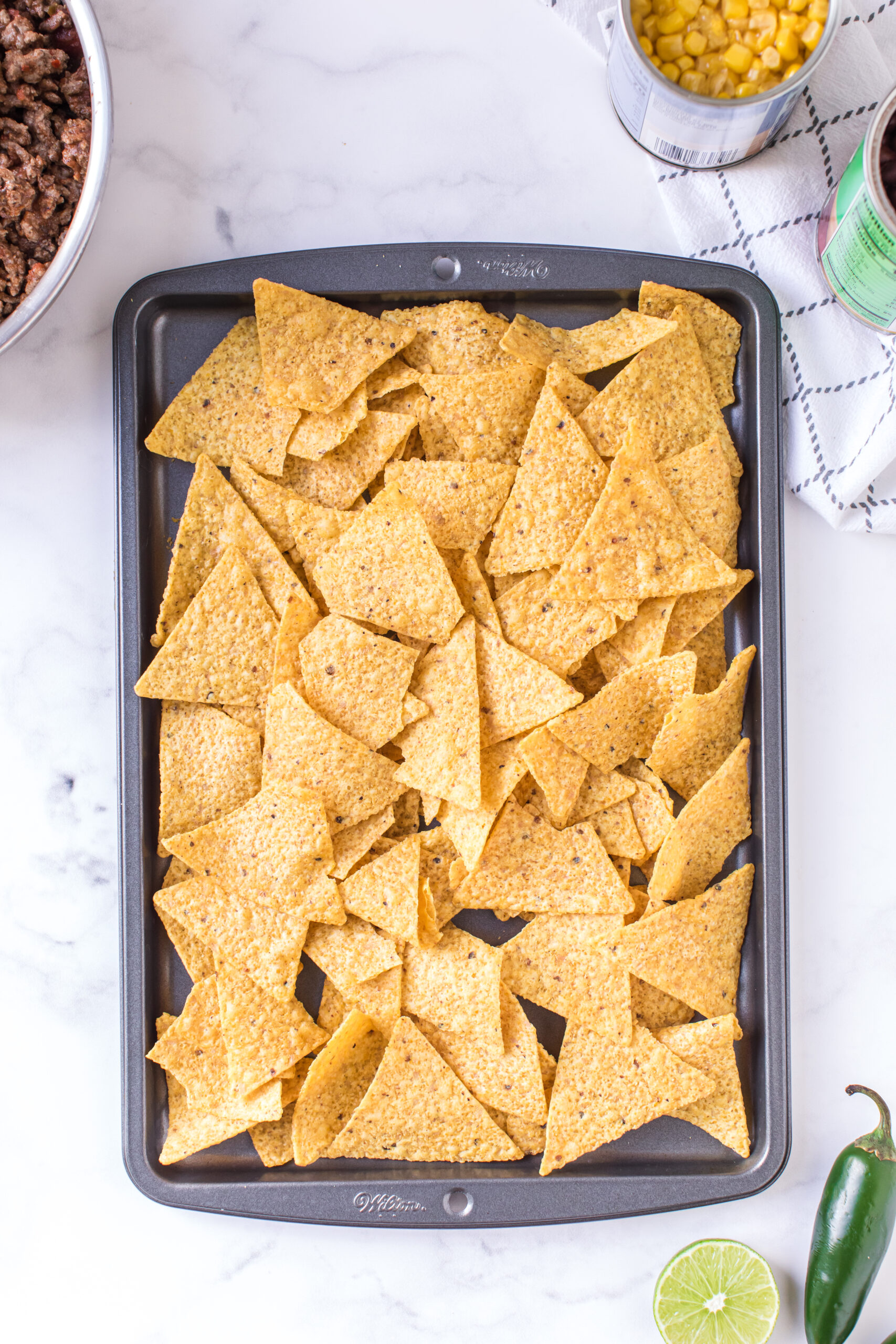 HOW TO AVOID A MESS WHEN MAKING NACHOS
If you would like to avoid a mess while saving time, place a sheet of foil on your baking pan before you arrange all the ingredients on top of the tortilla chips. You can remove the foil from the sheet pan and toss it out when you have finished eating the nachos with your family. It is that simple!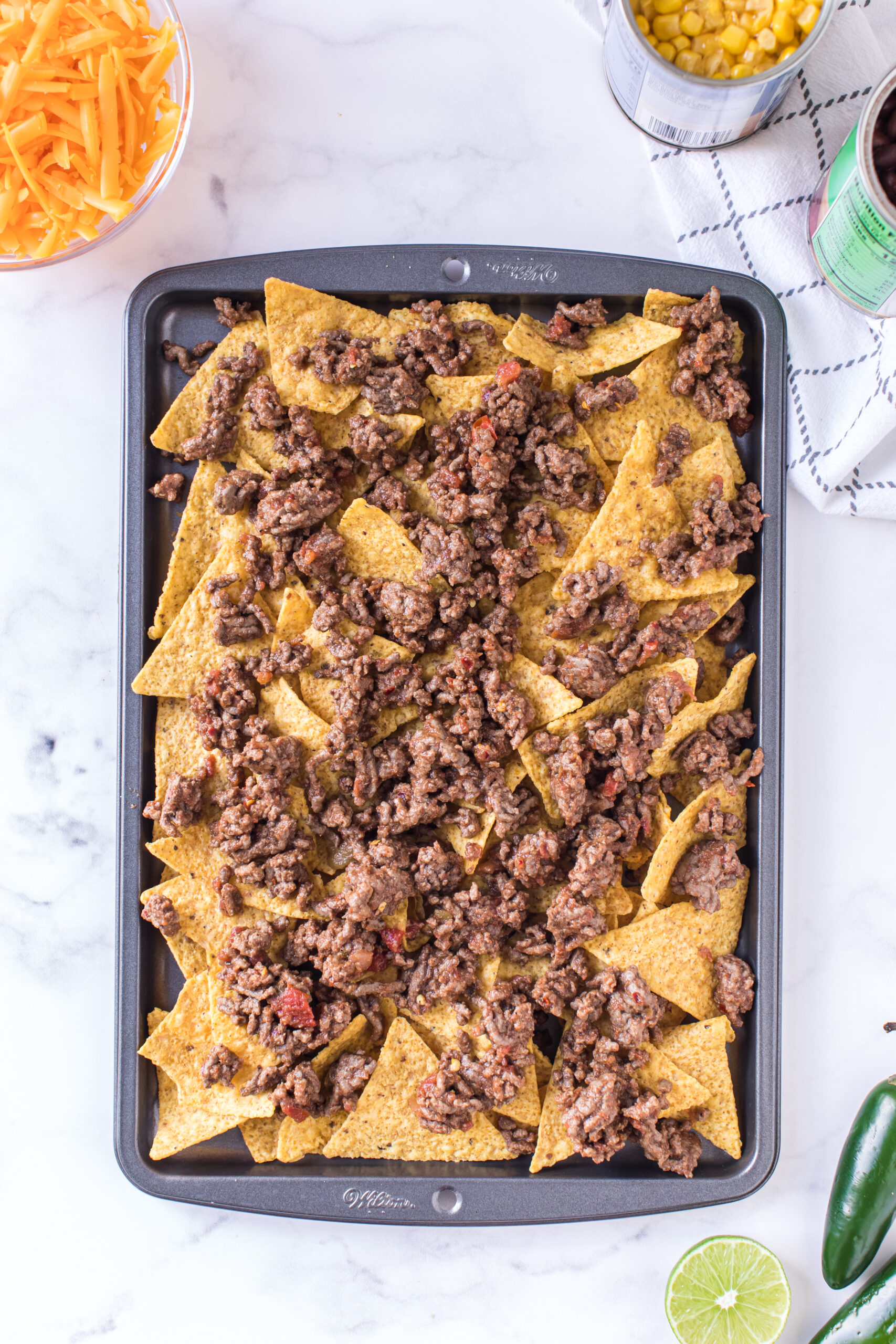 IS IT BETTER TO BAKE OR BROIL NACHOS?
I'm always one to do whatever works best. If all I have is a broiler, then I'm going to broil the nachos. However, when you bake these nachos, you will find that the toppings really do melt into each other a lot more!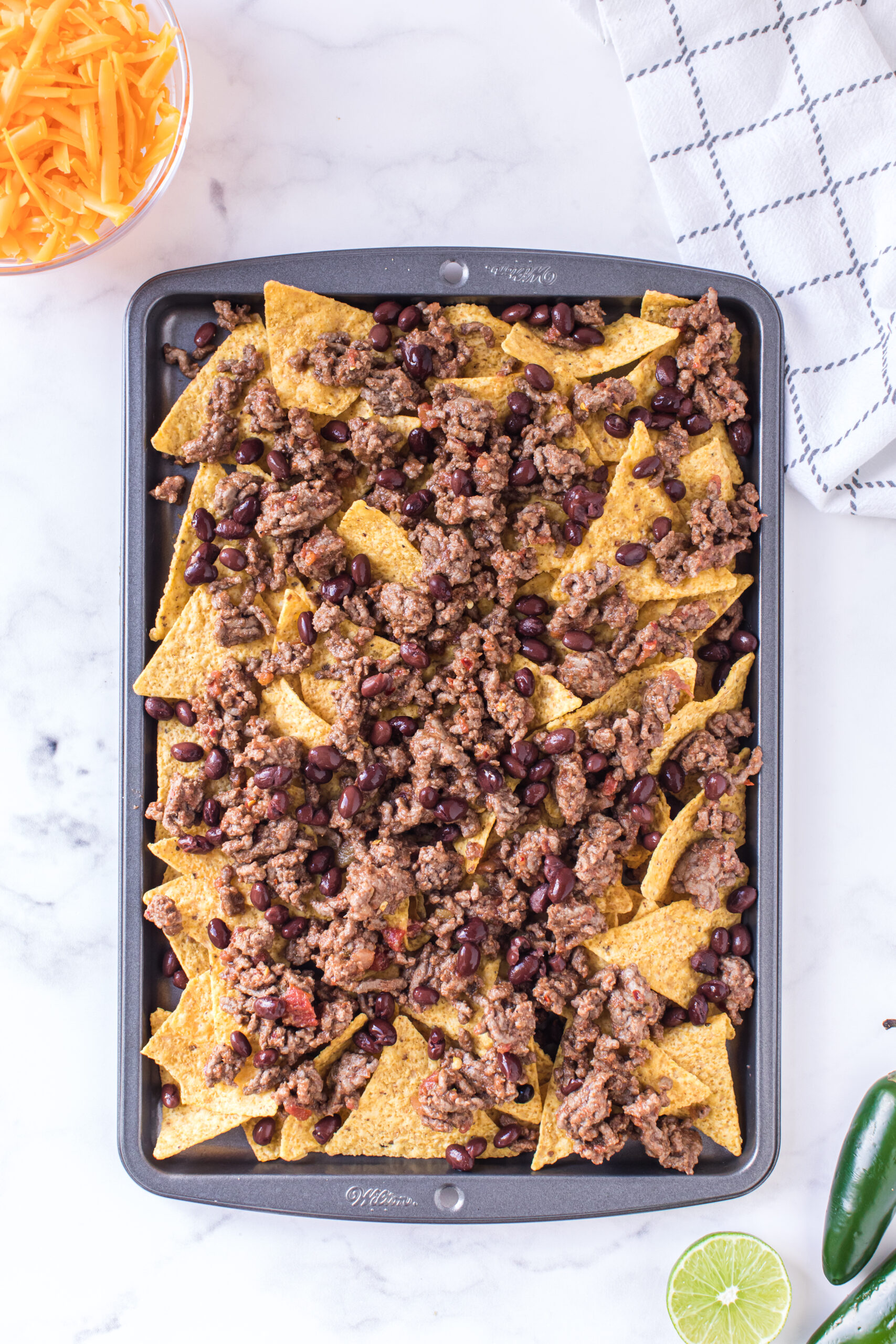 HOW TO MAKE SURE THE CHEESE MELTS
I have to say that there are a lot of different cheeses you can use out there. I mention that you can use Mexican Blend Style, or mozzarella, or even pepper jack for a nice extra kick. The types of cheese that melt faster are American cheese and Monterrey Jack.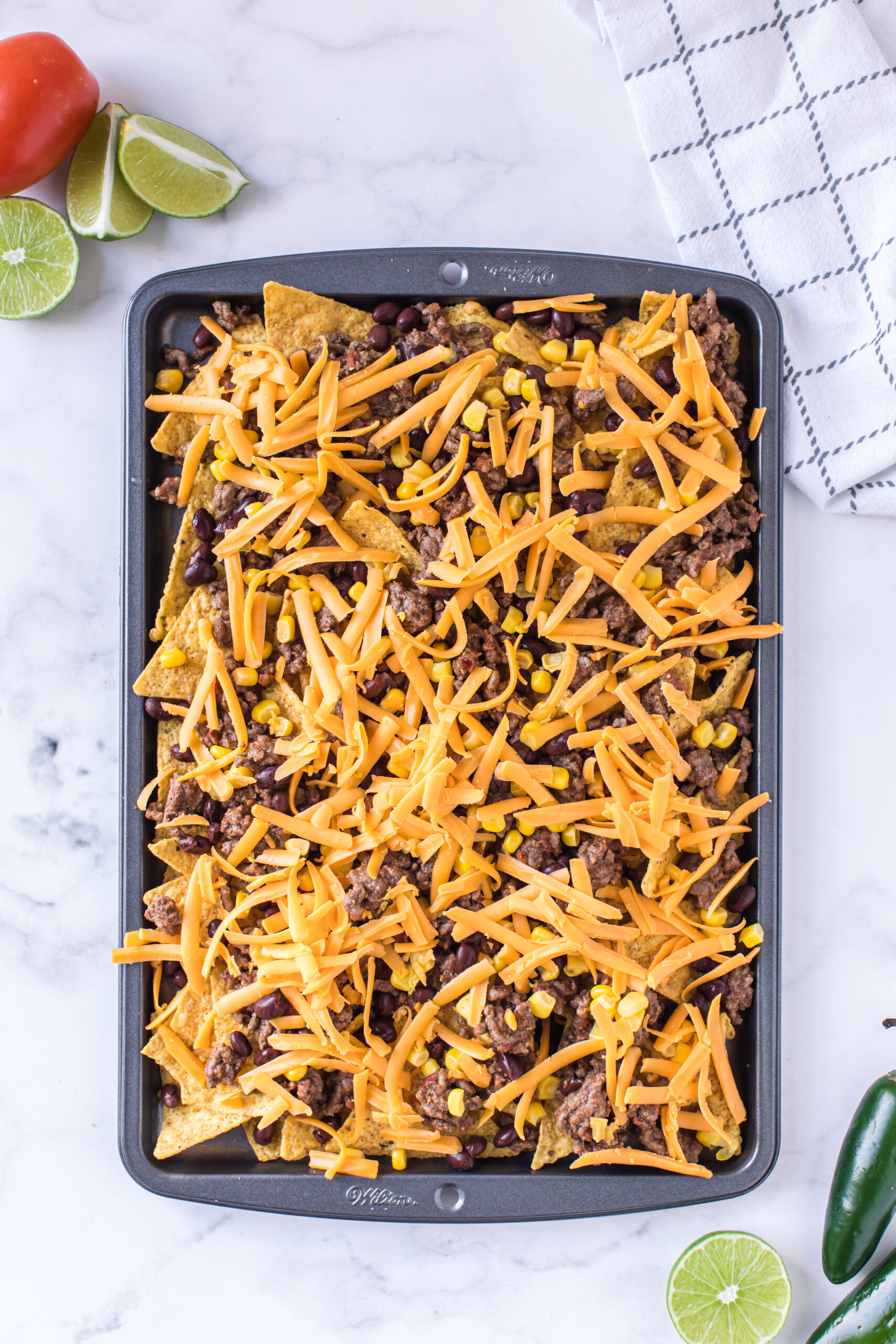 HOW DO YOU STORE SHEET PAN NACHOS?
Store your nachos in the refrigerator in an airtight bag or container. When reheating, an oven will provide the best consistency and heat, but make sure to remove your cold ingredients from the nachos first. Sheet pan nachos taste best when eaten fresh. The chips tend to get soggy when not eaten right away.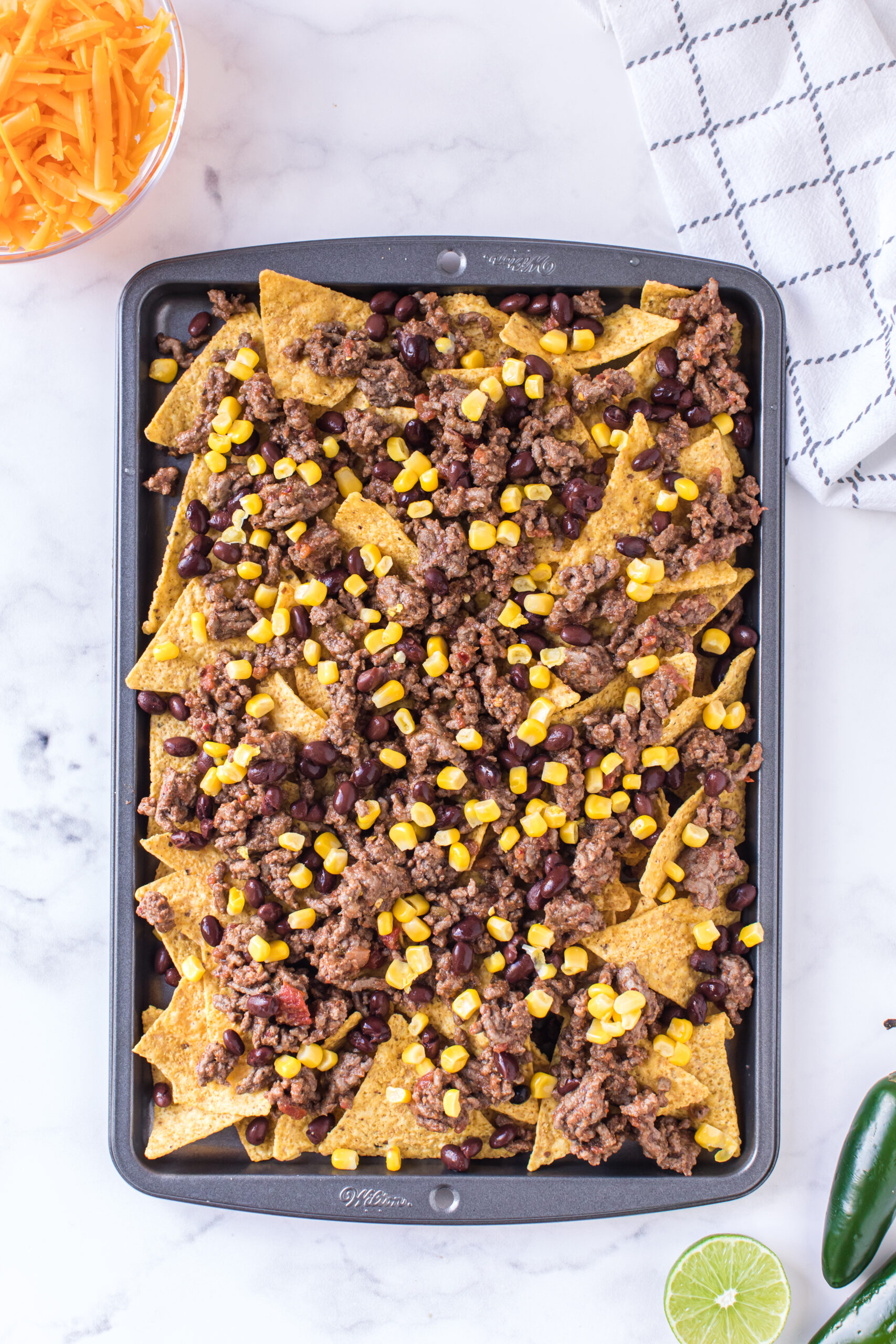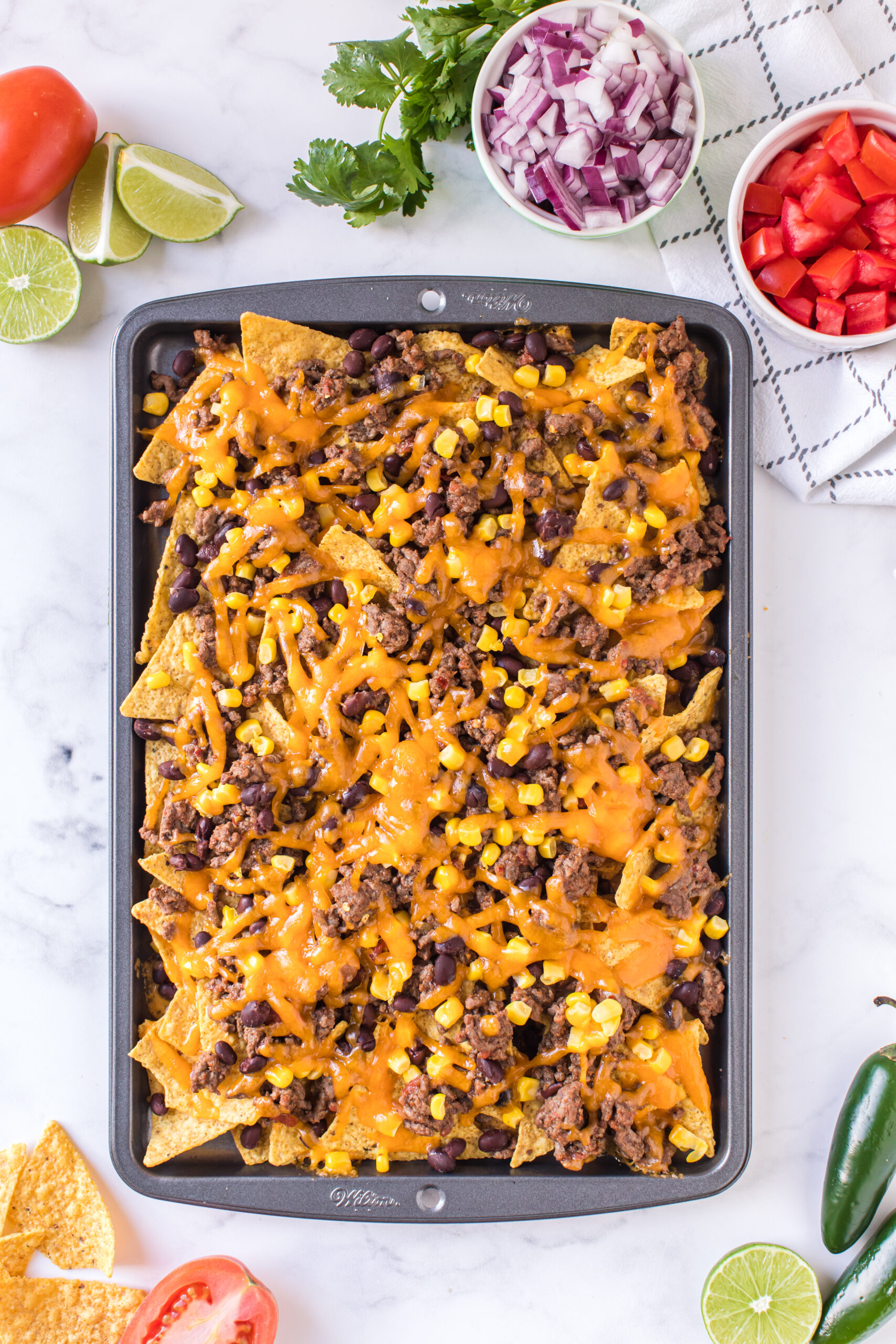 CAN I ADD OTHER INGREDIENTS TO THESE NACHOS?
Not sure about you but I LOVE loaded nachos! Nachos are wonderful because you can add so many fun things to them. For example, I'm an olive lover, so adding black olives to these nachos would make my day.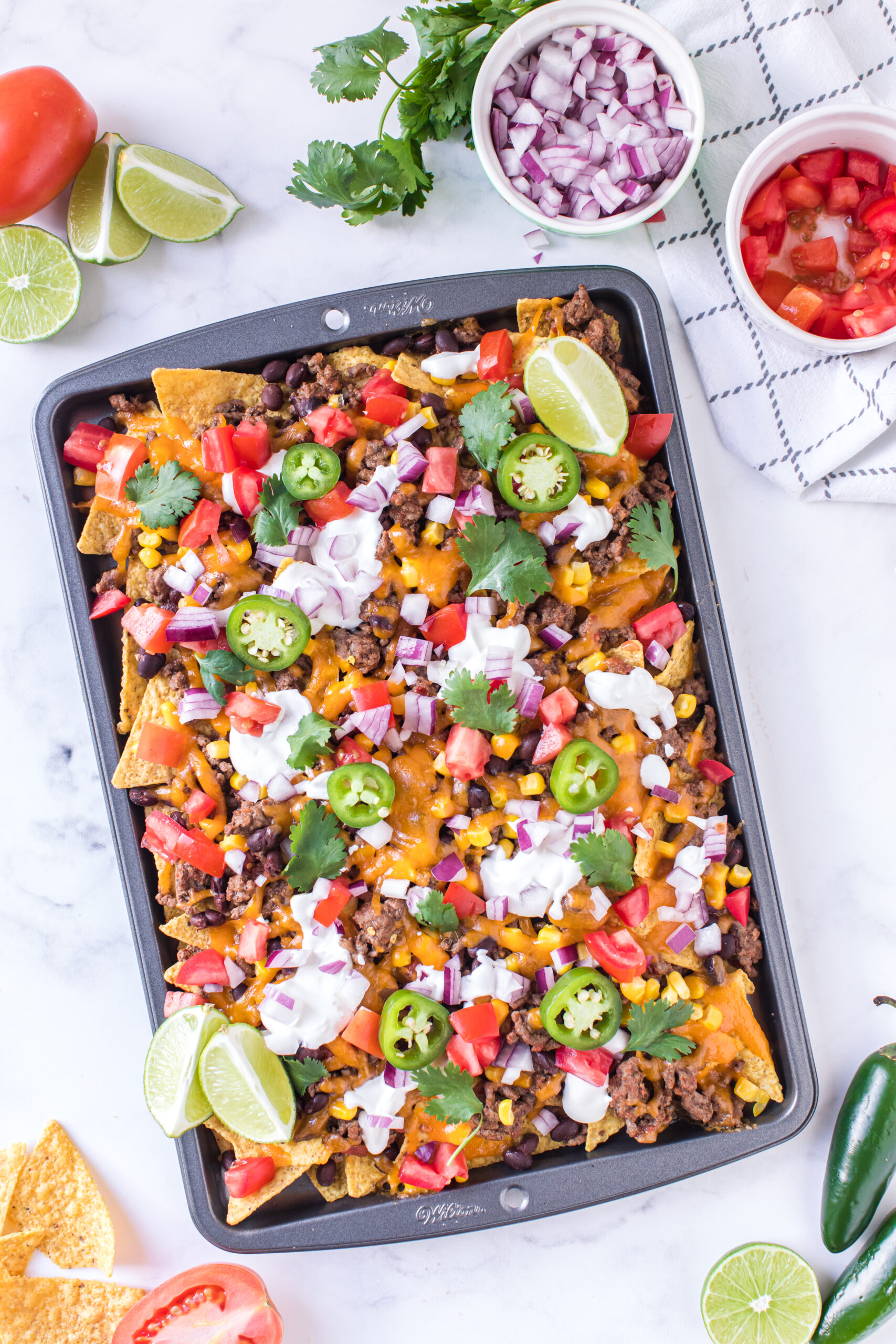 Others might add avocado slices, green peppers, radishes, or even chili. You could swap out black beans for another type of bean, or add a different kind of cheese as well.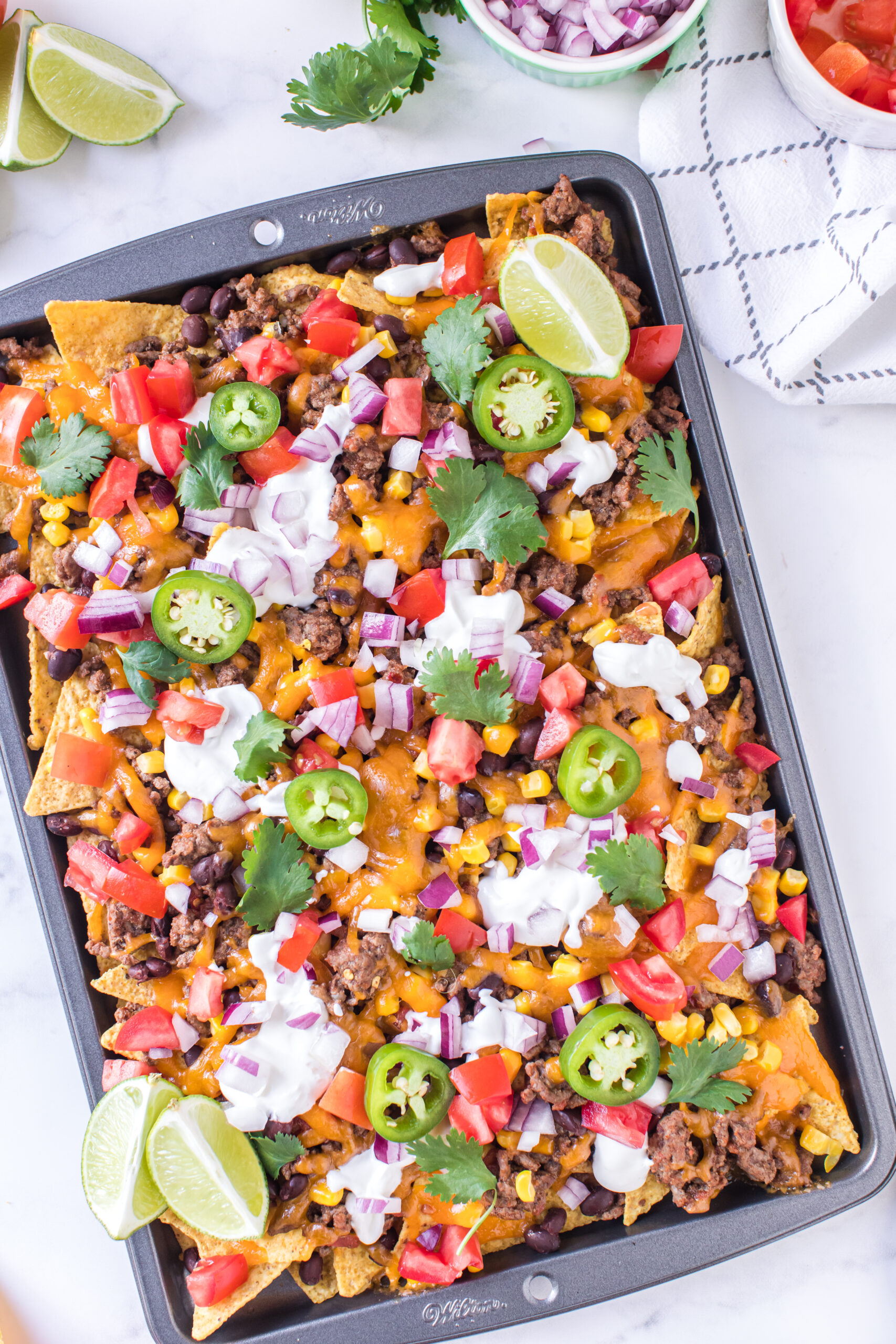 Just have fun with these nachos and feel free to make them your own!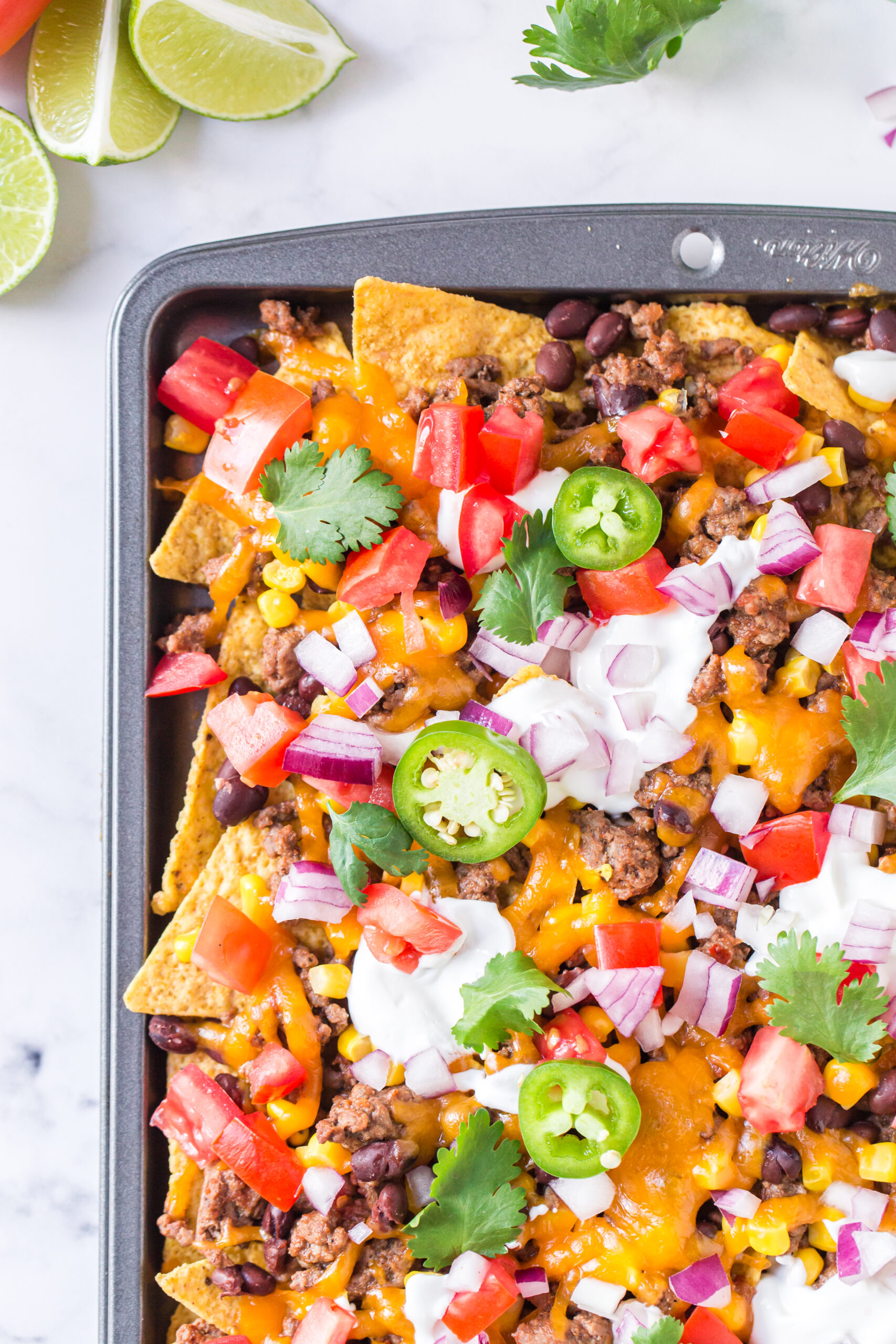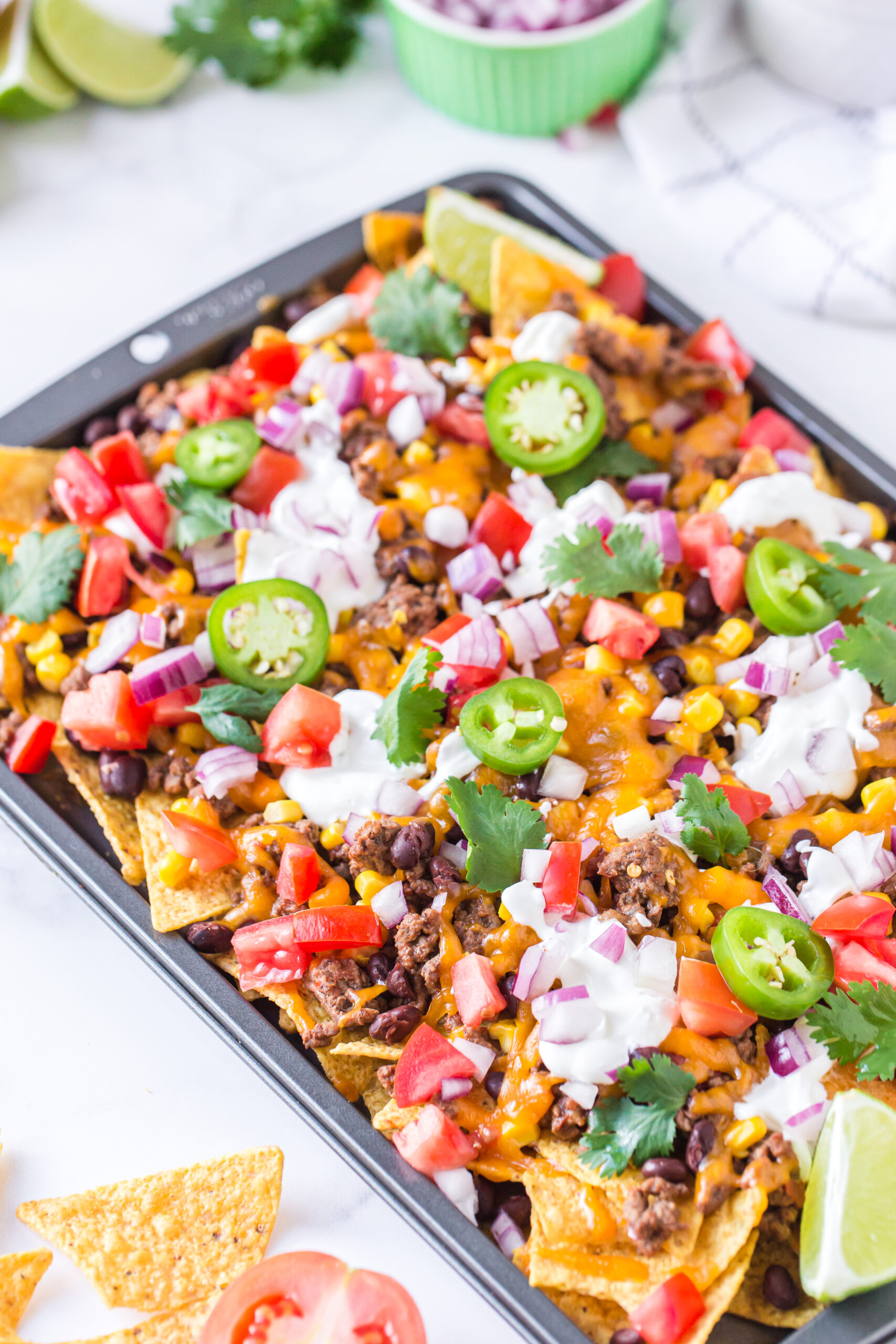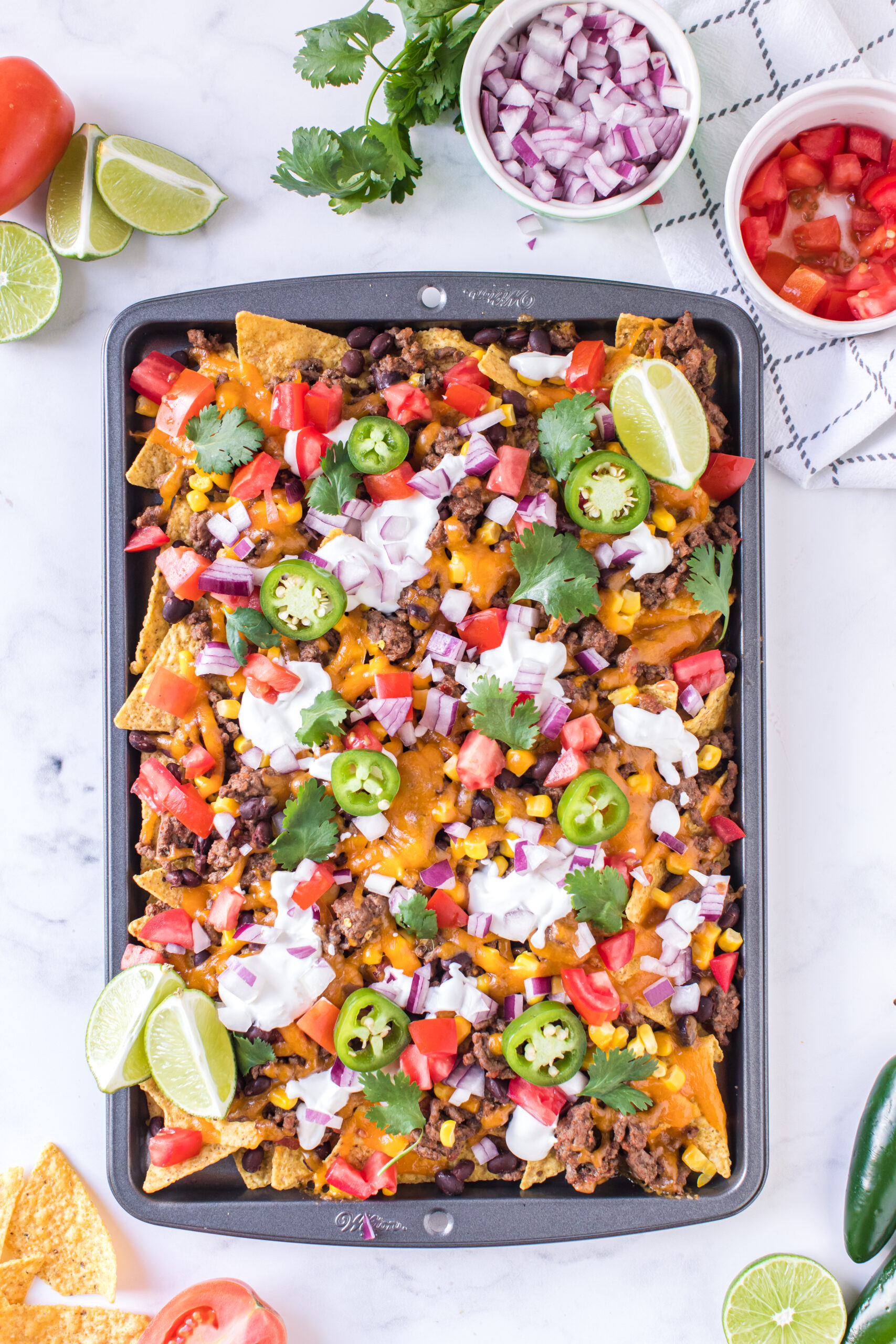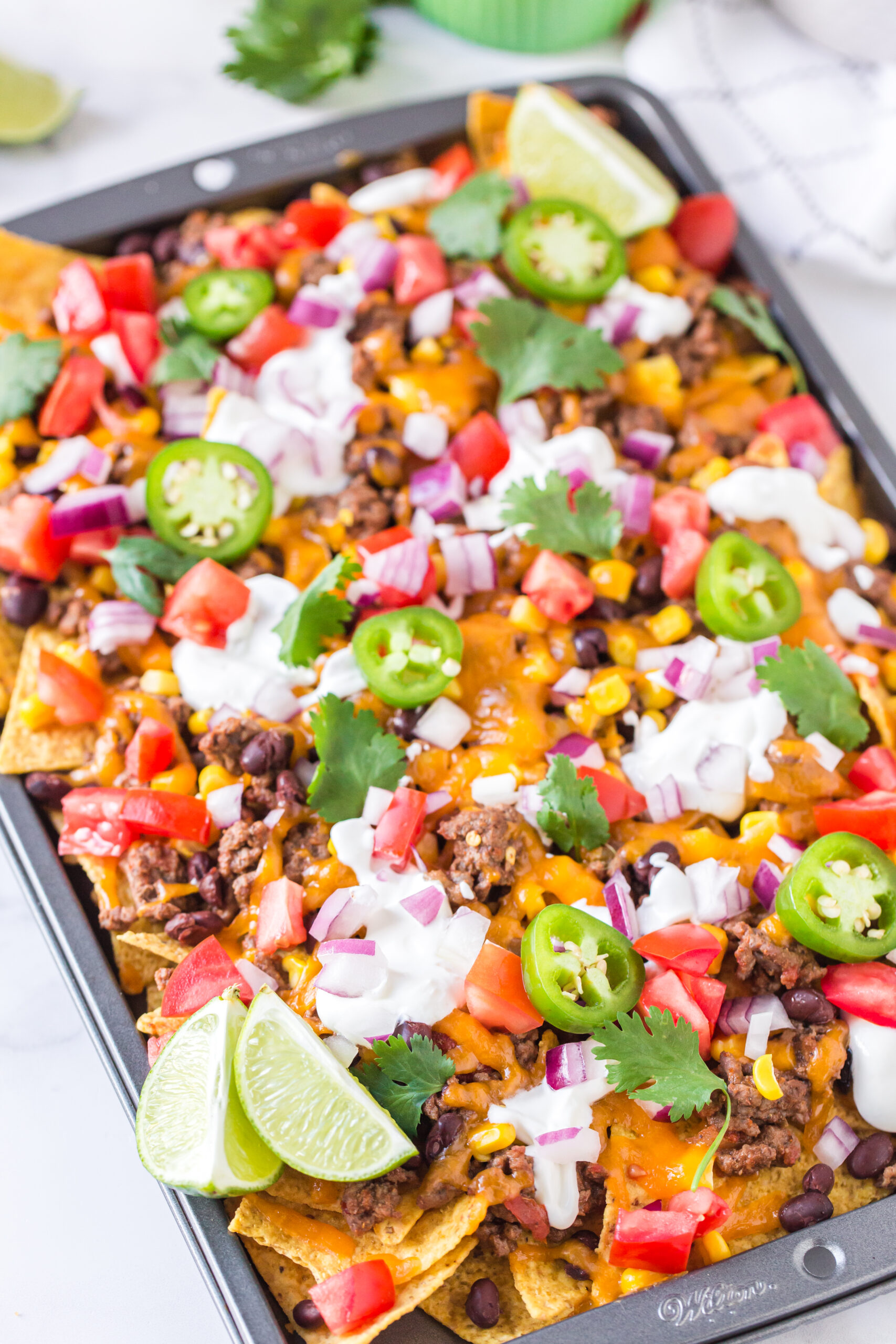 Mexican Inspired Recipes
Delicious Mexican inspired recipes for families from dips to breakfast tacos.
SUPPLIES TO MAKE NACHOS
Whether you are making this recipe for dinner or delish party food, these supplies will make it easier.
Sheet pan
Skillet and cooking utensils
Measuring tools
Beef Sheet Pan Nachos Recipe:
Ingredients
1 lb ground beef
2 teaspoons chili powder
1 teaspoon cumin
½ teaspoon garlic powder
½ teaspoon salt
½ teaspoon pepper
¼ teaspoon crushed red pepper flakes, optional depending on desired spice level
½ cup salsa
1 17-ounce bag Tortilla Chips
1 15-ounce can black beans, drained and rinsed
1 cup canned corn, drained
2 cups sharp cheddar cheese, shredded
2 tomatoes chopped
½ medium sized red onion, diced
Optional garnishes:
Fresh jalapeños, sliced
Cilantro
Scallions
Lime
Sour cream
Instructions
Preheat the oven to 350 degrees Fahrenheit and coat a sheet pan with cooking spray. Set aside.
In a large skillet on medium high heat, cook the ground beef until no more pink remains, about 5-7 minutes.
Season ground beef with the chili powder, cumin, garlic powder, salt, pepper, and crushed red pepper flakes. Drain excess grease.
Add the salsa and lower heat. Let the sauce cook with the beef and warm up. After a few minutes take the skillet off the heat and set the meat aside.
Lay out the tortilla chips on the prepared sheet pan. Top it with the ground beef, black beans, corn, and then the cheese.
Place in the oven and let cook for 5 minutes or until the cheese is completely melted.
Remove from the oven and then top with the chopped tomatoes, chopped onions, and sliced jalapeños. Squeeze some lime lightly over the nachos, then garnish with chopped cilantro, scallions, and a drizzle of sour cream. Serve.
Notes
If you feel this dish is too spicy, feel free to remove the jalapeños, or leave out the chili powder or crushed red pepper flakes. And if you want more spice, feel free to add some extra spicy salsa at the end.
Nutrition Information:
Yield:

8
Serving Size:

1
Amount Per Serving:
Calories:

778
Total Fat:

43g
Saturated Fat:

17g
Trans Fat:

2g
Unsaturated Fat:

21g
Cholesterol:

107mg
Sodium:

1105mg
Carbohydrates:

62g
Fiber:

10g
Sugar:

4g
Protein:

39g
As you can see, making nachos for your family is easier than ever! You don't need fancy ingredients. You can also add to this dish by adding your own toppings or ingredients to customize.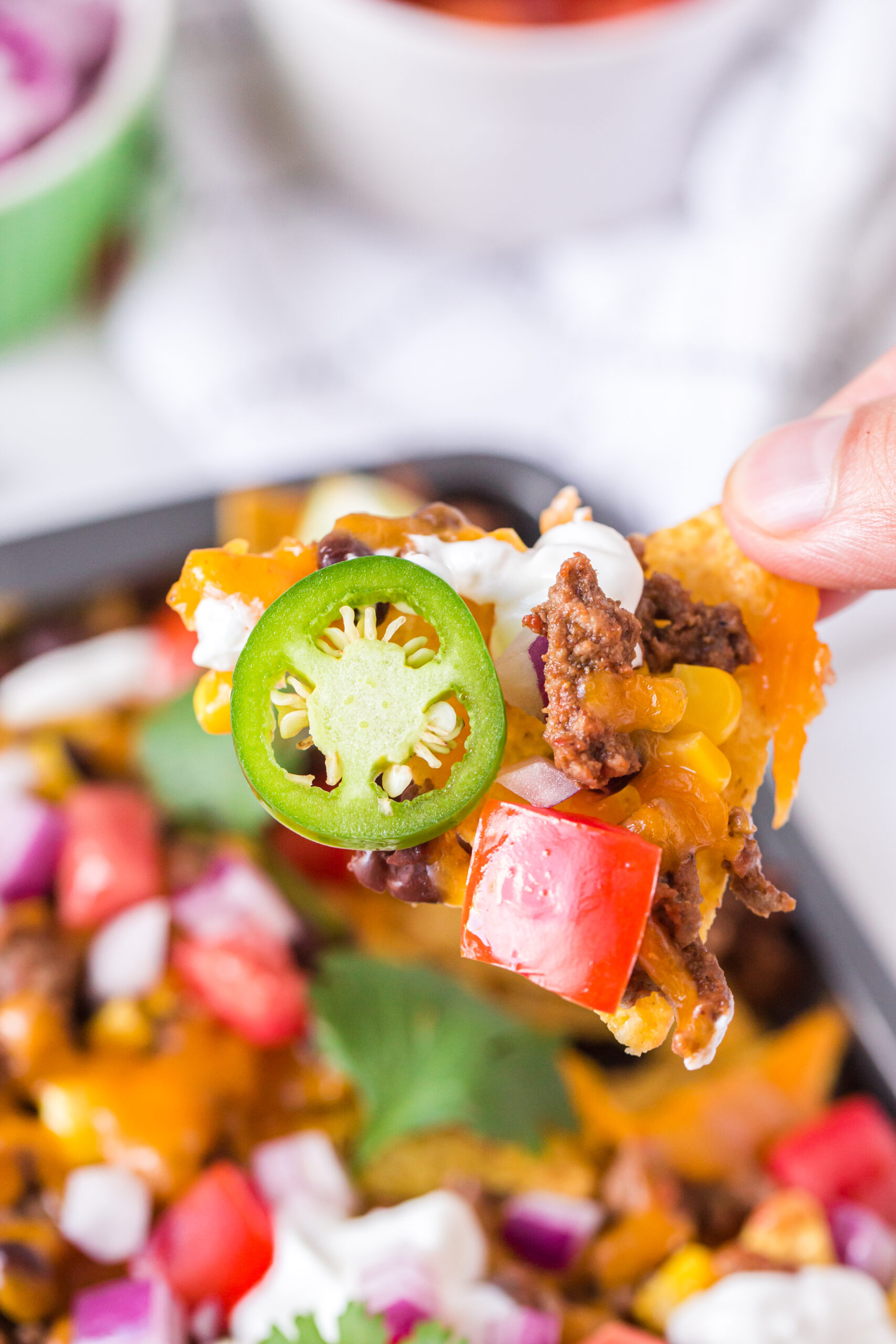 I'd love to hear what you add to your nachos, leave a comment below to let me know.