This is a sponsored post written by me on behalf of eBay. All opinions are 100% mine.
Are you addicted to watching shows and movies about zombie apocalypses and end of the world outbreaks? Now you can take everything you learned and put it to good use... finally.
Brace yourself for all best tips on how to plan the ultimate zombie party for Halloween that your guests will never forget. Ever.
The best part is that you can find all of my next-level zombie picks right over on Ebay! Pretty epic if you ask me.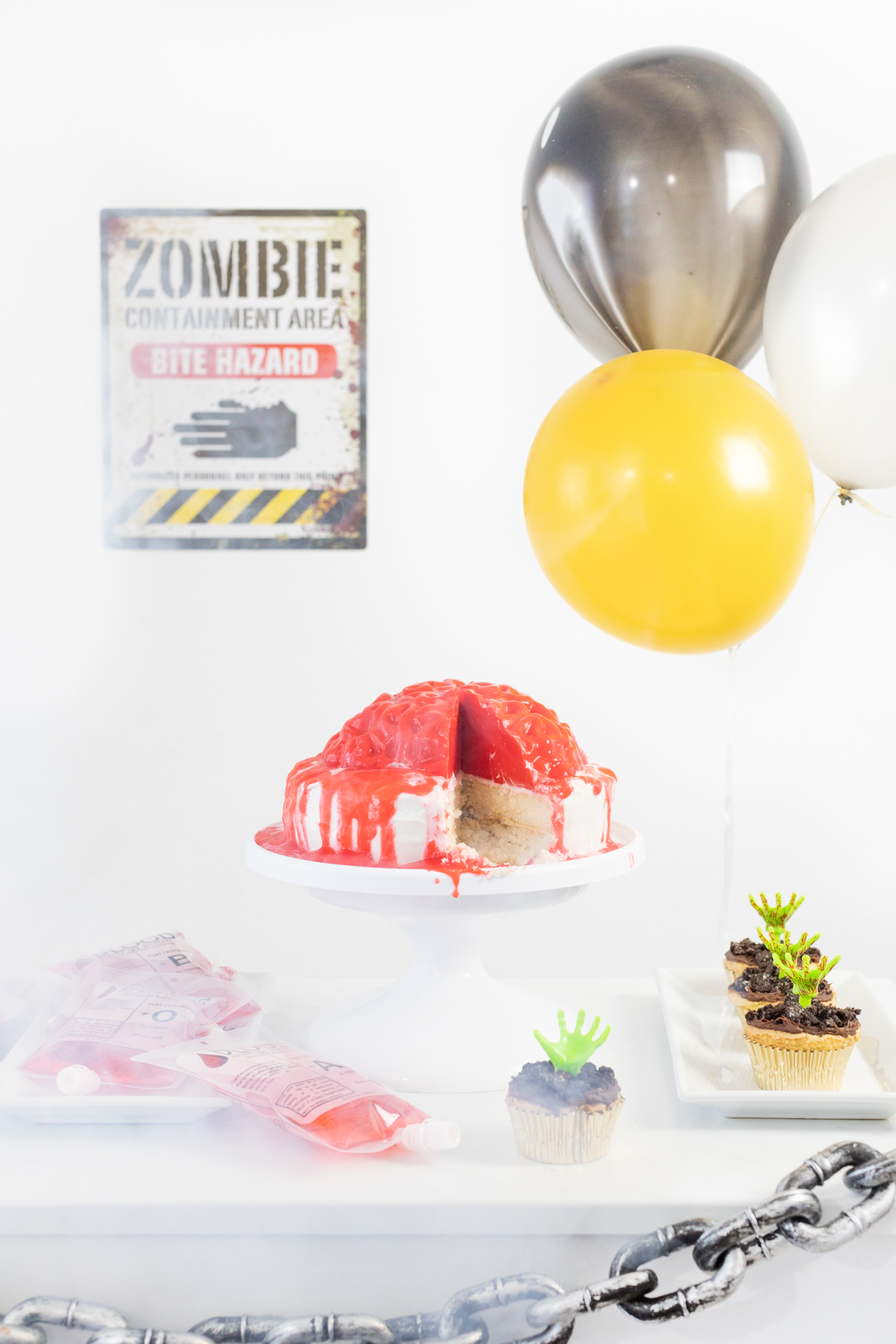 Have you ever thought to shop eBay for all the best quirky things you need to throw a party to remember? Warning... it's a lot of fun! From fog machines to cupcake toppers, you are going to love this.
HOW TO THROW A ZOMBIE THEMED PARTY
Check out this collection of unique, gory and funny zombie party supplies to set your Halloween party planning in motion.
SET YOUR PARTY SCENE
This is totally my favorite part! To get your creative juices flowing, here's what to do. Think about your absolute favorite zombie scenario. What are your favorite zombie themed shows or movies? Are you into The Walking Dead or perhaps you're a Zombieland fan. What was your all time favorite scene? For thought starters, you could go with a deserted hospital scene or military base for example. Once you choose your scene, it will be easier to set your party plan in motion.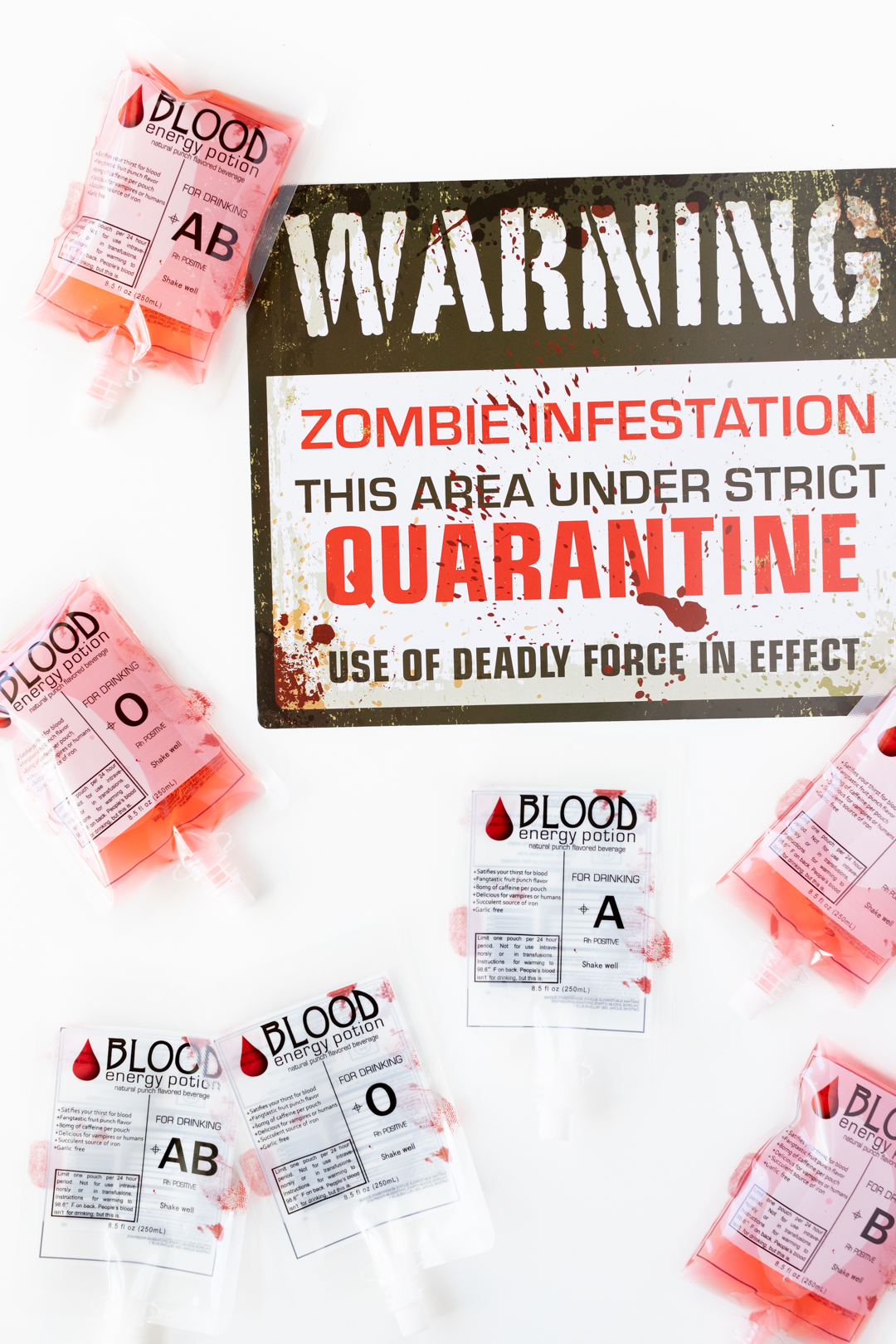 ZOMBIE WORTHY THEMES
The possibilities for creating a positively horrific scene are endless!
Deserted Hospital, Military Base or Airport
Condemned House or Building
Mad Science Lab
Creepy Cemetery
Abandoned Police Scene
Abandoned Factory
Back Alley
Whatever theme you choose, make sure to pick up a fog machine. It will be SO epic for those cemetery scenes.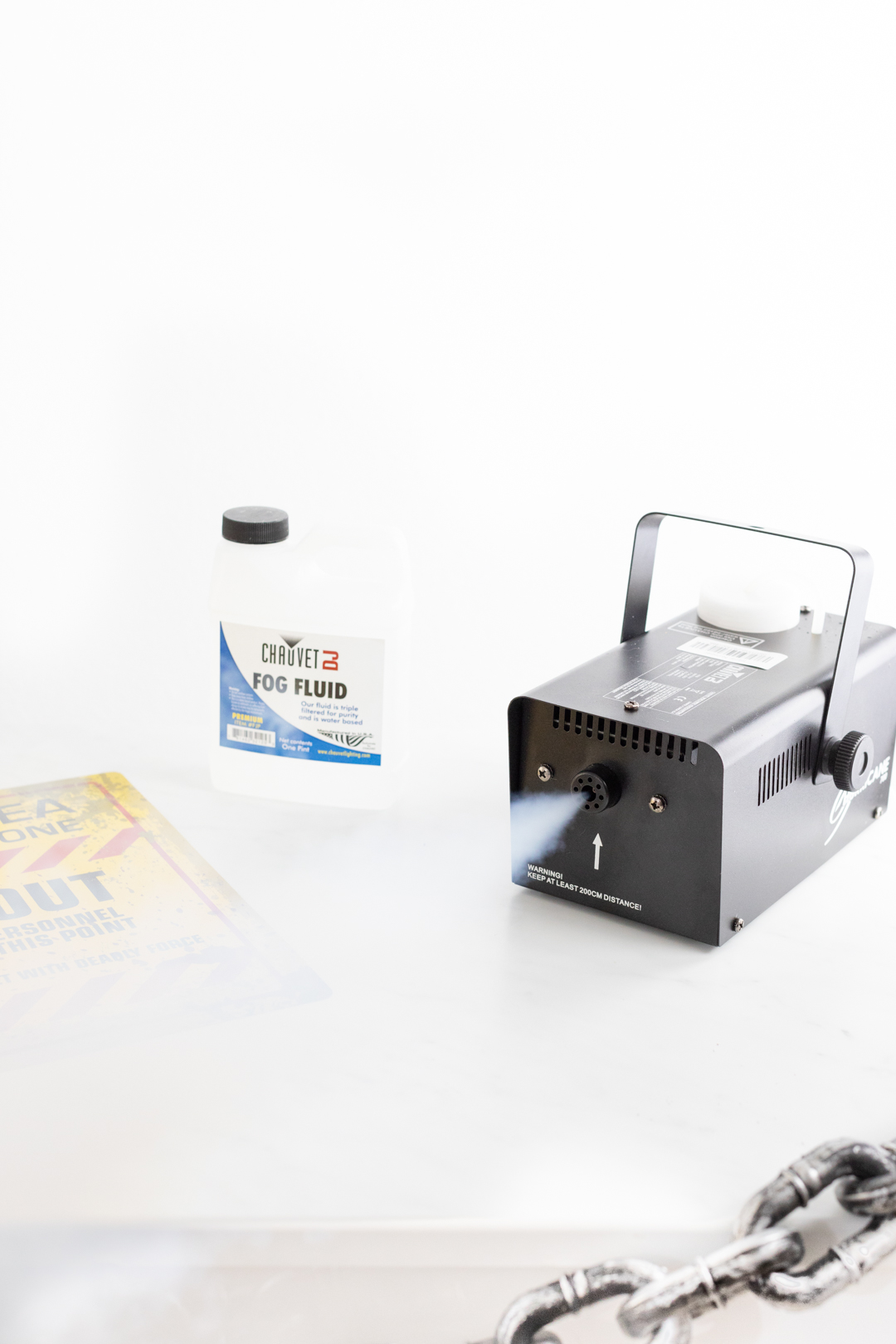 APOCALYPTIC DECORATIONS
Now it's time to decide if you're going to do the cute zombie theme or a more scary theme. For cuter parties, pick up a matching zombie themed party kit. If you want to scare the pants off of your guests, check out decor like this " Do Not Open Door Cover" and a larger than life " Animated Zombie".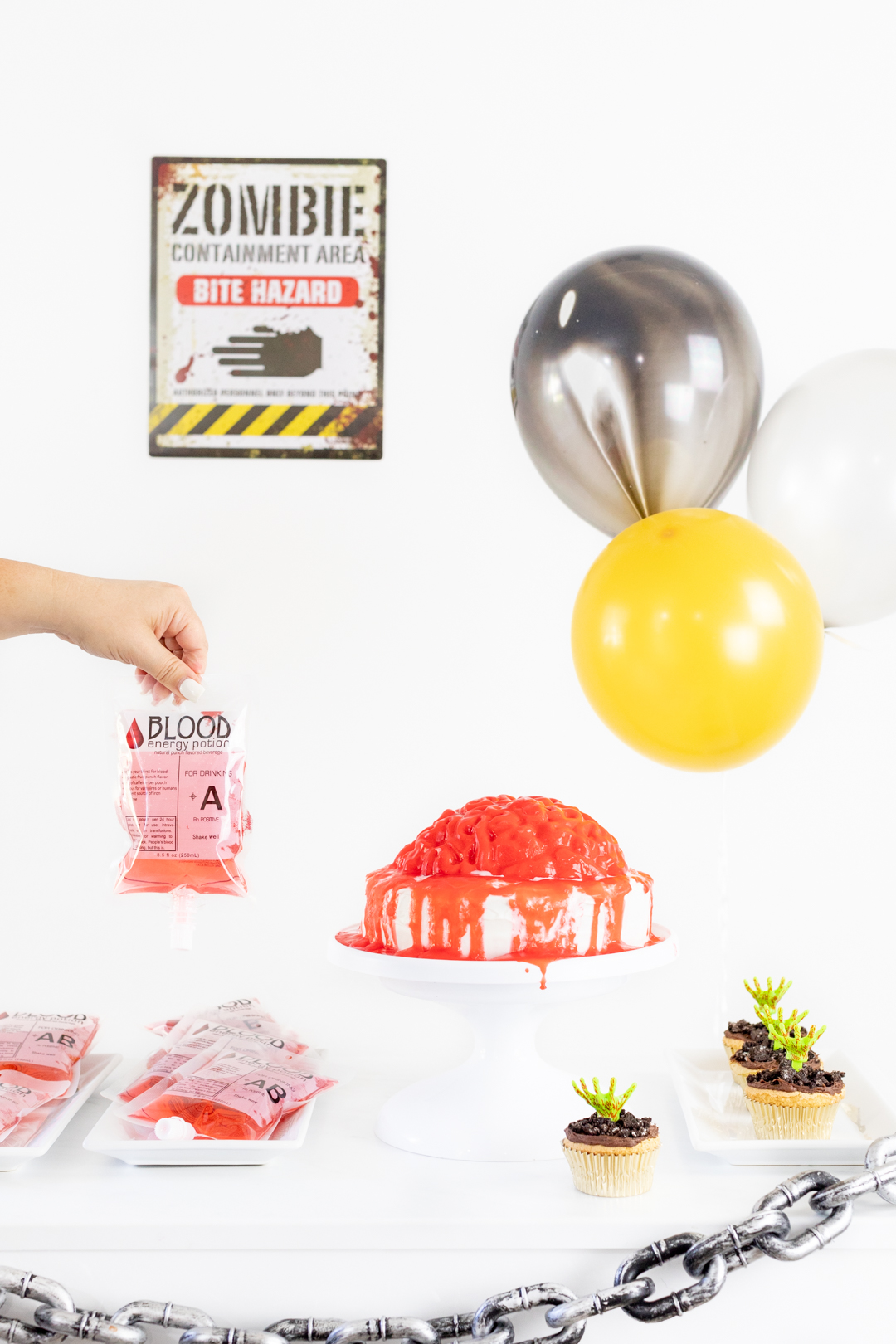 Here are some fun party decorations to get started.
Caution Tape
Fake Blood
Bloody Decor
Zombie Signs
Fake Blood Bags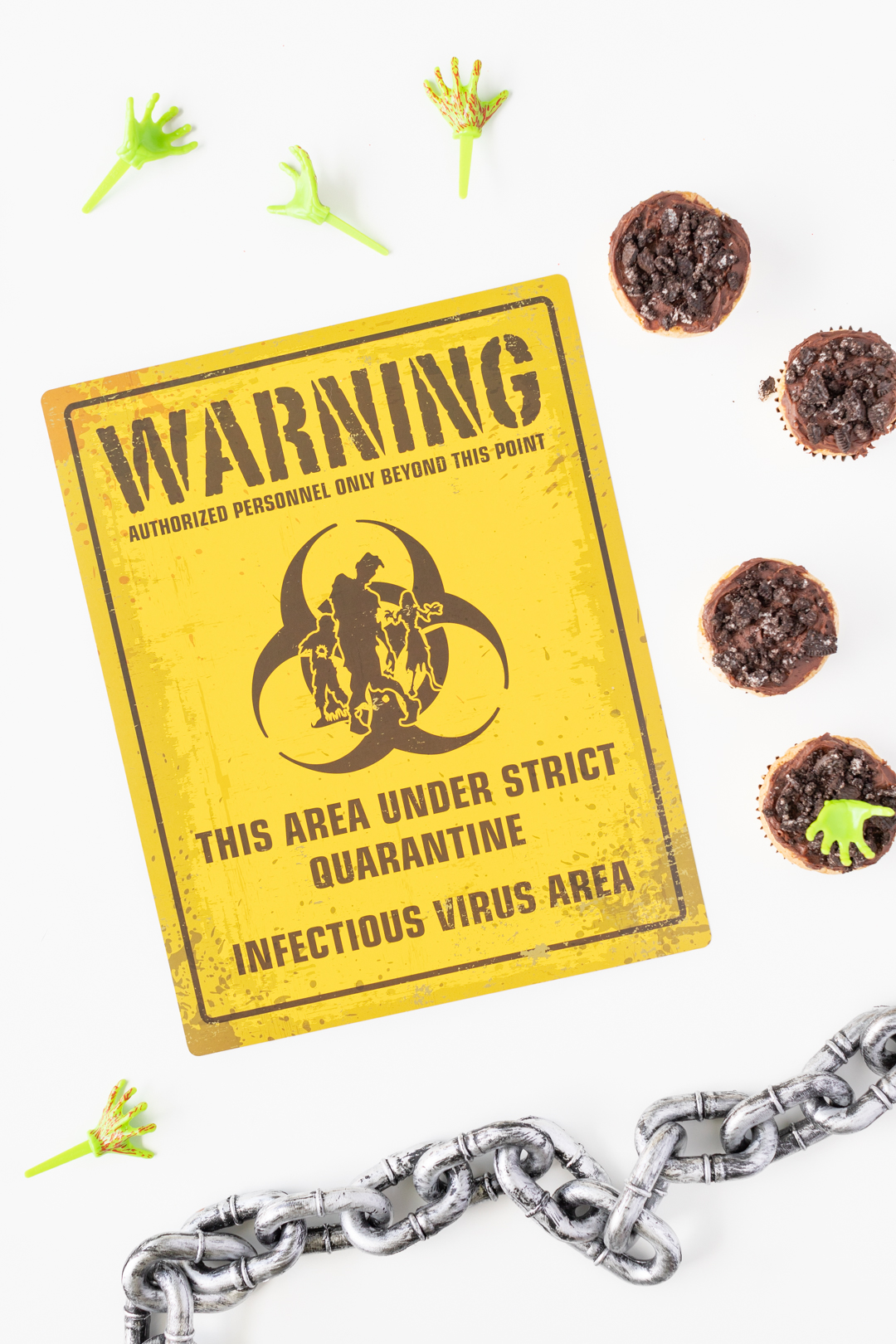 SERVE ZOMBIE WORTHY "FINGER" FOODS
This is most certainly my favorite part! When it comes to deliciously terrible zombie fare, it's all about blood, body parts & brains. Stick to these three "b" food themes and you'll always be in good hands whether they are attached or unattached. *Insert Evil Laugh*
Add labels to regular foods. See Zombie Bottle Labels to turn bottles of soda into "Zombie Juice" or "Zombie Virus".
Serve up all of your red beverages in food safe party blood bags to up the creep factor.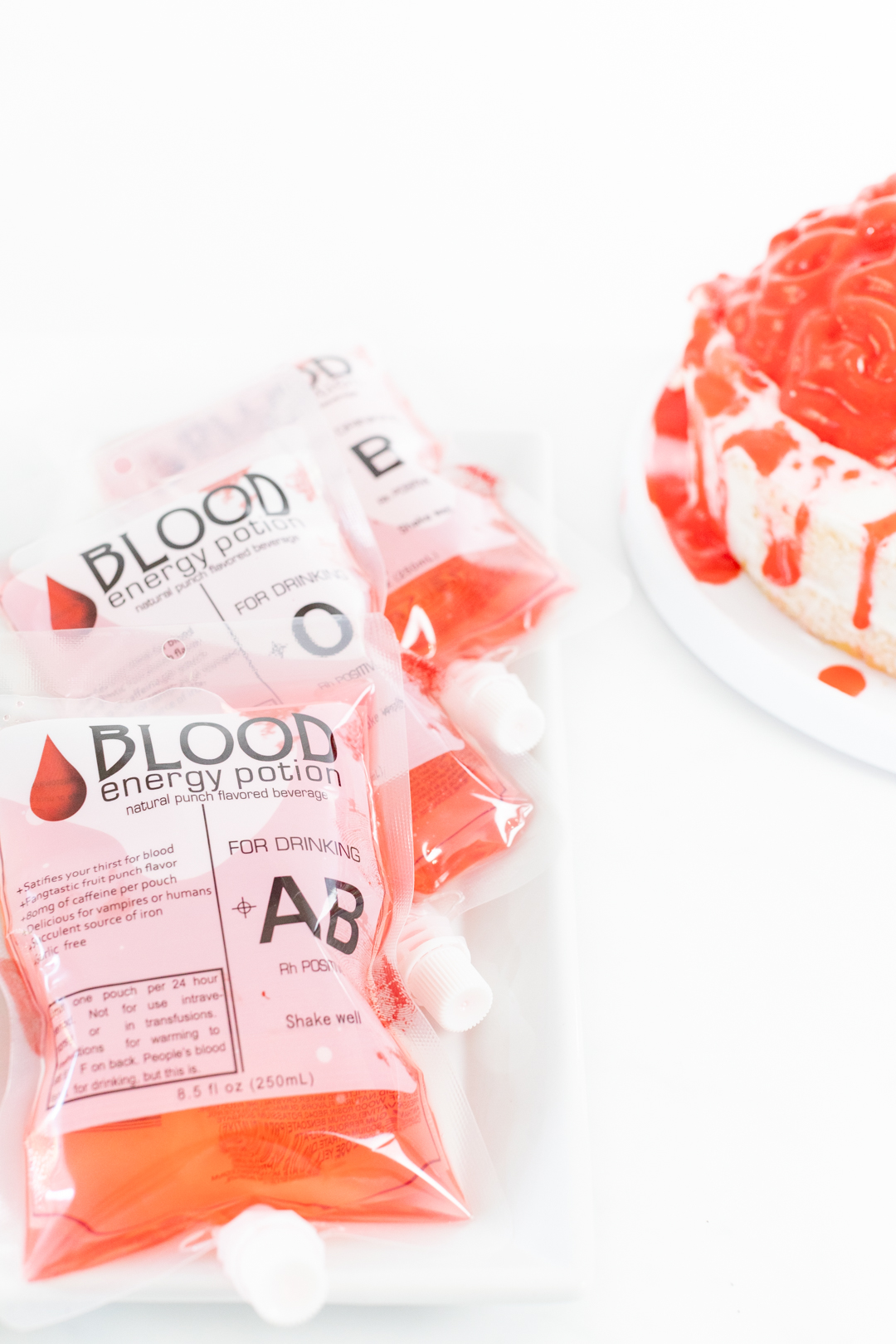 Add sweet drippy blood easily to all of your desserts with Red Cookie Icing.
Make creepy cupcakes with these Zombie cupcake toppers.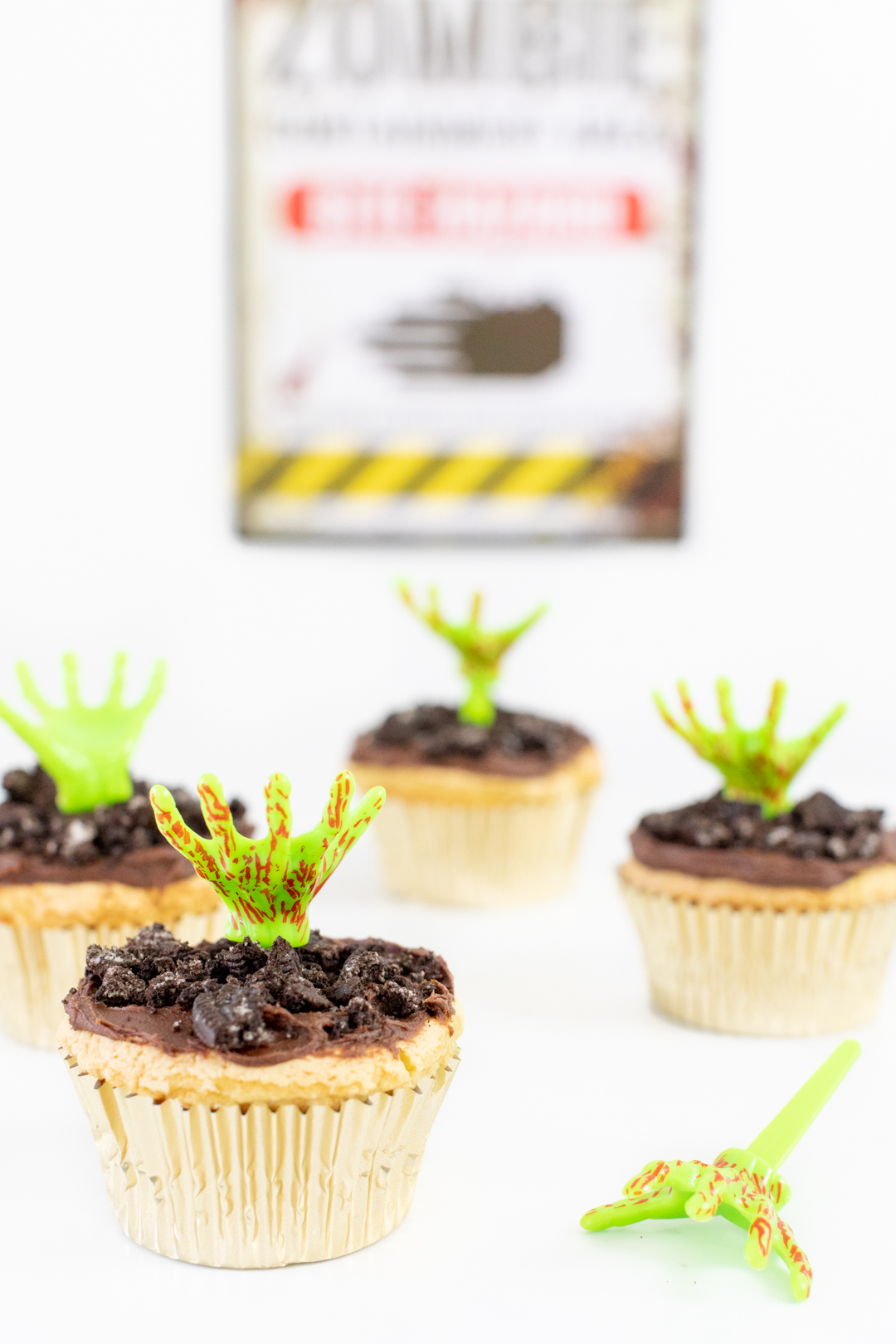 Think outside the box by creating gross desserts like Zombie Brain Gelatin or using Brain shaped ice cubes in your punch.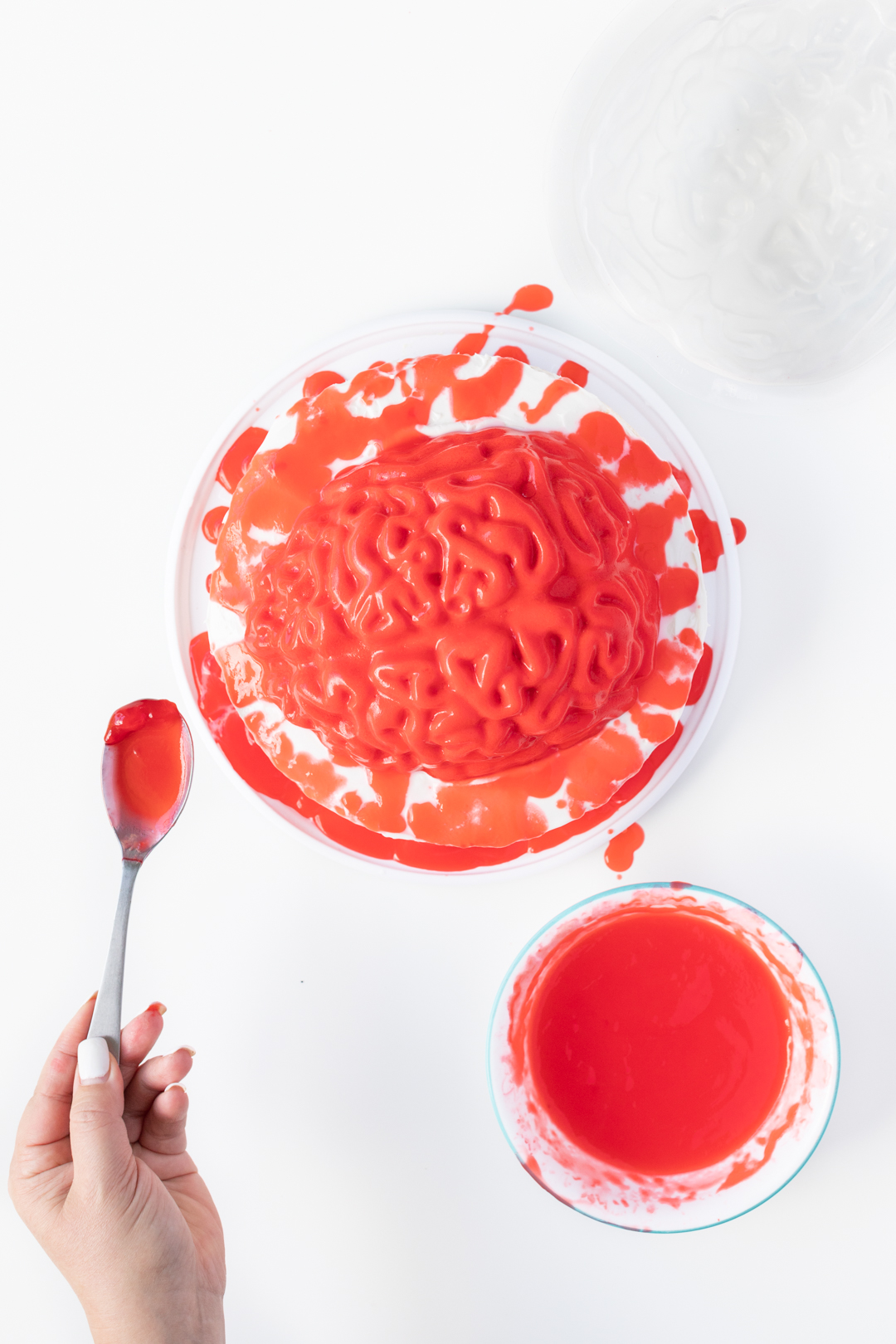 Here is a fun zombie cake idea using a brain mold and gelatin
ZOMBIE CAKE TUTORIAL
Bake a thick two layer white cake and lightly frost with white icing. Set completely.
Meanwhile, prepare a small gelatin brain mold following package suggestions.
Place brain on top of cake and press in to secure. Set completely in the refrigerator.
To take this cake over the top, make a bloody gelatin ooze.
Here's what you need:
Strawberry Gelatin, 3 oz box
2 TBSP of Cornstarch
1 Cup of Water
In a small microwave safe bowl, add gelatin and corn starch and combine. Add water and stir to dissolve. Add the mixture to microwave for 3 minutes on high and stir again. Let cool for 15 minutes and then drizzle all around the cake and over the brain to make it extra bloody and gross. Store the cake in the refrigerator until ready to serve.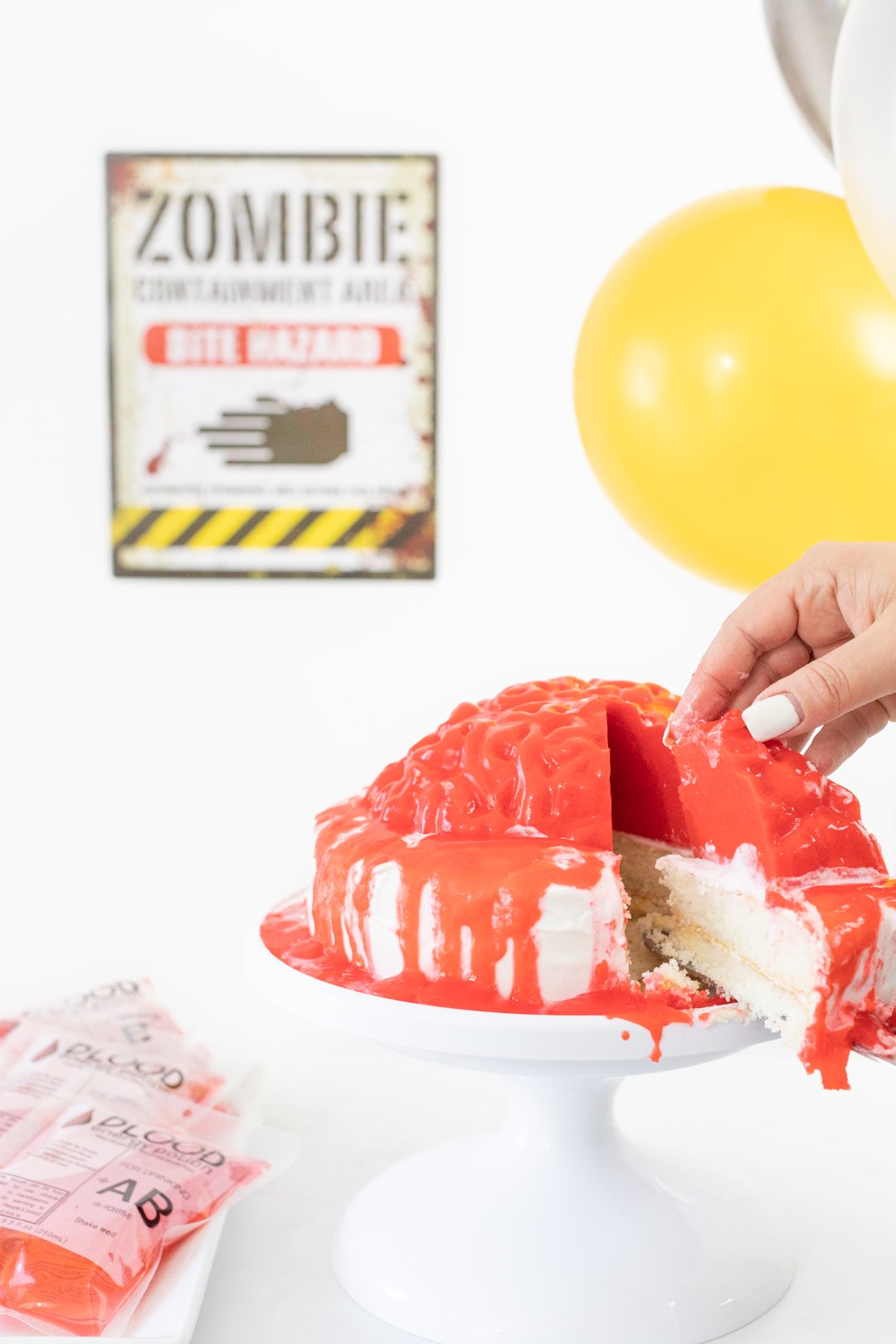 Oozy, Drippy Final Touches
Now that you have your zombie party theme, decorations and grotesque foods planned out, it's time to finalize your plan.
Send out zombie party invitations.
Have some zombie shows & movies on hand.
Ask guests to come dressed in their best zombie costume!
Send guests off with something memorable in a bloody loot bag.
Now that you're armed with epic zombie party ideas, just remember to take a step back to appreciate your awesome work and enjoy the fun!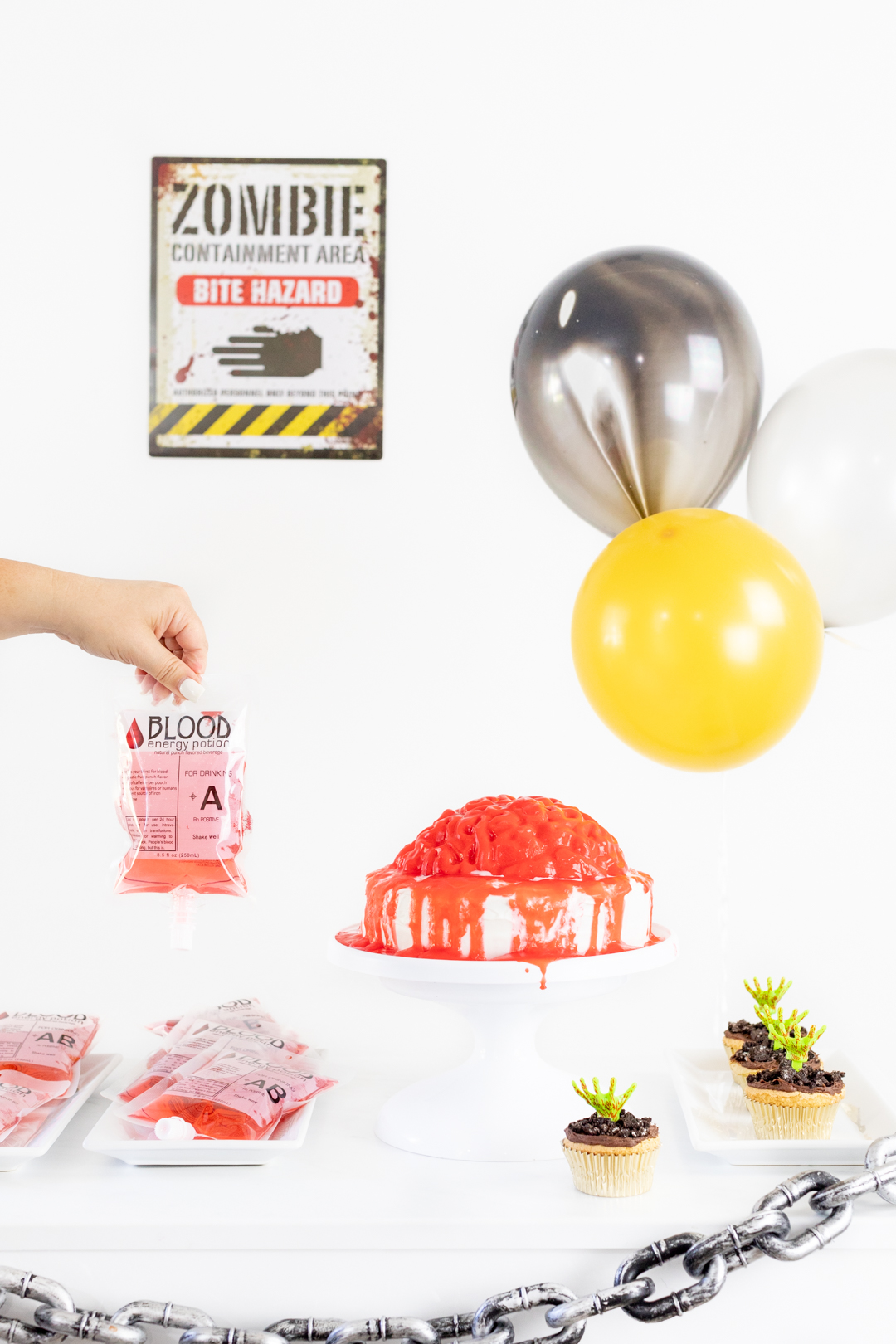 From bloody napkins to ooey gooey gelatin brain molds, your guests will get a kick out of these quirky finds over on eBay this Halloween.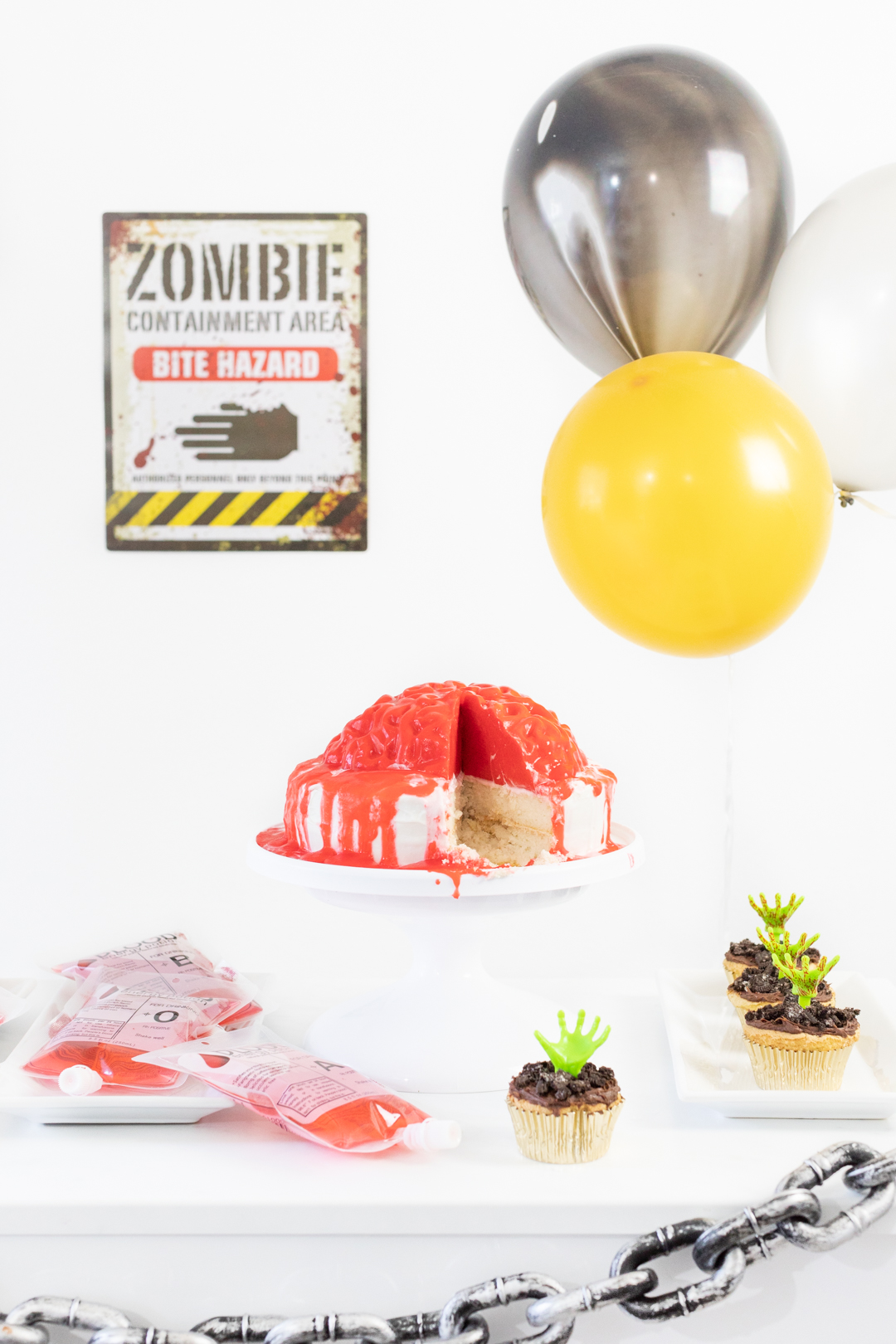 To bring all of your party efforts together, make sure to ask your guests to dress in their best un-dead costumes!