There's nothing like a sweet treat that includes hearts for Valentine's Day. When trying to think up a simple but unique way to decorate cupcakes. I came up with this fun idea. Enter Valentine's Day Cupcakes topped with a mini iced heart-shaped sugar sookie.
Add some pretty sprinkles and frosting and you have the perfect treat to celebrate.
To make these extra pretty, I chose pastels including pink and purple icing and I totally love the vibe.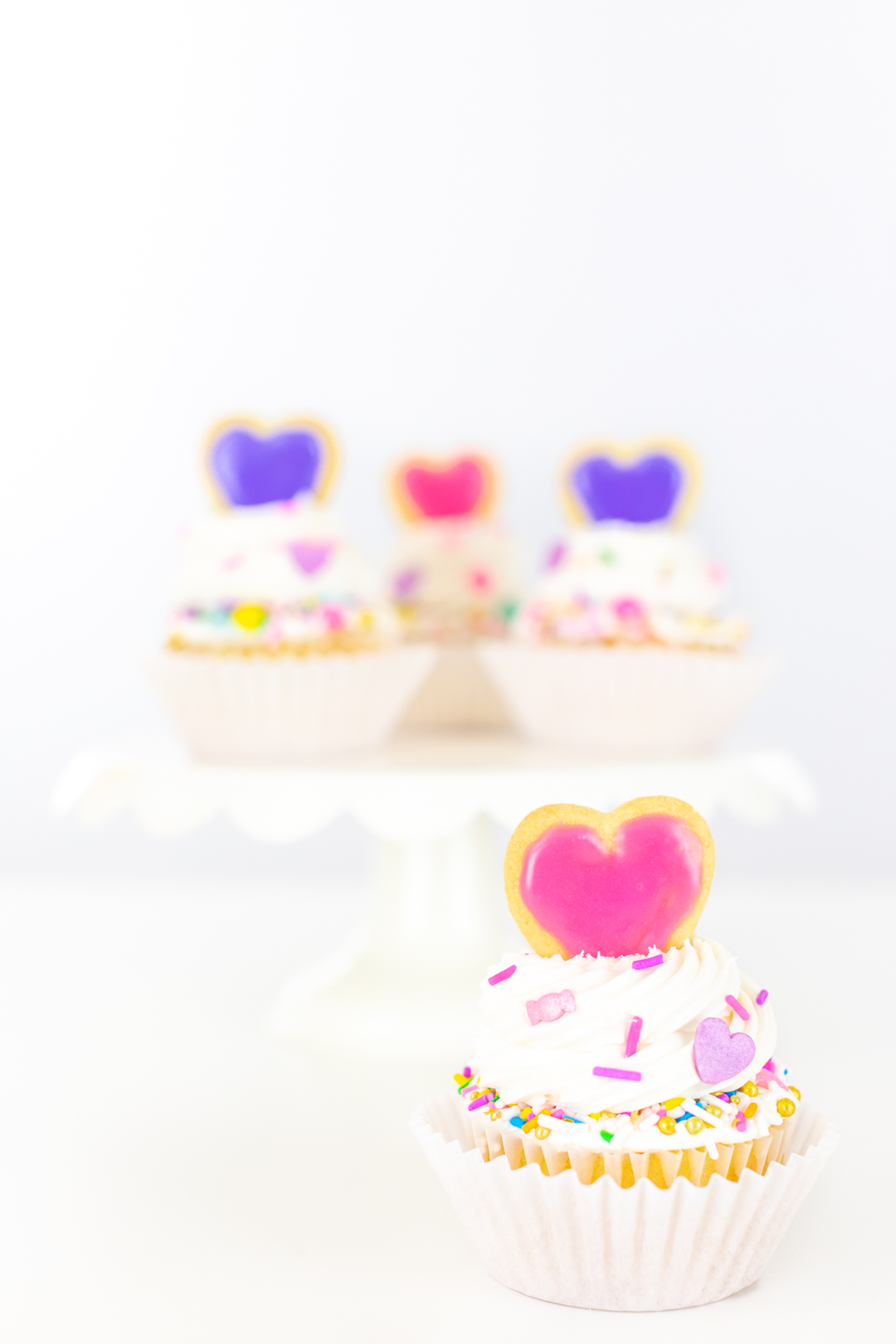 I love a good festive treat to celebrate just about any holiday. I would say my top two go-to desserts to make are cookies and cupcakes, so I figured why not add them both together for one extra fun looking treat this time around? Totally love how they came out and that it was such little effort to make it all happen. Let me show you how to make these easy cupcakes.
EASY VALENTINE'S DAY CUPCAKES
When it comes to whipping up something that looks like you spent a lot of time on it, but didn't... this recipes takes the cake. A bit of whimsy with none of the fuss.
We're taking all the shortcuts on this and you will be surprised that no matter what your baking skill level is or your frosting skills, you can totally make these.
Here's what you need to make these:
Prepared Vanilla Cupcakes
Store-Bought Buttercream Frosting
Prepared Mini Sugar Cookies with Pink & Purple Cookie Icing
Matching Sprinkles
There are so many options when it comes to making these cupcakes. You could easily use store-bought cupcakes, make them from a boxed mix or basically use any recipe that you would like.
To make the tiny little sugar cookies, you will need a mini heart cookie cutter. See the one that I used in the printable recipe below.
Once the cookies have cooled, ice them with pink and purple icing or whatever color your heart desires. I love how adorable they are.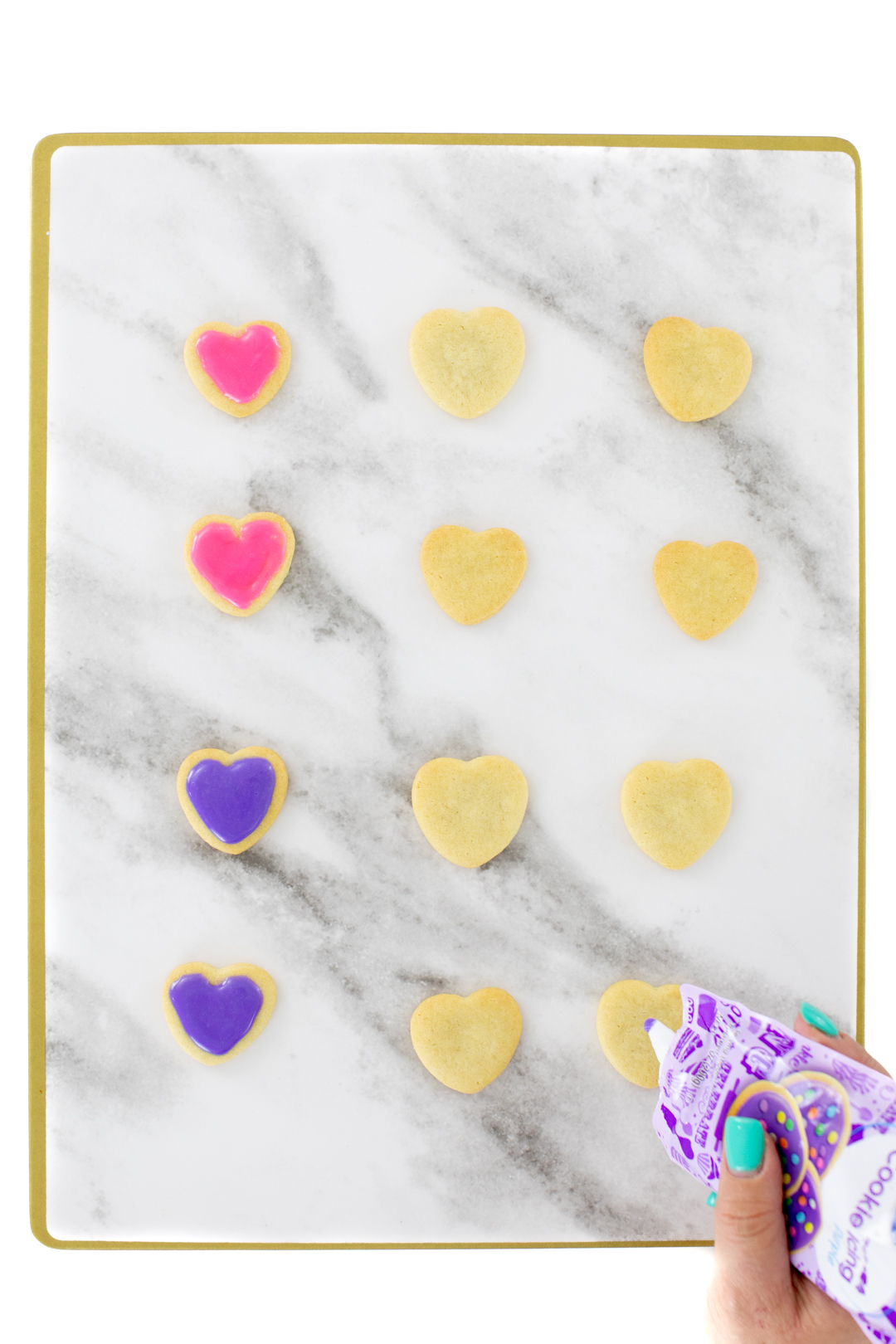 Set the cookies adide until the icing sets and prepare the frosting on the cupcakes.
First, spread a layer of frosting over the tops of your cupcakes and then press sprinkles into them. Once that's set, it's time to pipe on some additional frosting.
You can choose to frost yours in many ways, I decided to use a french star tip and pipe the frosting on in a circle motion and stacking up to two layers to give the cupcakes a little height.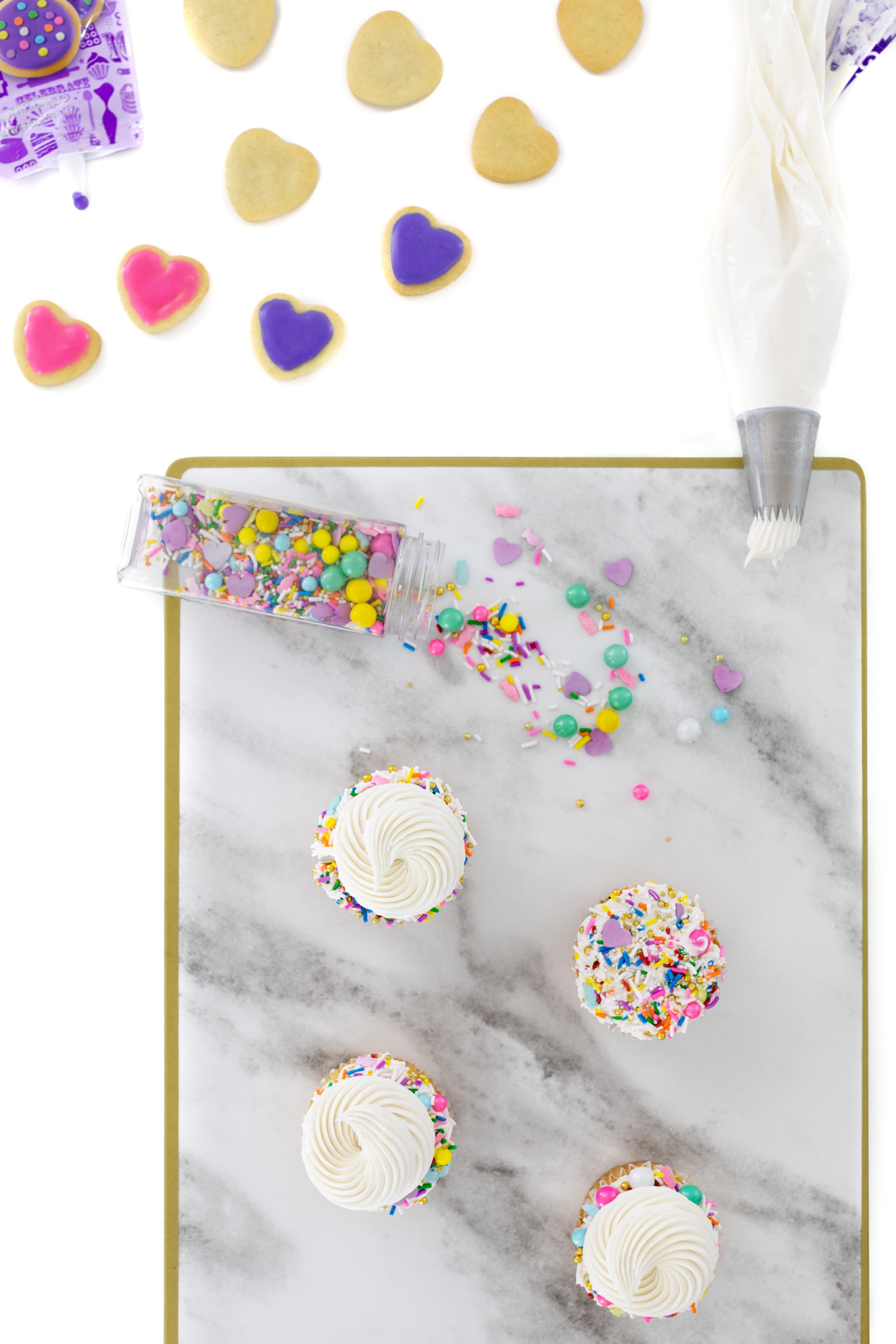 Once the frosting is set, you can position your mini cookies onto the top of the cupcakes two ways.
I couldn't decide which way I liked better, so I decided to share both.
The first way is to just place the cookies into the top of each cupcake like the photo below: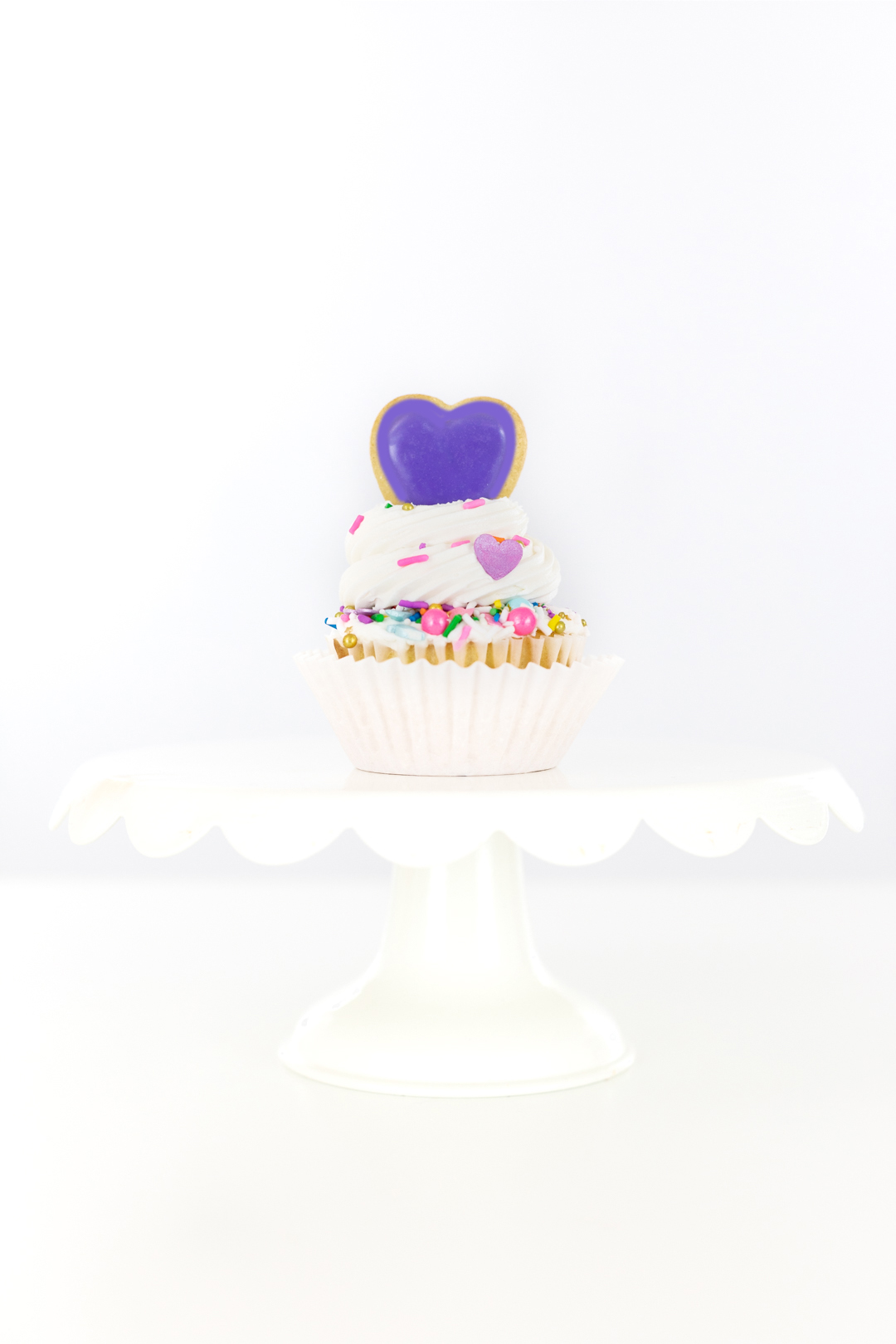 And option two, you can place the cookies flat on top of the cupcakes which also looks quite adorable.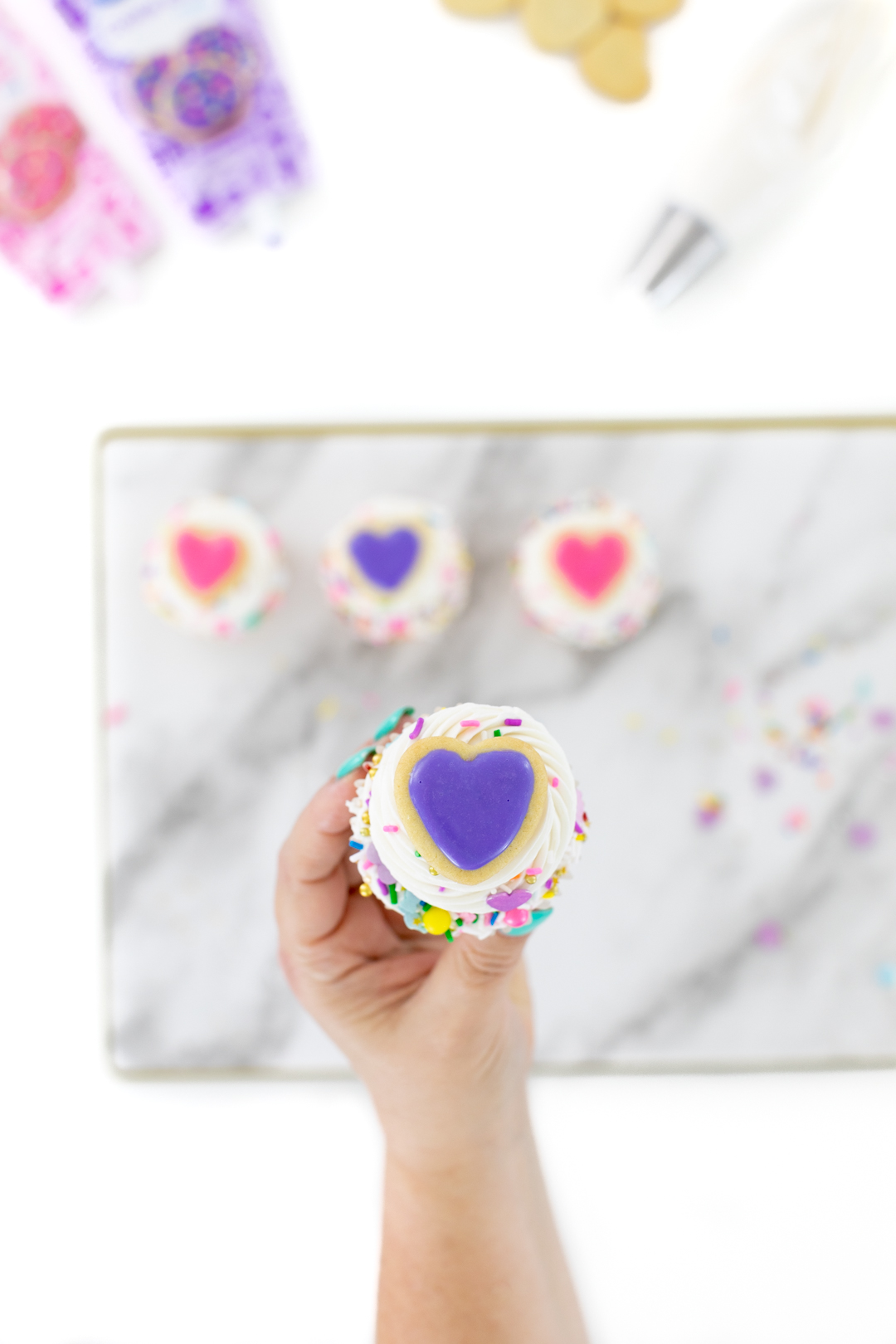 Onces you have decided how to top yours, it's time to do a very light sprinkling of additional sprinkles on top. And, that's it! Cute cupcake time!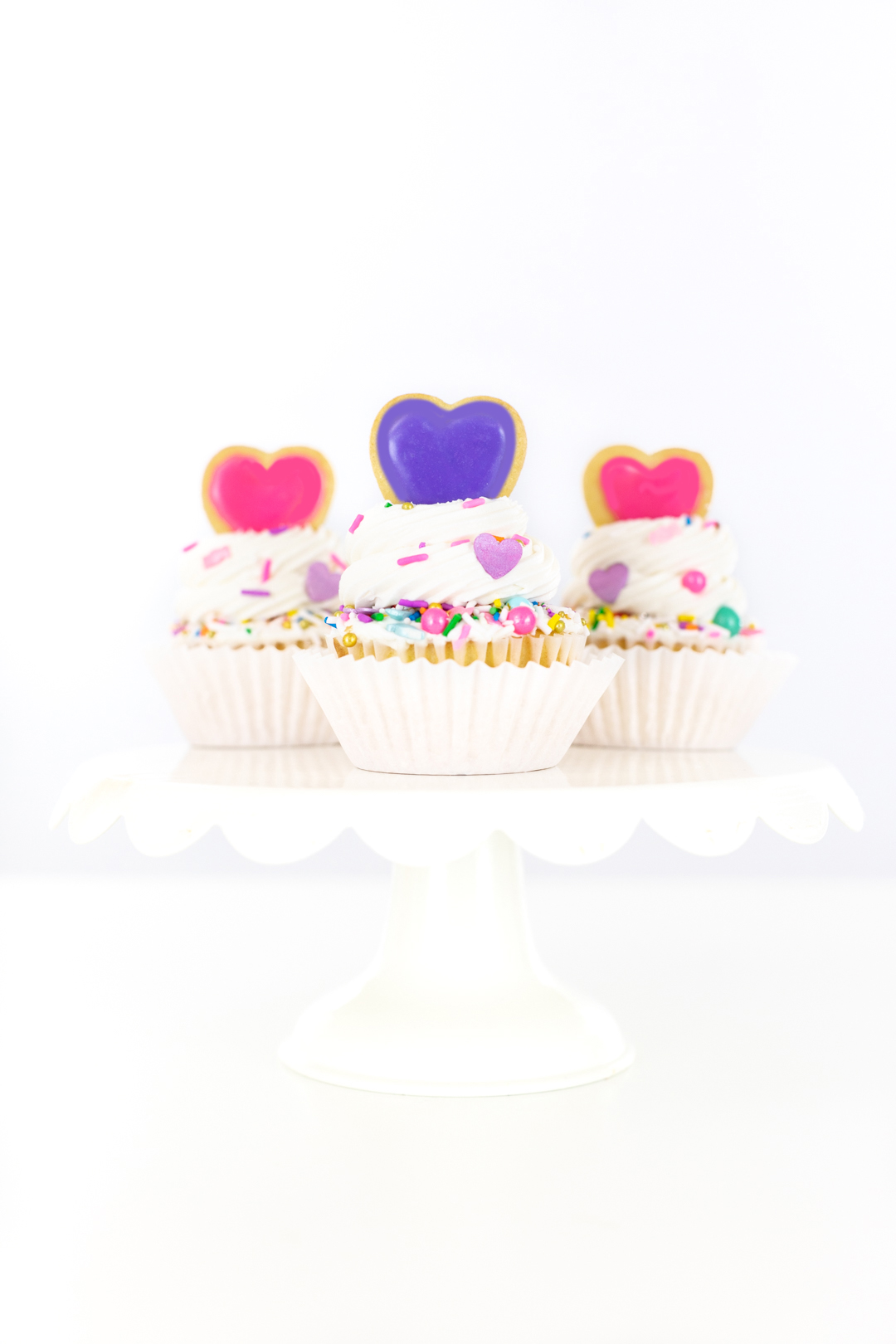 Which is your favorite? Cookie on top standing upright or flat?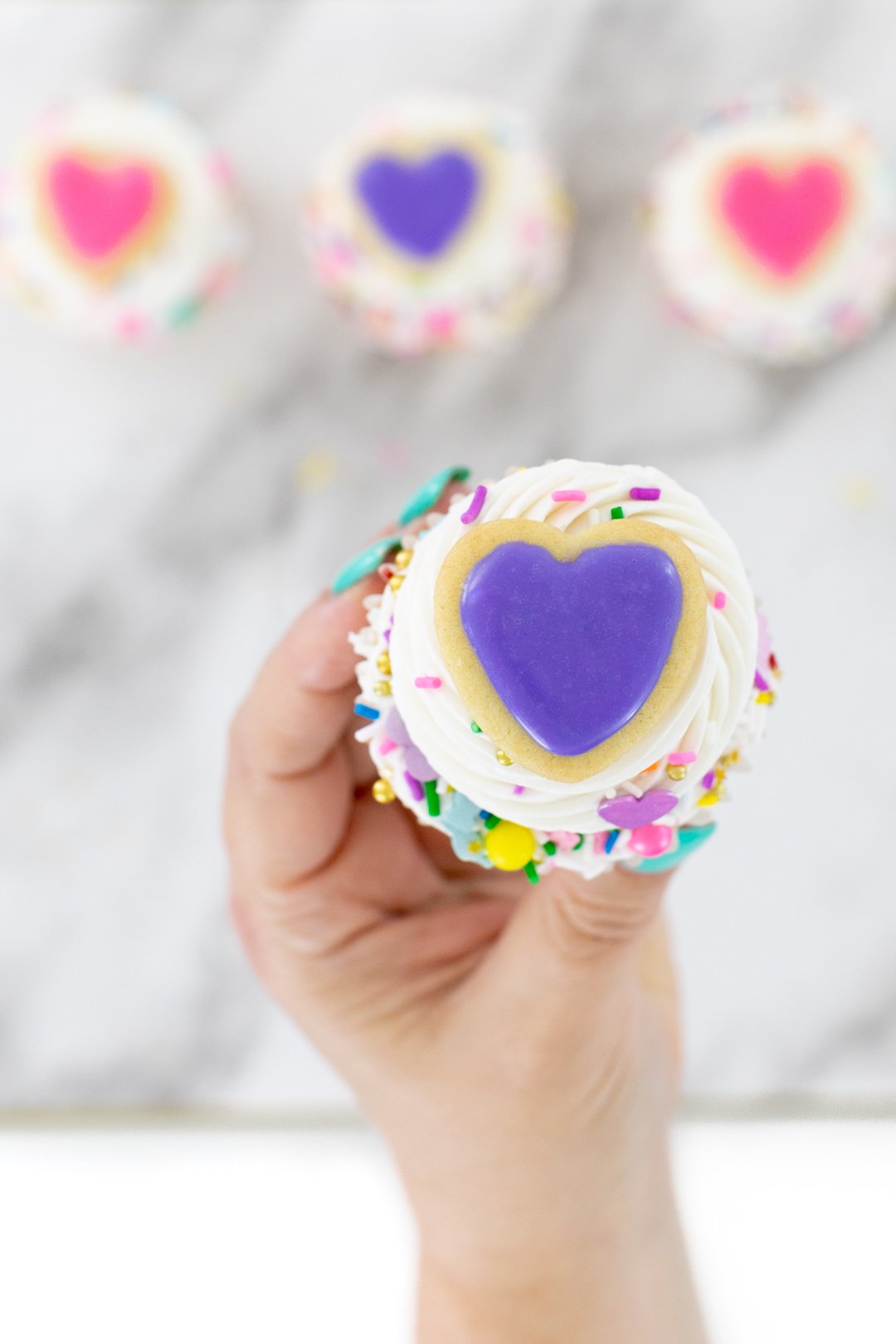 HOW TO MAKE CAKE BOX CUPCAKES BETTER
There's just one trick that I like to use when it comes to making cakes and cupcakes better with just one ingredient. Adding a small box of dry pudding mix goes really far to improve both the flavor and consistency.
TIPS FOR SUGAR COOKIES FROM STORE-BOUGHT DOUGH
To reduce cookie spreading, there are a number of things to try. Adding all-purpose flour is a must if you plan on shaping the dough. Keeping dough chilled is the most important tip to stick to. And the second most-important thing to know is that you need to let the cookies fully cool to see their true shape, so don't panic when you first remove them from the oven.
Once they are completely cool, you can start to pipe the cookie icing on. Let the icing set completely before adding as a cupcake topper.
MORE EASY VALENTINE'S DAY DESSERTS
If you like this idea, y0u might like this easy Minnie Mouse Cupcakes, too.
For a dessert to feed a few or many, this Candy Charcuterie is the way to go.
This Cupid Crunch is an addicting V-day treat to make.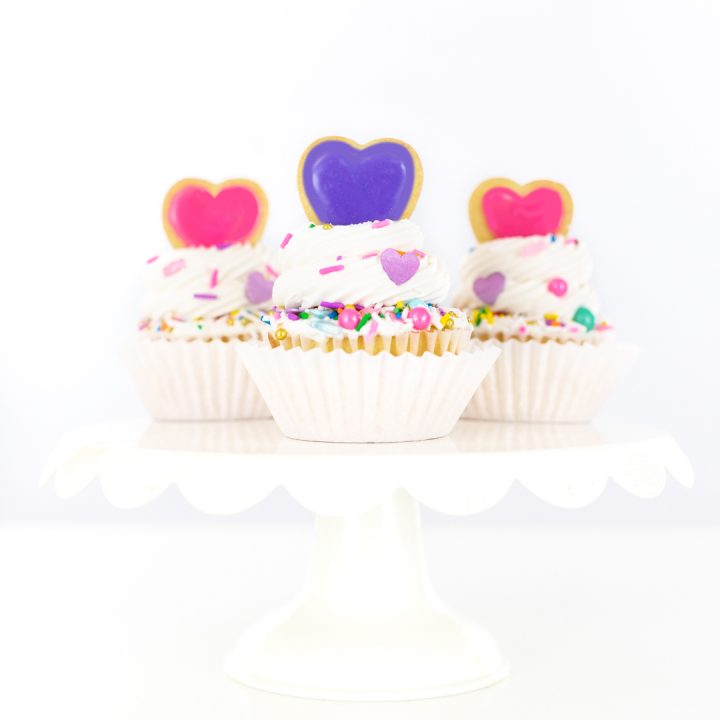 Valentine's Day Cookie Cupcakes
Easy Valentine's Day Cupcakes topped with the cutest mini heart shaped sugar cookies.
Ingredients
12 Prepared Vanilla Cupcakes
12 Mini Heart-Shaped Cookies with Pink Icing & Purple Icing
Wilton Buttercream Frosting, Medium
Pastel Sprinkles
Instructions
Spread a layer of frosting over the tops of your cupcakes and then press sprinkles into them. Once that's set, it's time to pipe on some additional frosting.

Use a french star tip & pastry bag to pipe the frosting on in a circular motion and stacking up to two layers to give the cupcakes a little height.

Insert Cookies into the top center of each cupcake.

Lightly add sprinkles to the frosting.
Recommended Products
As an Amazon Associate and member of other affiliate programs, I earn from qualifying purchases.
Nutrition Information
Yield

12
Serving Size

1
Amount Per Serving
Calories

369
Total Fat

17g
Saturated Fat

3g
Trans Fat

0g
Unsaturated Fat

13g
Cholesterol

60mg
Sodium

251mg
Carbohydrates

52g
Fiber

1g
Sugar

39g
Protein

3g
Nutritional information will vary based on the ingredients that you choose.