Obsessed with Pink Christmas trees? I am! After all of the pink tree themes I've done over the last few years, I had never done a Pink Halloween Christmas tree! Well, it was surely time. This post may contain affiliate links.
These fun ideas feature coral/orange, pink and black and white Halloween ornaments with a big candy piñata topper. I've officially named this year's theme "Eerie & Cheery". I am obsessed with how it turned out.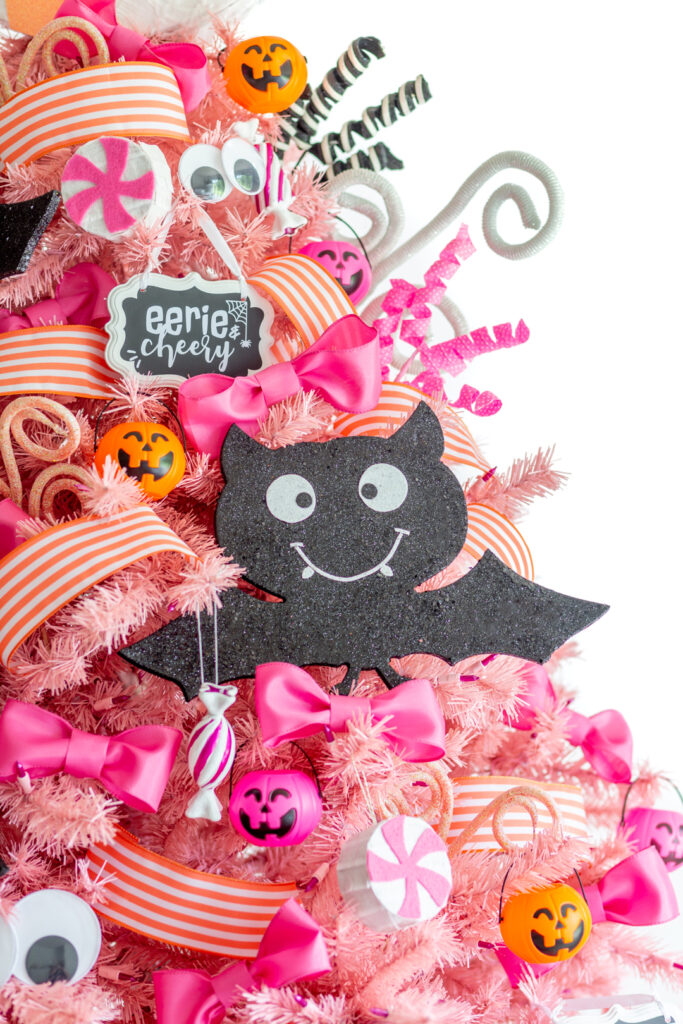 Celebrating Halloweenmas has been gaining popularity over the last few years. The merging of these two huge holidays seems like a no brainer, especially after last year. People are looking to amp up the Halloween and Christmas festivities at home and make the holiday season even longer.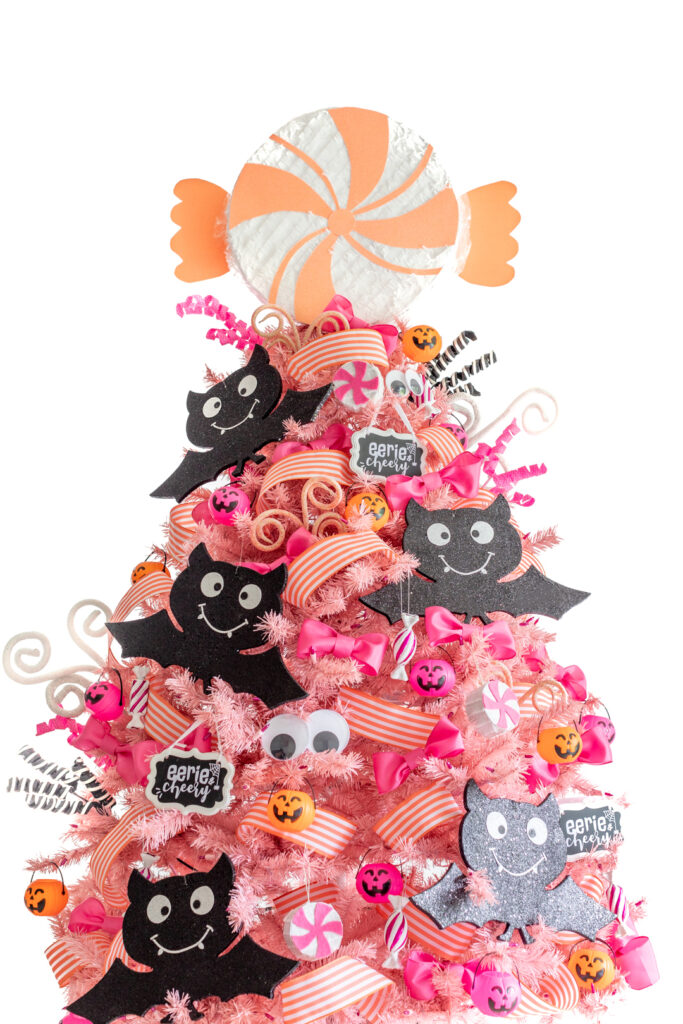 PINK CHRISTMAS TREE FOR HALLOWEEN
Learn how to decorate a pink tree for the Halloween season. These orange, pink and black decoration ideas are perfect for taking your tree from drab to fab.
Here are some ideas for a trendy 2021 Halloween tree.
HALLOWEEN ORNAMENTS FOR PINK HALLOWEEN TREE
It's time to chat about some awesome ornament ideas for a pink Christmas tree. I've already shared some of my best tips and ideas on decorating a pink tree for Christmas, so it's time to add some spooky goodness in the mix.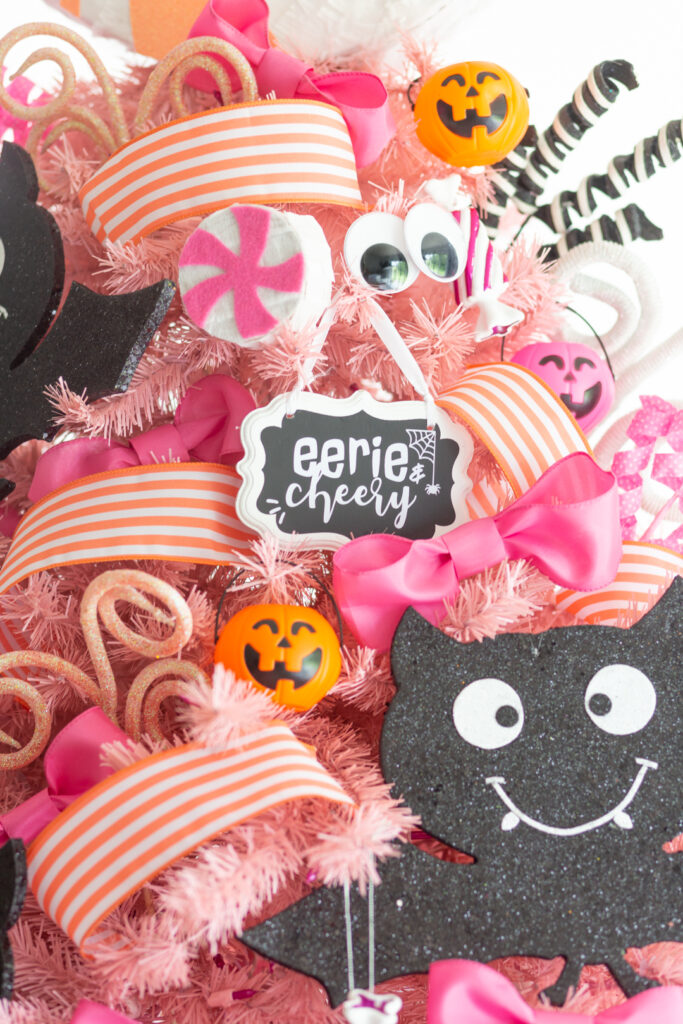 RIBBON - is such a great way to make your tree feel full and whimsical. I started adding them more and more over this last year and I'm hooked. This tree features ribbon in two ways.
Ribbon Strips. Cut strips of wired ribbon with a coral stripe really pops against the pink tree. You can use pipe cleaners to attach the strips to the tree. I've started skipping that step and just pinching the ends of the ribbon since it's wired.
Cute Bows. Using pretty pink wired ribbon and a glue gun, I used wired ribbon to make very simple, but playful looking bows.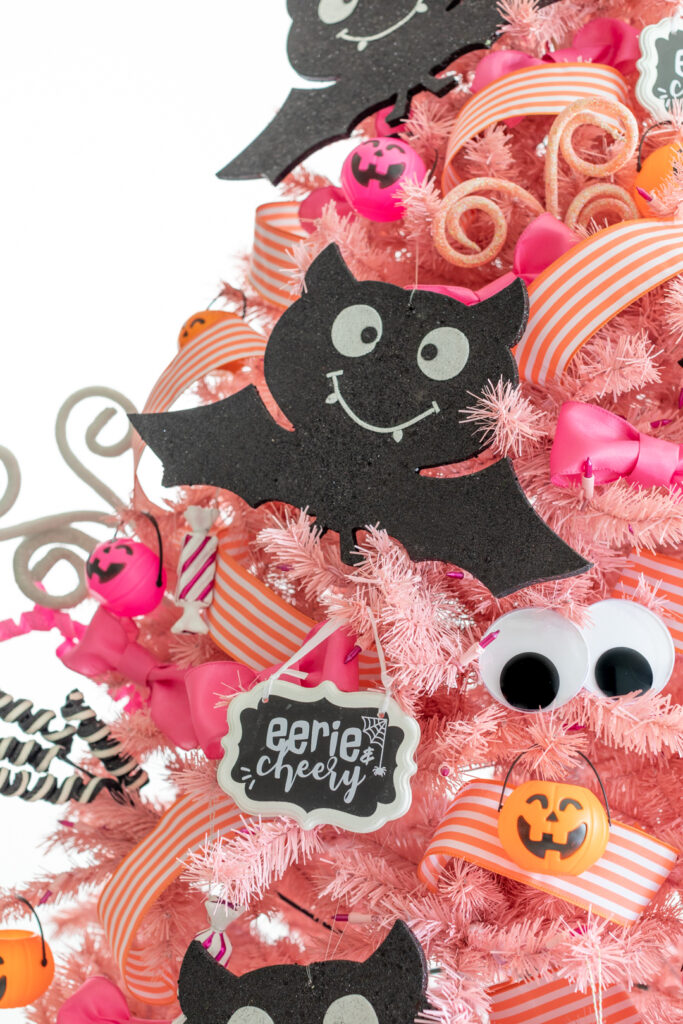 CUTE BATS - are perfect for an eerie and cheery vibe. I scoured the net for the cutest bat ornaments and couldn't find what I was looking for. Then, I stumbled on the cutest bat decorations ever. These Glitter Bats from Michelle's aDOORable Creations.
MINI HALLOWEEN BUCKETS - Adding jack-o-lantern style pumpkin ornaments was a must, I decided to try these small treat buckets and they worked out so perfectly. The multipack of Mini Halloween Buckets comes with green which I will use for another purpose.
GOOGLY EYES - I wanted to give add to the eerie vibe that was still cheery and cute. Adding Large Googly Wiggly Eyes was the perfect touch. I used a glue gun to adhere two together and added a couple throughout the tree. I love how it looks.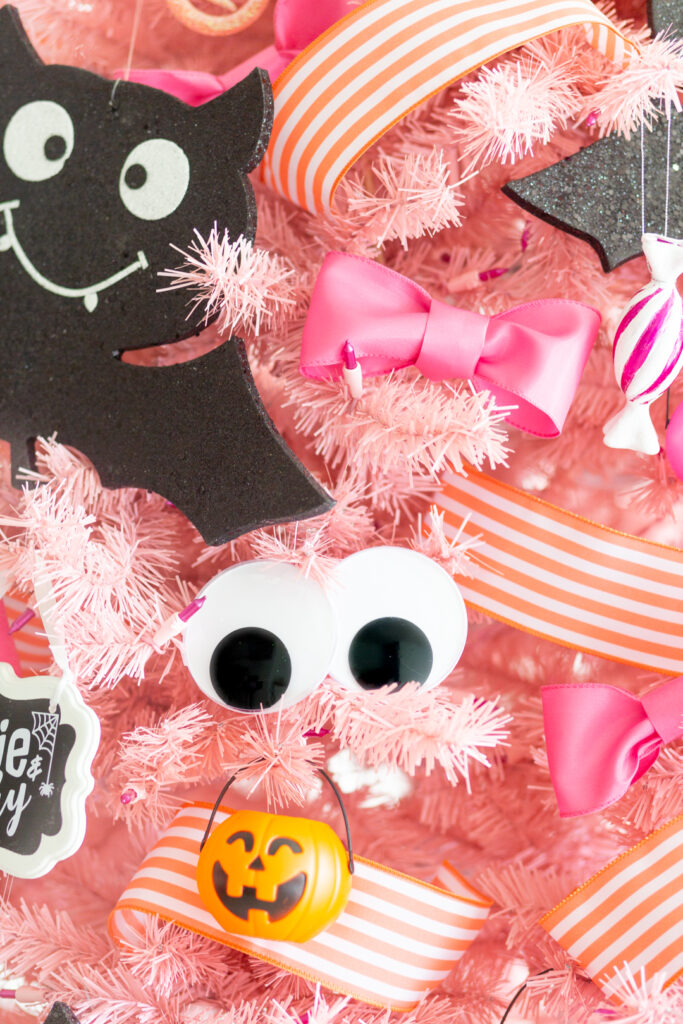 CANDY ORNAMENTS - one of my favorites are these Vickerman Plastic Candy Ornaments. I have used different colors in other trees and love them so much. They are a cute lightweight tree ornament option if you want a candy vibe.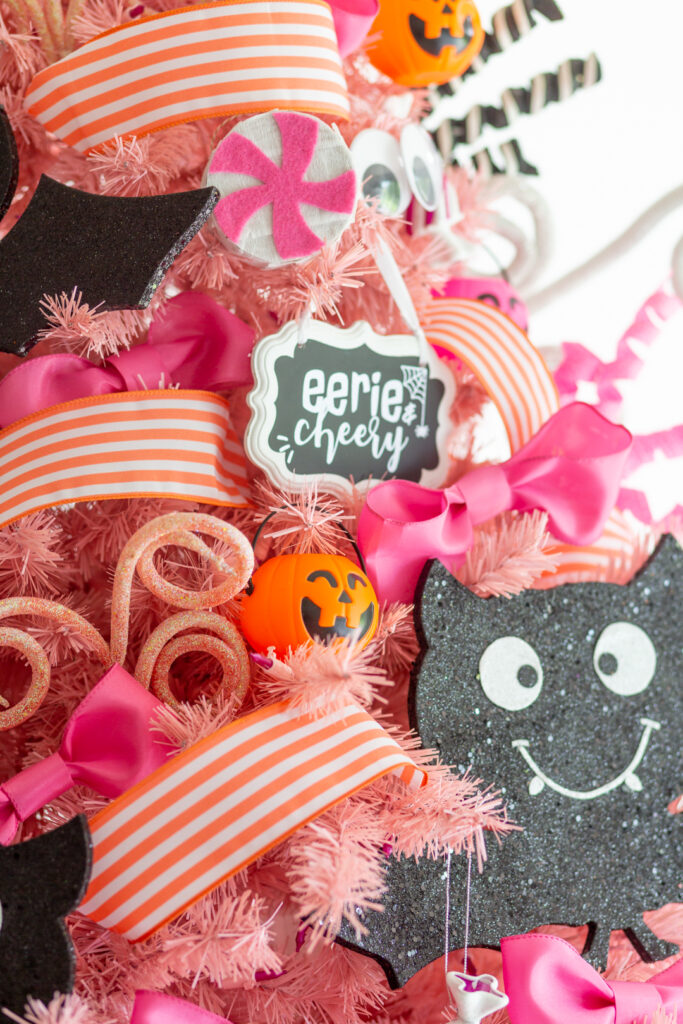 MINI PINATAS - It's not Halloween without candy, candy, candy. Another way I decided to add to the candy vibe on this tree are these mini peppermint pinatas in bubblegum pink.
FLORAL PICKS - for an awesome way to add a variety of shapes and textures to a Christmas tree, floral picks are such a fun add. There are so many different shapes and sizes you can, have fun with it. I've added a few varieties to keep the tree fun and full.
HALLOWEEN CHRISTMAS TREE TOPPER
After plenty of brainstorming, I can't get over how pinatas make the very best tree toppers for Christmas trees. Having an opening for candy on the bottom, allows them generally to be placed on top of trees pretty easily. On occasion I have had to cut the opening wider, but it's fairly simple to do. I ordered a Peppermint Candy Pinata in a coral color to match this tree.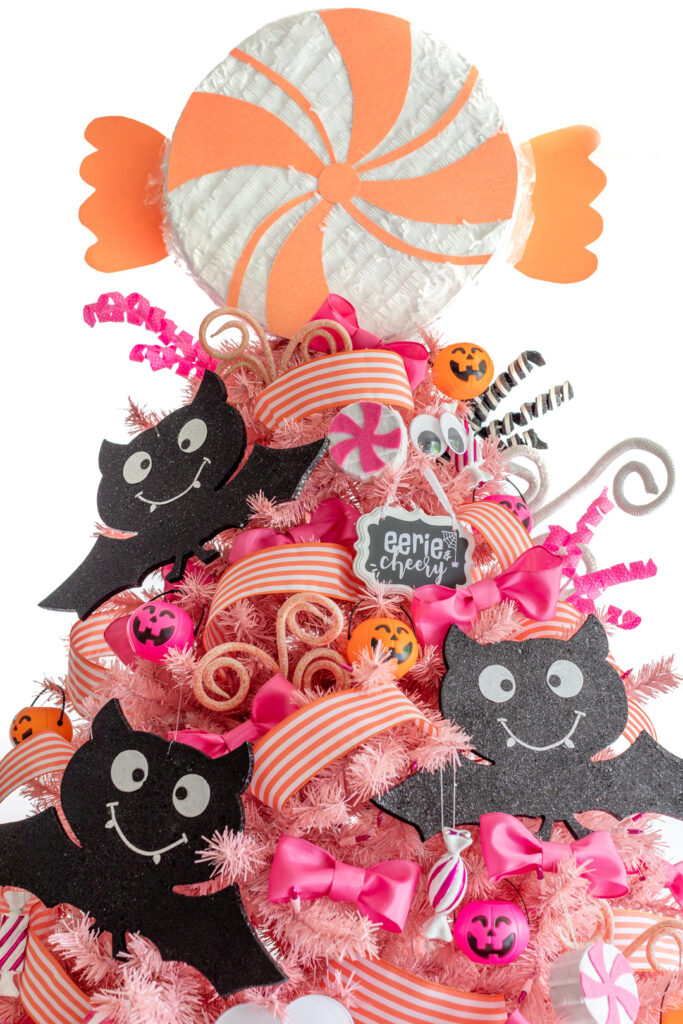 HOW DO YOU DECORATE A TREE FOR HALLOWEEN?
Now that you have sourced all of your spooky cute Halloween decorations and ornaments, it's time to layer them onto your tree.
First, add the tree topper. Adding a pinata to a tree can move the tree around a lot, so it's best to get it situated first.
Next, I added the large most prominent ornaments. In this case the bats. Once I places them and spaced them out the way that I wanted to, I added the floral picks to the sides of the tree, reserving some to weave into the rest of the tree.
Then, add the striped ribbon strips loosely around the entire tree, leaving room for other ornaments.
Add the rest of the ornaments and bows to fill in all of the rest of the space.
Use symmetry to balance where you place the ornaments for the perfect Halloween tree.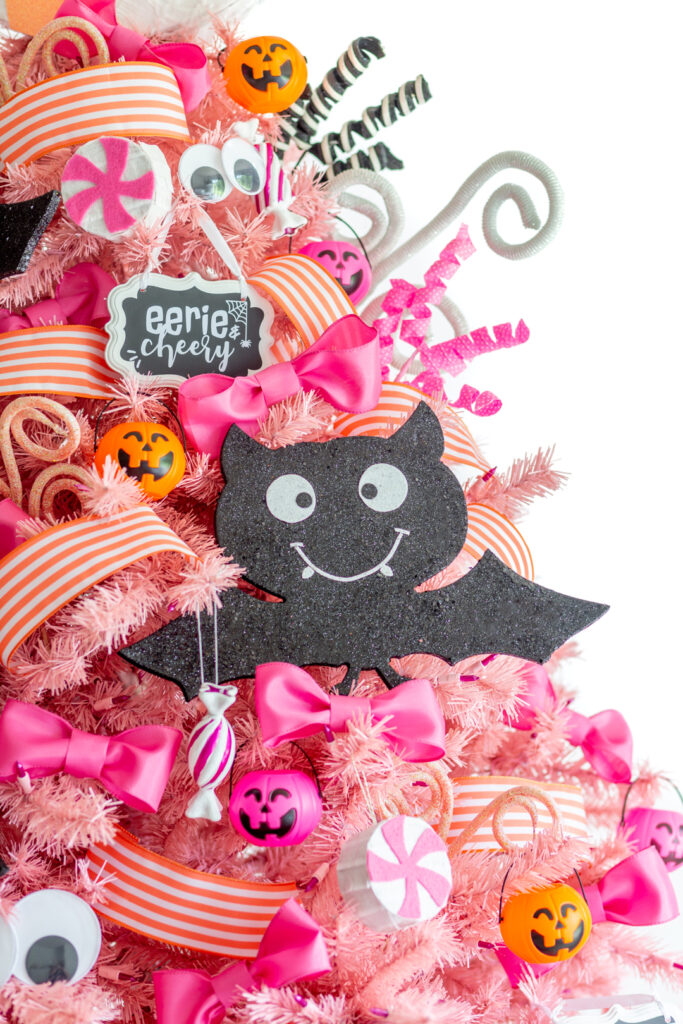 WHAT ARE HALLOWEEN TREES?
Traditionally a Halloween tree is more like one of those barren black fake trees you can find most places. They tend to have a spooky vibe.
However it's become an epic trend to decorate a Christmas tree for Halloween in recent years. You can make them cute or creepy. The possibilities are endless.
You can decorate either kind of tree to celebrate for the Halloween season.
PINK CHRISTMAS TREE IDEAS
There is no better way to celebrate the holidays than with a PINK Christmas tree.
These trees are sure to bring joy and laughter this time of year, so enjoy them while they last!
You can find pink artificial trees available pretty commonly now.
Hope you enjoyed these ideas! It's time to start decorating your Halloweenmas tree to extend your holiday festivities even further!
If you loved these ideas, please share with a friend!