Cute alternative to a traditional candy Valentine gift. This quirky treat is perfect for school aged kids.
Looking for a candy alternative for Valentine's Day? Here is a fun idea for you! It's hard to believe that I shared this original idea 8 years ago. Figured it was time to revamp this post for 2021! This quirky V-day gift idea will help keep kids active during these chillier months. This free printable gift tag reads "You Make My Heart Skip a Beat" and pairs with a jump rope for such a cute diy gift idea! This post may contain affiliate links.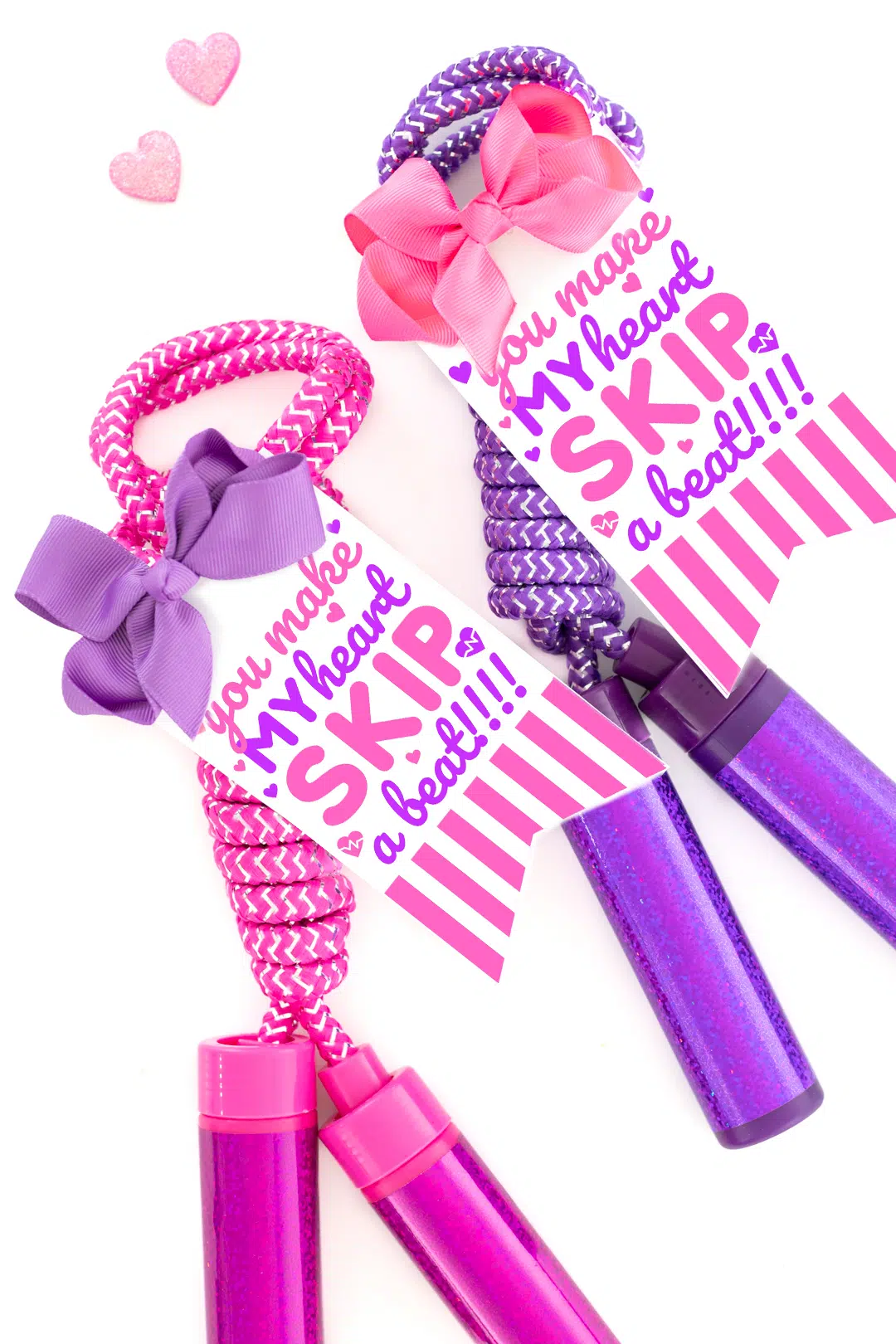 You know the little multi-packs you can buy in the party section of stores typically used for party favors? Those are great for affordable, but unique gifting. When it comes to Valentines for school friends, these kind of affordable but memorable options are everything.
JUMP ROPE VALENTINE'S DAY GIFT
These little gifts could not get any easier to put together. Just print, trim and attach. Voila! Cute gifts for all the kiddos ahead! Bonus: this gift is not only cute, it's also a boredom fighter for kiddos that are distance learning right now. Another clever no contact Valentine's Day idea if you ask me. Also perfect door drop idea to surprise someone with.
Here are the items you need to make these:
Jump Ropes - Party Favor Pack is best when gifting multiples. Here is the set of Glitter Jump Ropes I used.
Printable Gift Tags (Download below). (Recommend Printing on Cardstock)
Tape or Temporary Adhesive (Scotch Tape, Double-Sided Tape, Glue Dots or Balloon Tape)
Optional: Add a cute bow to the top of the printed tag. Although these have alligator clips, I still use this bow multipack for almost everything.

Party favor packs of jump ropes would be perfect to make this Valentine cost-effective. I originally purchased mine at Walmart many years ago, but these current glitter version were found on Amazon.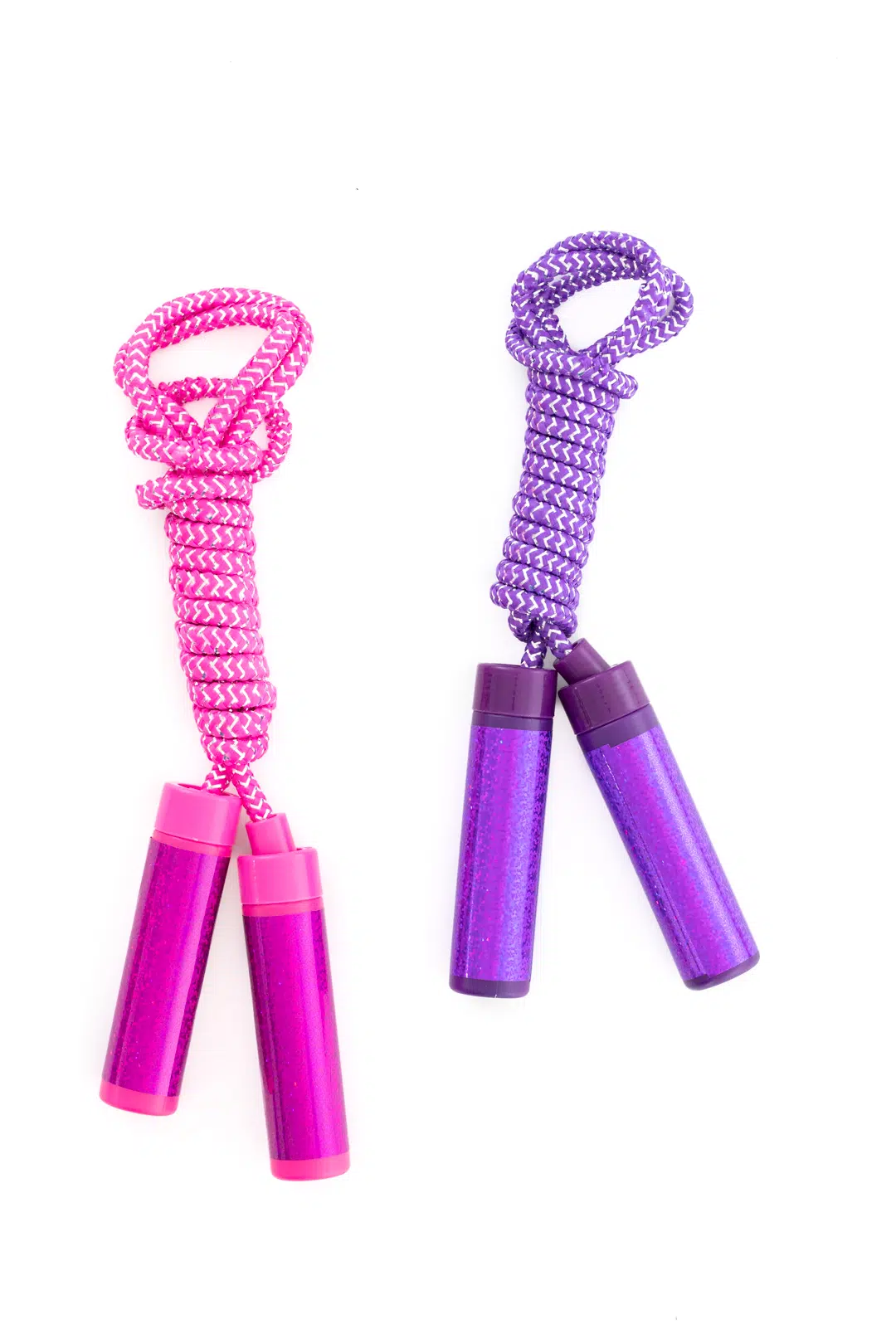 You can attach the gift tag and deliver them to recipients as-is or you could also put the gift in clear gift bags and attach the printed gift tags on the outside instead. This idea is super flexible and can be as fun as you like with extras. Think ribbon, stickers and confetti.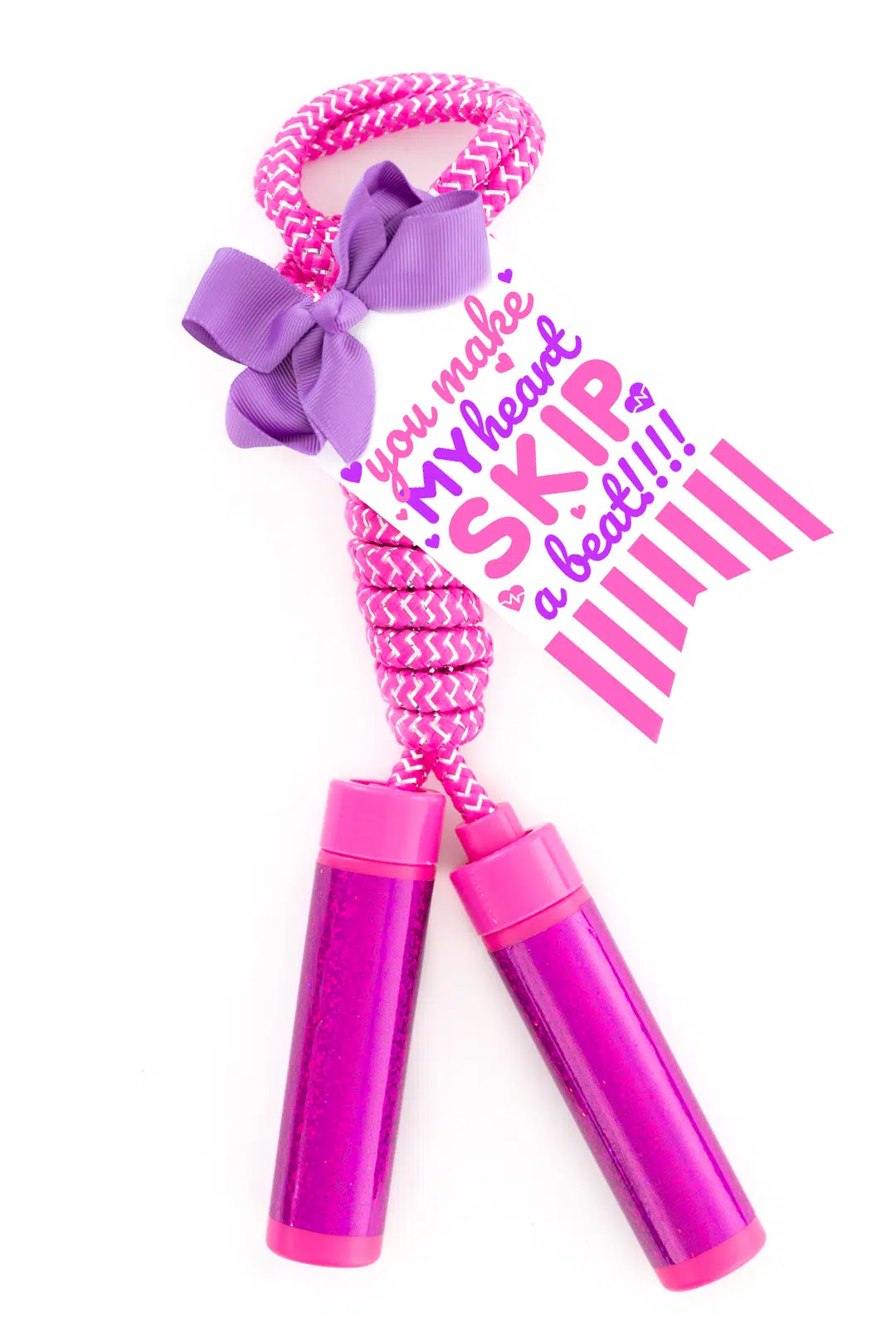 HOW TO MAKE NON-CANDY VALENTINES
While I certainly enjoy a good candy treat, with kids getting so much of it for a holiday like this, it's great to offer an alternative. Plus, a jump rope gift will long outlive an edible gift. As an added bonus, it will give kids something to do.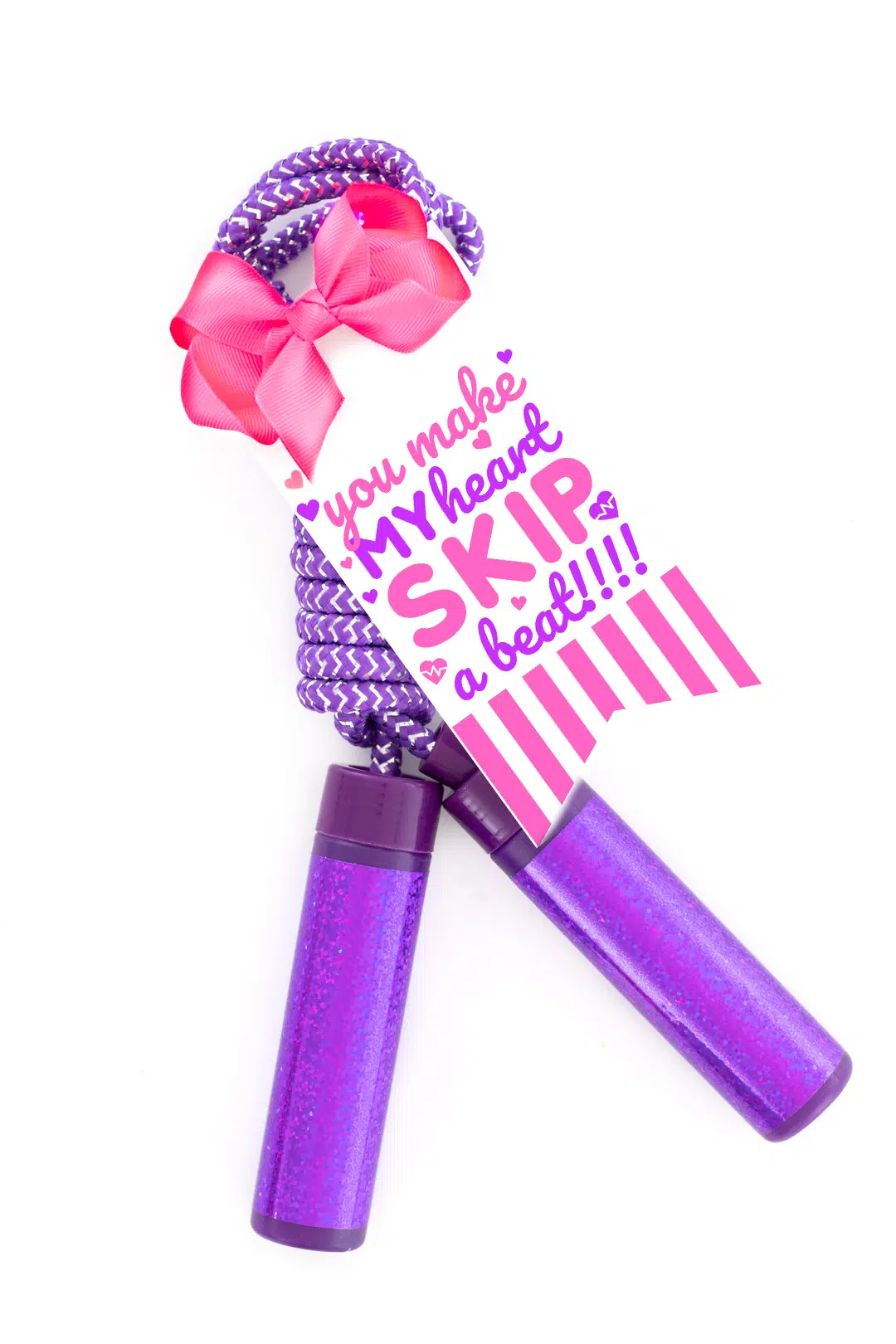 So here's is all you need to do to prepare these. Print your desired amount of the Valentine's Day tags, be sure to trim them out. Get your choice of tape and use it to attache the gift tags to the jump ropes. It just does not get easier than that.
Then, all you need to do is deliver to friends and wait for those smiles.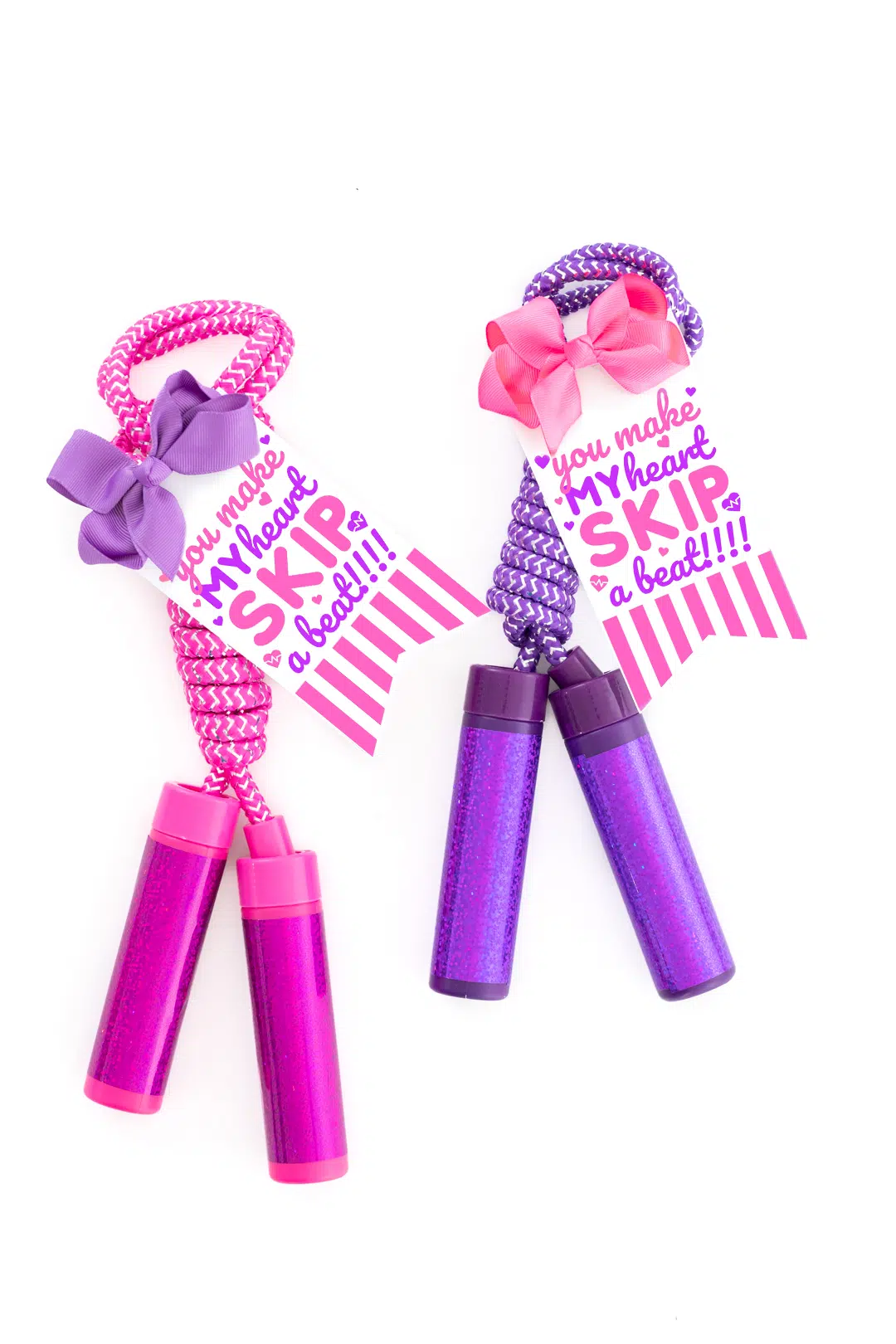 VALENTINE'S DAY GIFTS
Love this fun idea? Here are even more easy V-day gift ideas that are easy to make using free printable gift tags.
PRINTABLE JUMP ROPE GIFT TAG
Get your Valentines day tags printable free below:
Download Pink Stripe "You Make My Heart Skip a Beat Gift Tags" – 4 per page (PDF)
Download Purple Stripe "You Make My Heart Skip a Beat Gift Tags" – 4 per page (PDF)
That is all! You've just made a super simple, yet adorable gift for your Valentine!
Enjoy making everyone smile with this healthier alternative to a Valentine's Day treat!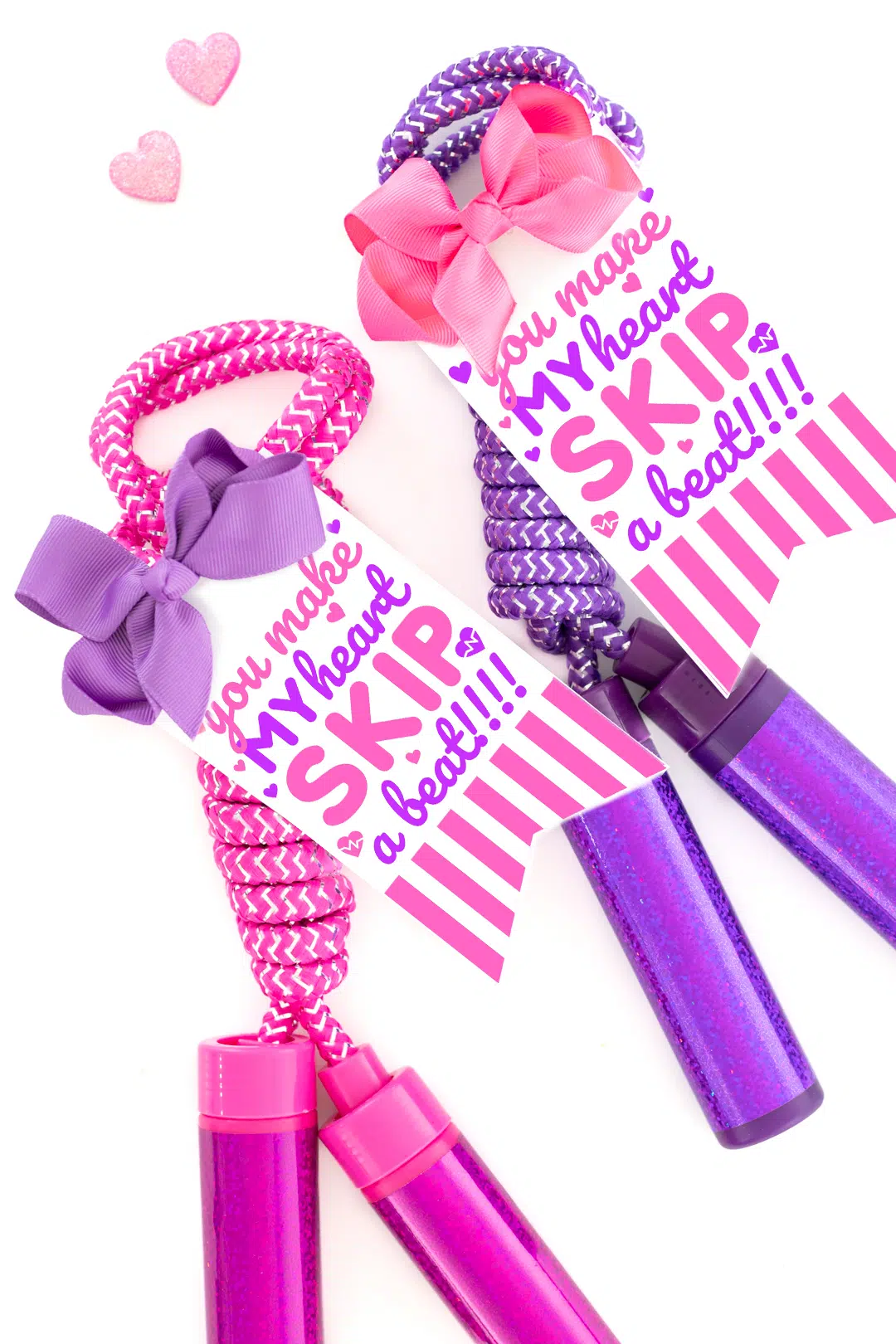 Here is the original idea that I shared way back in 2013.
If you would like this printable to use instead, here is that original download below.
-> Print the You Make My Heart Skip a Beat (4 Per Page) Print as many sheets as you need.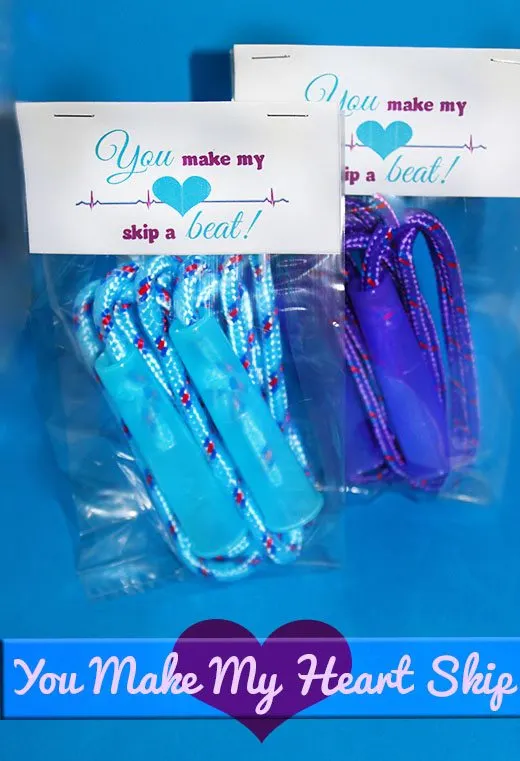 Do you like to make your own quirky Valentine's day gifts, too?