Candy, candy, candy! There is never a shortage of it around Valentine's Day! Well, this new gift idea will help burn off those extra calories from all of the sugar consumption. Our new printable gift idea is based on a jump rope. You know the little multi-packs you can buy in the part section of stores? Those are great for affordable, but unique gifting… especially when you add a super cute matching gift tag. The new tag says "You Make My Heart Skip a Beat".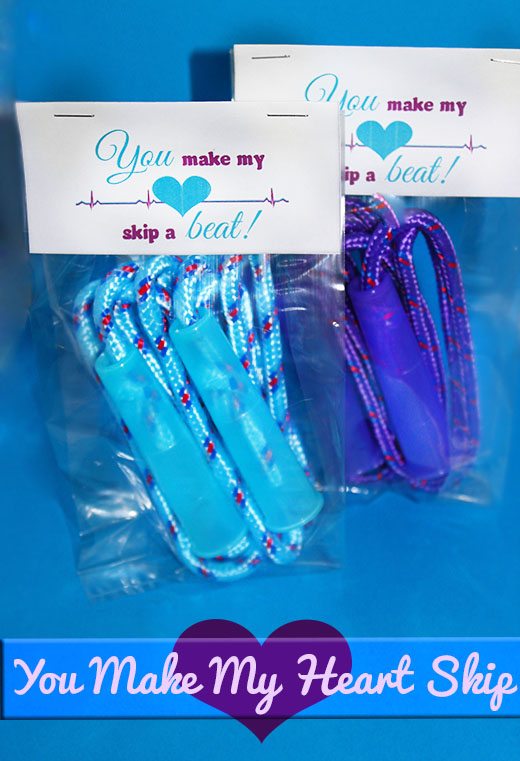 How to Make "You Make My Heart Skip a Beat" Valentine's Gifts
–> You'll need party favor jump ropes. I purchased mine at Walmart, they also have them on Amazon.
–> You'll need clear gift bags that are at least 4″ wide. I purchased mine at Michael's similar to this size.
-> Print the You Make My Heart Skip a Beat (4 Per Page) Print as many sheets as you need.
–> Then, cut out each individual gift tag. Assemble your gift bags, put a jump rope in and fold over and seal with either tape or a staple.  Fold a gift tag over each one and carefully attach by using a staple or tape again, its your choice. Whatever you have on hand should work great.
–> That is all! You've just made a super simple, yet adorable gift for your Valentine!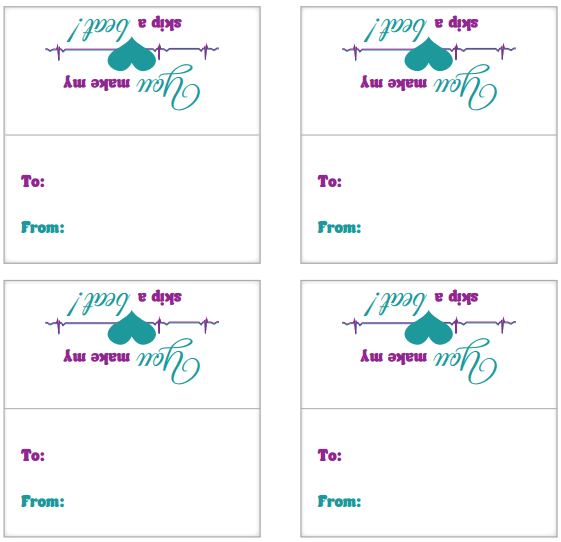 –> Enjoy making everyone smile with this healthier alternative to a Valentine's Day treat!
Want more Valentine's DIY Gift Ideas? Make sure to check out our other easy Valentine's Day Craft ideas!